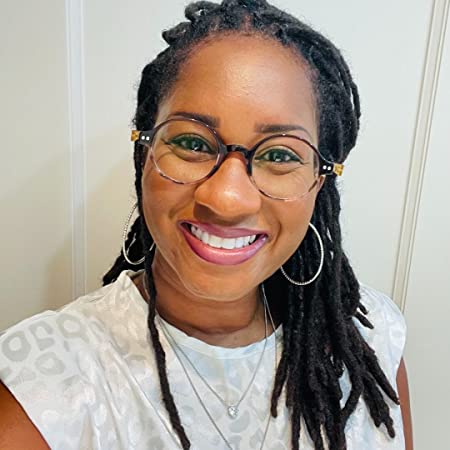 Ebony Joy Wilkins
Born:
Connection to Illinois
: Wilkins currently resides in Chicago.
Biography
: EBONY JOY WILKINS, Ph.D. is an English professor and writer. Ebony's education research centers on African American children's literature and written responses. Her stories aim to highlight marginalized voices. When she isn't writing or teaching, Ebony spends her free time playing tennis, practicing yoga, traveling, and visiting with friends and family.
---
Awards
:
Primary Literary Genre(s):
Non-Fiction
Primary Audience(s):
Children; Young adult readers
Facebook:
https://www.facebook.com/ebonywilkins
Instagram:
https://www.instagram.com/accounts/login/?next=/drebonyjoy/
LinkedIn:
https://www.linkedin.com/in/ebonywilkins/
Pinterest:
https://www.pinterest.com/ebonyjoy/
Twitter:
https://twitter.com/ebonyjoy
Web:
https://ebonyjoywilkins.com/
Web:
https://www.goodreads.com/author/show/3234241.Ebony_Joy_Wilkins
WorldCat:
http://www.worldcat.org/search?q=Ebony++Joy++Wilkins
---
Selected Titles
Claudette Colvin Refuses to Move: Courageous Kid of the Civil Rights Movement (Courageous Kids)
ISBN: 1496688031 OCLC: Capstone Press 2020 It's March 2, 1955, and an ordinary 15-year-old girl from Montgomery, Alabama is about to do something extraordinary. When a white bus driver orders Claudette Colvin to give up her seat for a white passenger, she refuses to move. After Claudette is arrested, her brave actions help inspire Civil Rights leaders organize bus boycotts and perform similar acts to defy segregation laws. Eventually, Claudette's court case results in overturning Alabama's unconstitutional laws and provides greater freedom for black Americans everywhere --
DK Life Stories Katherine Johnson
ISBN: 1465479120 OCLC: DK Children 2019 Examines the life of mathematician Katherine Johnson, from her early education and career before working for NASA to her integral role in the space program.
If You Traveled on the Underground Railroad
ISBN: 1338788922 OCLC: Scholastic 2022 What do you know about the Underground Railroad? What if you lived in a different time and place? What would you wear? What would you eat? How would your daily life be different? Scholastic's If You Lived... series answers all of kids' most important questions about events in American history. With a question and answer format, kid-friendly artwork, and engaging information, this series is the perfect partner for the classroom and for history-loving readers.How did the Underground Railroad get its name? Why is it called a railroad? How did people find it? Who operated it? Ebony Joy Wilkins answers all these questions and more in this comprehensive guide to the Underground Railroad. A great choice for Civil War units, and for teaching children about this important part of American history --
Malcolm X: Get to Know the Civil Rights Activist (People You Should Know)
ISBN: 1496665791 OCLC: Capstone Press 2020 Malcolm X is known as a leader of the civil rights movement. He faced racism, spent time in prison, became a minister, joined the Nation of Islam, left, took a pilgrimage to Mecca, traveled the world, and became a public figure before his assassination. Explore how his words shaped the civil rights movement and the people who called him a leader. --
Out of Bounds
ISBN: 069224574X OCLC: US Dream Academy 2014
Perron Family Haunting: The Ghost Story that Inspired Horror Movies (Real-Life Ghost Stories)
ISBN: 1543574807 OCLC: Capstone Press 2019 The Perron family received this advice from the previous homeowner of their Rhode Island farmhouse: For the sake of your family, leave the lights on at night! A ghostly witch named Bathsheba led the haunting of the Perron family, physically and psychologically tormenting them. This legendary ghost story eventually became the subject of the movie The Conjuring, and continued to haunt the Perron family for years to come --
Sellout
ISBN: 0545109280 OCLC: New York : Scholastic New York : 2010 NaTasha loves her life of affluence in Park Adams, but her grandmother fears she has lost touch with her roots and whisks her off to Harlem, where NaTasha meets rough, street-wise girls at a crisis center and finds the courage to hold her own against them.
Someone to Hear Me
ISBN: 0557000912 OCLC: [Place of publication not identified] : lulu.com [Place of publication not identified] : 2005
The Will to Dance: based on the life story of how Dorene Lewis has overcome
ISBN: 1411615956 OCLC: [Morrisville, NC] : lulu.com [Morrisville, NC] : 2004 The story of how Lewis discovered a way to make all of her dreams come true despite her obstacles to become a professional NFL cheerleader --Back cover
Trailblazers: Beyoncé: Queen of the Spotlight
ISBN: 059312443X OCLC: Random House Books for Young Readers 2020 A highly-designed, highly-illustrated middle-grade biography of Beyonce--exploring her childhood and impact on the music industry --