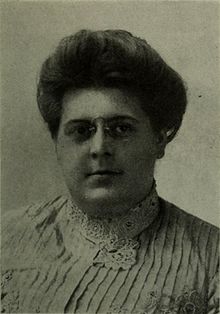 Myrtle Reed
Born:
September 27, 1874, in Norwood Park, Chicago, Illinois
Died:
August 17, 1911 in Chicago, Illinois
Pen Name:
Olive Green
Connection to Illinois
: Reed was a native Chicagoan.
Biography
: Myrtle Reed graduated from the West Division High School. In 1906 she was married to James Sydney McCullough, a Canadian editor, after a 15 year courtship. She wrote under her own name, but also published a series of cook books under the pseudonym of Olive Green. President Theodore Roosevelt read Reed's The Book of Clever Beasts (1904) and wrote her a letter in praise of it.
---
Awards
:
Primary Literary Genre(s):
Fiction; Poetry
Primary Audience(s):
Adult readers
Wikipedia:
https://en.wikipedia.org/wiki/Myrtle_Reed
WorldCat:
http://www.worldcat.org/search?q=Myrtle++Reed
---
Selected Titles
A Spinner in the Sun
ISBN: 0526787384 OCLC: Wentworth Press 2019
A Weaver of Dreams
ISBN: B00085CI7K OCLC: G.P. Putnam's Sons 1911
Flower of the Dusk
ISBN: 0526667710 OCLC: Wentworth Press 2019
How to Cook Fish
ISBN: 1374969532 OCLC: Pinnacle Press 2017
How to cook fish
ISBN: 1173286837 OCLC: Nabu Press 2010
How to Cook Shell-Fish
ISBN: 0469382589 OCLC: Wentworth Press 2019
How to Cook Vegetables
ISBN: 1340789728 OCLC: Palala Press 2015
Lavender and old Lace
ISBN: 1296806820 OCLC: Andesite Press 2015
Love Letters Of A Musician
ISBN: B000RY1YKY OCLC: G. P. Putnam's Sons 1900
Master of the Vineyard
ISBN: 1363968327 OCLC: Wentworth Press 2016
Myrtle Reed, best novels
ISBN: 1548743518 OCLC: CreateSpace 2017
Old Rose and Silver
ISBN: 1357804741 OCLC: Palala Press 2016
One Thousand Salads
ISBN: 1355573130 OCLC: Palala Press 2016
One Thousand Simple Soups
ISBN: 1340945835 OCLC: Palala Press 2015
The Book of Clever Beasts (Studies in Unnatural History)
ISBN: 1347111654 OCLC: Palala Press 2015
The Myrtle Reed Cook Book
ISBN: 1167310454 OCLC: Kessinger Publishing, LLC 2010
The Spinster Book
ISBN: 0469717823 OCLC: Wentworth Press 2019