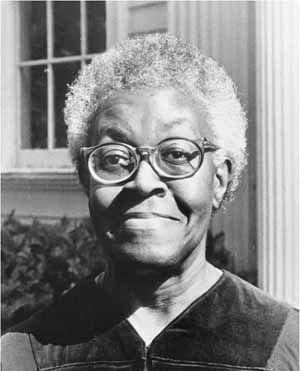 Gwendolyn Brooks
Born:
June 7, 1917 in Topeka, Kansas
Died:
December 3, 2000
Connection to Illinois
: Brooks moved to Chicago with her family when she was six months old and lived there the rest of her life.
Biography
: Gwendolyn Brooks was a poet, novelist, children's fiction and lecturer. She began writing poetry at seven years of age and had her first poem published in a magazine when she was 13. After college, Brooks worked a variety of jobs until her marriage and the birth of her two children, but she continued to write poetry. In 1945, her first of several books of poetry for adults was published to great praise. She won many honors and awards and, in 1950, was the first African American to win the Pulitzer Prize. It was for her book ''Annie Allen''. In all, she was the author of more than twenty books of poetry and was named the Poet Laureate of Illinois in 1968 and served in that capacity until her death in 2000. She also served as the Consultant in Poetry to the Library of Congress from 1985-86. Brooks had a lifelong commitment to sharing poetry and teaching writing. She taught around the country and held posts at the University of Chicago, Columbia College Chicago, Northeastern Illinois University, Chicago State University, Elmhurst College, Columbia University, City College of New York, and the University of Wisconsin-Madison. Along with her published works listed below, Brooks also edited two books - A Broadside Treasury and Jump Bad: A New Chicago Anthology. She also contributed to several anthologies including - A Portion of That Field: The Centennial of the Burial of Lincoln - written with Otto Kerner, Allan Nevins, Paul M. Angle, Mark Van Doren, Paul H. Douglas, Bruce Catton and Adlai E. Stevenson.
---
Awards
:
Annie Allen Pulitzer Prize, 1950; Eunice Tietjens Memorial Prize, Poetry magazine, 1949
In the Mecca Finalist, National Book Award in Poetry, 1969; Anisfield-Wolf Book Award (In the Mecca), 1969
Body of Work and Lifetime Achievements American Academy of Arts and Letters Award, 1946; Guggenheim Fellow in Poetry, 1946, 1947; Robert F. Ferguson Memorial Award, Friends of Literature, (Selected Poems), 1964; Thormod Monsen Literature Award, 1964; Illinois Poet Laureate, 1968-2000; Black Academy of Arts and Letters Award, 1971; Shelley Memorial Award of the Poetry Society of America, 1976; Illinois Author of the Year, Illinois Association of Teachers of English, 1978; Poet Laureate Consultant in Poetry to the Library of Congress, 1985-1986; Inducted into the National Women's Hall of Fame, 1988; Lifetime Achievement Award, National Endowment for the Arts, 1988; Robert Frost Medal for lifetime achievement, Poetry Society of America, 1989; Aiken Taylor Award, Sewanee Review, 1992; Jefferson Lecturer, National Endowment for the Humanities, 1994; Medal for Distinguished Contribution to American Letters, National Book Foundation, 1994; National Medal of Arts, 1995; Woman of the Year, Harvard Black Men's Forum, 1995; The Richard Wright Making History Award for Distinction in Literature, Chicago History Museum, 1995; Order of Lincoln award, The Lincoln Academy of Illinois, 1997; Illinois State Library building rededicated and named in Brooks' honor, 2003; Inducted into the Chicago Literary Hall of Fame, 2010
Primary Literary Genre(s):
Fiction; Poetry
Primary Audience(s):
Adult readers
Web:
https://www.poetryfoundation.org/poets/gwendolyn-brooks
Web:
https://www.biography.com/writer/gwendolyn-brooks
Wikipedia:
https://en.wikipedia.org/wiki/Gwendolyn_Brooks
---
Selected Titles
A broadside treasury.
ISBN: 0910296510 OCLC: 221174
A call to character :
ISBN: 0060173394 OCLC: 33102645 HarperCollins Publishers, New York, NY : ©1995. A varied collection of readings with selections from novels and short stories to plays and poetry.
A Capsule course in Black poetry writing /
ISBN: 0910296324 OCLC: 2040782 Broadside Press, Detroit : 1975.
A street in Bronzeville
ISBN: 9781598533811 OCLC: 902675817 Gwendolyn Brooks was one of the most accomplished and acclaimed poets of the last century, the first black author to win the Pulitzer Prize and the first black woman to serve as poetry consultant to the Library of Congress- the forerunner of the U.S. Poet Laureate. Here is her groundbreaking first book of poems, a searing portrait of Chicago's South Side.
Aloneness
ISBN: 0910296553 OCLC: 267396 Broadside Press, Detroit : ©1971.
Beckonings :
ISBN: 0910296375 OCLC: 1898410 Broadside Press, Detroit : ©1975.
Blacks /
ISBN: 0883781050 OCLC: 15649263
Bronzeville boys and girls /
ISBN: 0064437728 OCLC: 63125938 A collection of poems that celebrate the joy, beauty, imagination, and freedom of childhood.
Essential Brooks.
ISBN: 0060878762 OCLC: 63281849 HarperCollins : [New York?] : ℗2006. Pulitzer Prize winning poet Gwendolyn Brooks reads 27 of her best poems, including 'Do not be afraid of no, ' 'The bean eaters, ' 'Riot, ' and 'The sermon on the warpland, ' in a quiet, forceful manner that underscores the raw vigor of her writing, centered on the daily lives of black people in bleak cities--Container.
Family pictures /
ISBN: 091029643X OCLC: 127285
Gottschalk and the grande tarantelle /
ISBN: 0944191061 OCLC: 19502420 David Co., Chicago : ©1988.
In Montgomery, and other poems
ISBN: 0883782324 OCLC: 52269120 Third World Press, Chicago : ©2003. Presents a collection of poems that provide monologues of a variety of voices, including urban children, Winnie Mandela, and Alabama civil rights workers.
In the Mecca :
ISBN: 0060105372 OCLC: 279965 This was the Pulitzer Prize-winner's first new collection of poetry after a gap of nearly ten years.
Masterplots :
ISBN: 0893560855 OCLC: 34875939 Salem Press, Pasadena, Calif. : ©1996. Entries ae arranged alphabetically by title, with the type of work, author, type and time of plot, locale, first publication date, and principal characters listed. A plot synopsis is followed by a critical essay and a brief bibliography. Each entry is three to four pages in length. The four indexes included are by chronological date, by geographic locale, by title, and by author. The title 'Masterplots' does not convey the depth of information contained in the 12 volumes. The titles treated range chronologically from antiquity to the early 1990s, with the major emphasis on literature of the nineteenth and twentieth centuries. While the majority of the entries are British, European, and United States fiction, the work also encompasses drama, works or collections of poetry, and nonfiction. Am Ref Books Annu, 1997.
Maud Martha /
ISBN: 0883780615 OCLC: 28577117 A first novel by this world class poet, Maud Martha captures the essence of Black life. Gwendolyn Brooks portrays one woman's quest and love for life despite its difficulties. Whether she confronts teenaged love and marriage or the challenges of womanhood and adulthood survival, we come face to face with Maud Martha--recognizing that her beauty and strength reside deep in every one of us.--Page [4] of cover.
Primer for Blacks /
ISBN: 0883780569 OCLC: 25226172 Third World Press, Chicago, Ill. : 1991, ©1980.
Report from part one /
ISBN: 0910296820 OCLC: 522976 Broadside Press, Detroit, Michigan : ©1972.
Report from part two
ISBN: 088378162X OCLC: 34524051 Third World Press, Chicago : 1996.
Selected poems /
ISBN: 0060882964 OCLC: 767982 Contains a selection of poems from three earlier books:
The Bean eaters
ISBN: 1258269694 OCLC: 794207335 Literary Licensing Llc, [Whitefish, Mont.] : 2012.
The destruction of Black civilization :
ISBN: 0883780461 OCLC: 16850641 Third World Press, Chicago : 1987 A widely read classic exposition of the history of Africans on the continent, the people of African descent in the United States and in the diaspora. This is well researched scholarly work detailing the development of civilisation in Africa and its destruction.
The near-Johannesburg boy, and other poems /
ISBN: 0883780550 OCLC: 25302100 Third World Press, Chicago, Ill. : 1991, ©1986.
The tiger who wore white gloves, or, What you are you are /
ISBN: 0883780313 OCLC: 1103360 All the tiger's fierce qualities do not satisfy him; he wants to be stylish and wear white gloves.
The world of Gwendolyn Brooks.
ISBN: 0060105380 OCLC: 173363 Harper & Row New York, [1971] A street in Bronzeville.-Annie Allen.-Maud Martha.-The beat eaters.-In the Mecca.
To disembark /
ISBN: 0883781026 OCLC: 8082723
Winnie /
ISBN: 088378050X OCLC: 25197145 Third World Press, Chicago, IL : 1991.