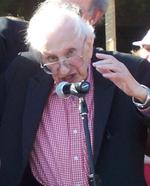 Louis 'Studs' Terkel
Born:
May 16, 1912 in New York City, New York
Died:
October 31, 2008 in Chicago, Illinois
Pen Name:
Studs Terkel
Connection to Illinois
: At the age of eight, Terkel moved with his parents to Chicago. He was raised and educated in Chicago and continued to live there the remainder of his life.
Biography
: Studs is an American author and historian. He has also been a Chicago radio and television broadcaster. He is known for his works in oral history. Terkel transcribes tape recorded interviews with ordinary people and edits them into powerful accounts of aspects of modern American life. He was always working on something new, all the way up until his death.
---
Awards
:
''Working''
-- Finalist, National Book Award in Contemporary Affairs, 1975
''The Good War''
-- Pulitzer Prize, 1985
"""Other Awards and Honors"""
-- His name was engraved on the frieze of the Illinois State Library alongside other great Illinois literary figures, 1990
-- National Humanities Medal, 1997
-- Medal for Distinguished Contribution to American Letters, The National Book Foundation, 1997
-- LGBT Hall of Fame, 2001
-- George Polk Career Award, 2003
-- National Book Critics Circle, 2003
-- Ivan Sandrof Lifetime Achievement Award, 2003
-- Illinois Literary Heritage Award, Illinois Center for the Book. 2006
-- Chicago Literary Hall of Fame, 2010
Primary Literary Genre(s):
Non-Fiction
Primary Audience(s):
Adult readers
Website:
http://www.studsterkel.org
Wikipedia:
https://en.wikipedia.org/wiki/Studs_Terkel
---
Selected Titles
American dreams, lost and found /
ISBN: 1565845455 OCLC: 6222488 Pantheon Books, New York : ©1980. Presents 100 interviews with a cross section of American people, both famous and non-famous, who discuss their personal lives and ambitions.
And they all sang :
ISBN: 1595581189 OCLC: 58728725 New Press : New York : 2005. A selection of forty previously unpublished interviews with musicians from the past half-century includes the Pulitzer Prize-winning oral historian's discussions with such figures as Bob Dylan, Janis Joplin, and Louis Armstrong.
Chicago /
ISBN: 0394553373 OCLC: 13395874 "Part history, part memoir, filled with anecdote, memory and personal reflection."--dust jacket.
Coming of age :
ISBN: 1595581723 OCLC: 190727224 New Press : New York : 2007, ©1995.
Giants of jazz /
ISBN: 156584999X OCLC: 75396338 New Press, New York : ©2006. Brief biographies of thirteen jazz musicians who have made major contributions to the development of this form of music.
Hard times :
ISBN: 1565846567 OCLC: 13358140 "Persons of all ages, occupations, and classes scattered across the United States remember what they experienced or were told about the economic crisis of the 1930s. The result is a social document of immense interest."
My American century /
ISBN: 1565844696 OCLC: 36051350 New Press : New York : ©1997. This anthology collects the most memorable interviews from eight of Terkel's earlier works: American Dreams, Hard Times, "The Good War," Division Street: America, Working, The Great Divide, Race, and Coming of Age. It also includes the introductions from each of those books, plus a foreword by Robert Coles which examines Terkel's writing.
P.S. :
ISBN: 1595584234 OCLC: 227016559 New Press : New York : 2008. "P.S. brings together these significant and deeply enjoyable writings for the first time and reflects Studs Terkel's wide-ranging interests and travels, as well as his abiding connection to his hometown, Chicago. Here we have a remarkable and moving conversation with James Baldwin, possibly Studs's finest interview with an author; vivid portraits of studs's heroes and cohorts; the transcript of Studs's famous broadcast on the Depression, the essence of what was to become Hard Times; and the transcript of his 1962 Prix Italls award-winning documentary Born to Live."--Jacket.
Race :
ISBN: 1565849892 OCLC: 966544954 First published in 1992 at the height of the furor over the Rodney King incident, Studs Terkel's Race was an immediate bestseller. In a rare and revealing look at how people in America truly feel about race, Terkel brings out the full complexity of the thoughts and emotions of both blacks and whites, uncovering a fascinating narrative of changing opinions. Preachers and street punks, college students and Klansmen, interracial couples, the nephew of the founder of apartheid, and Emmett Till's mother are among those whose voices appear in Race. In all, nearly one hundred Americans talk openly about attitudes that few are willing to admit in public: Feelings about affirmative action, gentrification, secret prejudices, and dashed hopes.
Studs Terkel's Working :
ISBN: 1565846265 OCLC: 44313507 New Press, New York : 2001.
Talking to myself :
ISBN: 0394411021 OCLC: 2597375 Pantheon Books, New York : ©1977. "This memoir cuts across worlds, years and the vast spectrum of people that Terkel has known, from workers to famous stars, from Nobel Prize winners to ordinary folk ... Terkel uses some of the methods that have made his radio programs so famous. He cuts from a visit to Chief Luthuli in South Africa to a memoir of the McCarthy period, from growing up among the petty gangsters of Chicago in the thirties to confronting the bigger gangsters of our political life in the sixties, from acting in a radio soap opera to discussing film with Fellini ..."
The good war :
ISBN: 1565849450 OCLC: 56656327 New Press, New York : 2004.
The Great Divide :
ISBN: 0394570537 OCLC: 17877496 Pantheon Books, New York : ©1988. Studs Terkel interviews three college teachers, four farmers, a high school teacher, neighborhood organizer, stock broker, advertising executive, businesswomen, real estate broker, dentist, doctor, blue collar worker, professional strikebreaker, columnist, unemployed steelworker, lawyer, flight attendant, bartender, CPA, woman engineer, socialite, Congressman, nuclear physicist, author, waitress, KKK member, storyteller, gay activist, sanctuary worker, Christian fundamentalist, Tony Bouza, Erica Bouza, Maggie Kuhn, Victor Reuther, and peace activists Jean and Joe Gump.
The Studs Terkel interviews :
ISBN: 1595583599 OCLC: 181139940 New Press : New York : 2008, ©1999.
The Studs Terkel reader :
ISBN: 1595581774 OCLC: 85829996 New Press, New York : ©2007. A collection of the best interviews from eight of Terkel's classic oral histories together with his introductions to each work.
Touch and go :
ISBN: 1595580433 OCLC: 124074902 New Press : New York : 2007. At nearly 95, Studs Terkel has written about everyone's life, it seems, but his own. Here he offers a memoir which--embodying the spirit of the man himself--is youthful and vivacious. Terkel begins by taking us back to his childhood, describing the hectic life of a family trying to earn a living in Chicago. He then goes on to his experiences--as a poll watcher charged with stealing votes for the Democratic machine, as a young theatergoer, and eventually as an actor himself in both radio and on the stage--giving us a portrait of the Chicago of the 1920s and 1930s. He tells of his beginnings as a disc jockey after World War II and as an interviewer and oral historian--a craft he would come to perfect. Finally, he discusses his involvement with progressive politics, leading to his travails during the McCarthy period when he was blacklisted.--From publisher description.
Will the circle be unbroken? :
ISBN: 0345451201 OCLC: 51897615 Ballantine Books, New York : 2002. "Presents interviews with a wide variety of people in which they discuss death and share their personal beliefs about the possibility of an afterlife; and includes conversations with people whose jobs bring them into contact with death on a regular basis."
Working
ISBN: 0380002590 OCLC: 8661180 Avon, New York : 1975, ©1974. Studs Terkel records the voices of America. Men and women from every walk of life talk to him, telling him of their likes and dislikes, fears, problems, and happinesses on the job. Once again, Terkel has created a rich and unique document that is as simple as conversation, but as subtle and heartfelt as the meaning of our lives.