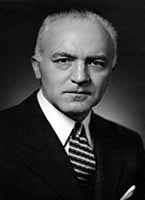 Paul Angle
Born:
1900 in Mansfield, Ohio
Died:
1975 in Chicago, Illinois
Pen Name:
Paul M Angle, Paul McClelland Angle
Connection to Illinois
: Angle lived in Chicago and Springfield.
Biography
: Paul Angle was an eloquent chronicler of Illinois history and a Lincoln Scholar. He was the author of scores of books on Abraham Lincoln and the history of Illinois.He graduated from Miami (Ohio) University in 1922 and received a master's degree from the University of Illinois in 1924. In 1932, Angle was appointed librarian of the Illinois Historical Library and held that position, and that of state historian, until 1945. He then became director and secretary of the Chicago Historical Society from 1945 - 1965.He was active for many years in Chicago civic affairs. In 1967, he was appointed by Chicago's Mayor Daley to head an advisory committee to study what city records should be preserved.Along with the books he wrote, Angle also edited several books including: ''The Lincoln Reader '', ''The Complete Lincoln-Douglas Debates of 1858'', ''The Living Lincoln: The Man and His Times In His Own Words'', ''Abraham Lincoln's Speeches and Letters, 1832-1865''.
---
Awards
:
-- Name engraved on the frieze of the Illinois State Library alongside other great Illinois literary figures, 1990
Primary Literary Genre(s):
History
Paul Angle on WorldCat :
http://www.worldcat.org/search?q=paul++angle
---
Selected Titles
A pictorial history of the Civil War years
ISBN: 0385185510 OCLC: 11346461 Doubleday, Garden City, N.Y. : [1985], ©1980.
Bloody Williamson :
ISBN: 0252062337 OCLC: 25508763 University of Illinois Press, Urbana : ©1992.
Bloody Williamson :
ISBN: 0804152772 OCLC: 892911083 This is a horror story of native American violence. It carries a grim lesson for the whole country. Political doctrines have played no part in the violence and murder that have brought much ill fame to one corner of Illinois. On the map, Williamson is just another county. But in history it is a place in which a strange disease has raged for more than eighty years'a disease marked by a pathological tendency to settle differences by force. Fascinated by this, Paul M. Angle, the well-known historian, set out to discover what really had happened. Through enormous research he has been able to reconstruct the whole story in all its horrible, scarifying detail. Using the best techniques of reportage, without editorializing, without subjective coloration, he has produced a narrative beyond imagination. It begins with the Bloody Vendetta, a feud that rampaged in the 1870s. It deals with labor's success in organizing coal mines in southern Illinois, an affair that twice blew up in violence. It covers the Herrin Massacre of 1922'perhaps the most shocking episode in the history of organized labor in this country'and the subsequent trials. The Ku Klux Klan provides material for four chapters that come to a climax in a fatal duel between the Klan and its opponents. And it ends with the story of the gang war between Charlie Birger and the Shelton brothers. It is a tale to shake the most phlegmatic reader.
Philip K. Wrigley :
ISBN: 0528810154 OCLC: 1195891 Rand McNally, Chicago : 1975.
Tragic years, 1860-1865 :
ISBN: 030680462X OCLC: 24503190 Da Capo Press, New York : 1992. This re-creation of the Civil War weaves together the diaries, letters, recorded words of generals and privates, politicians and homemakers, reporters and historians, poets and spies. Told by the men and women who fought and lived through it, this was the bloodiest civil war the world had yet known. The presentation of these documents shows how these tragic years were actually experienced, how the war remade the Union through a profound social upheaval, and illuminates the deep, devisive issues which tore the United States apart.