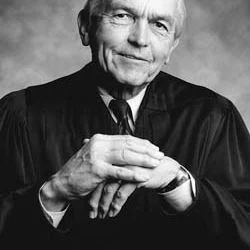 Harlington Wood, Jr.
Born:
Springfield, Illinois April 17, 1920
Died:
Petersburg, Illinois December 29, 2008
Connection to Illinois
: Wood was born and raised in Springfield. He graduated from the University of Illinois at Urbana-Champaign with both a BA and JD. He went into private practice in Springfield both with his father and on his own.
Biography
: Harlington Wood, Jr. was a senior circuit judge for the U.S. Court of Appeals for the Seventh Circuit. He was a member of the American Bar Association, Federal Bar Association, Illinois State Bar Association and Sangamon County Bar Association. He was past president of the Abraham Lincoln Association and former chairman of the Lincoln Legals Program. In 1993, he was an adjunct professor at University of Illinois College of Law in Urbana-Champaign. He had been past president of the Vachel Lindsey Association. From 1996 till 2001, he was distinguished visiting professor at St. Louis University School of Law. In 2002, he was the recipient of the American Inns of Court Professionalism Award. In 2005, Sangamon County Bar Association established the Judge Harlington Wood Jr. Legal Pioneer Award. In 2007, he was designated Pillar of the Bar by Illinois Bar Foundation. He was a veteran of U.S. Army serving during World War II.
---
Awards
:
Primary Literary Genre(s):
Non-Fiction
Primary Audience(s):
Adult readers
Web:
https://web.archive.org/web/20100112123428/http://www.harlingtonwoodjr.com/
Wikipedia:
https://en.wikipedia.org/wiki/Harlington_Wood_Jr.
WorldCat:
http://www.worldcat.org/search?q=Harlington++Wood,Jr.
---
Selected Titles
An Unmarked Trail: The Odyssey of a Federal Judge
ISBN: 0615167241 OCLC: Petersburg, Ill. : H.C. Johnson Press Petersburg, Ill. : 2008 "Autobiographical short stories, each complete in itself, spanning the years from my youth to the present"--Page ix