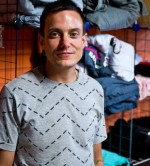 blake nemec
Born:
Connection to Illinois
: nemec lives in Chicago.
Biography
: blake nemec is a writer, teacher and sound/media artist who lives in Chicago. His work has been featured in journals, anthologies, festivals or conferences such as ENTITLE: Undisciplined Environments, JUPITER 88, the Red Rover Reading Series, the Rio Grande Review, Captive Genders; Transembodiment and the Prison Industrial Complex, or the San Francisco Queer Arts Performance Festival. He received an MFA in bilingual (Spanish and English) poetry/fiction from the University of Texas at El Paso and is a Lambda Literary Fellow. He has long worked as a sound mixer in queer independent movies, the latest being the documentary FREE CeCE! Collaboration is a potent force his work gushes from, most recently audible in the sound performance project, Moly B Denim and the Social Movements Oral History Project. His writing and sound performances work to reveal the extraordinary musicality of everyday conversations by unprotected workers, pansexuals, and gender variant people.
---
Awards
:
Primary Literary Genre(s):
Fiction; Poetry
Primary Audience(s):
Adult readers
E-Mail:
BLAKEJ.NEMEC@GMAIL.COM
Web:
https://blakenemec.net/
WorldCat:
http://www.worldcat.org/search?q=blake++nemec
---
Selected Titles
Sharing Plastic
ISBN: 1946031208 OCLC: 1039478989 The Operating System 2018 "'By the fear in her face I don't think she knows realness,' writes Blake Nemec in his disarmingly original book Sharing Plastic. And what's real here is the "banter" of sex and hotel workers that in spectacular glimpses reveals their behind-the-scene intimacies and the endless negotiations needed to get paid, stay alive, and avoid arrest. The specter of violence always at the margins of their swagger and wit, we listen to them as they arrange their 'bodies of work' in latex, or assemble pillows on beds (because 'pillows are my paycheck'), as they discuss how to 'organize dating' while on a wine-tasting tour, or urge a co-worker troubled by a John who looks like Brad Pitt to 'pretend he was Judith Butler.' Smart and funny, Nemec's debut book of poetry shows us that 'talk is rope,' that individual voices find their strength braided together in common purpose. I urge you to listen."—Rosa Alcalá "Reading a blake nemec book you realize what people must have felt after a month or two in Warhol's Silver Factory—simultaneously the multimedia blitz, the making of a dozen different movies around you, the pillows of silver mylar floating through air, the silkscreened flowers, and the soul-shattering buzz of being in the most exciting place on earth. Puzzling, but definitely thrilling. nemec's work is filled with stories and dialogue, but also analytic passages that combine raw bioenergy with Noel Coward wit. And so sexy! "Their torsos/ / swooshed past each other's/ images, but bent towards one another's mouths lipping off...." This broken mess of exquisite diamond dust, this altar of soul and desire, will give God a new face." - Kevin Killian "In Sharing Plastic, blake nemec opens our hearts to those who do the hard and marginal work of the world, putting their "hired hands" and other body parts into service for us, whether as domestic workers, sex workers, or others who live on the razor's edge of risk. "Our lips/won't get sealed with service/fees and arrest/threats will not clip our echo," nemec declares on behalf of his people. These poems are as generous and expansive in their plasticity as the resilient voices that animate them. And the visuals in these pages—vibrant images of bodies, forms, and altered documents—sinuously intersect with nemec's text to counterpoint and complicate the book's empathic vision. Sharing Plastic is a resonant and expressive book of grit and grace." —David Groff, author of Clay