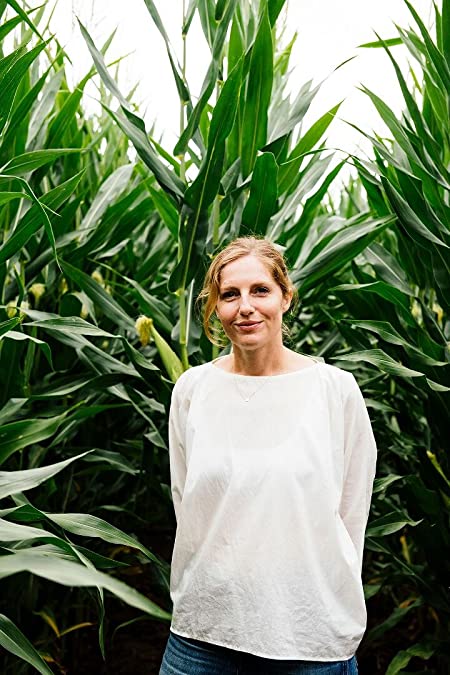 Abra Berens
Born:
Connection to Illinois
: Berens lived in Chicago for a time and, while there, opened the café at Local Foods.
Biography
: Abra Berens is a chef, former farmer, and writer. She believes that the meals we eat should change with the seasons and that their ingredients should come from nearby. She strives to make simple, delicious meals that champions the region. Abra started cooking at the storied Zingerman's Deli in Ann Arbor, MI. She then went on to train in the garden-focused kitchen at Ballymaloe Cookery School in Cork, Ireland. In 2009 she co-founded Bare Knuckle Farm in Northport, MI, where she farmed and cooked for eight years. After years of farming, she returned to the kitchen full time, opening and helming the café at Local Foods in Chicago, IL. In 2017, she left her executive chef position to return to the mitten state to join the team at Garner Farm in Three Oaks, MI, where she combines her love of farms and restaurants to create one-of-a-kind dinners on the farm celebrating the best of Southwest Michigan's diverse agriculture.
---
Awards
:
Grist: A Practical Guide to Cooking Grains, Beans, Seeds, and Legumes Shortlisted for the 2022 Art of Eating Prize, a Best Cookbook for Fall 2021 by Eater, starred review from Publishers Weekly
Ruffage: A Practical Guide to Vegetables A Best Cookbook for Spring 2019 by the New York Times and Bon Appétit, was a 2020 Michigan Notable Book winner, Nominated for a 2019 James Beard Award
Primary Literary Genre(s):
Non-Fiction
Primary Audience(s):
Adult readers
E-Mail:
berens.abra@gmail.com
Facebook:
https://www.facebook.com/abraberens/
Instagram:
https://www.instagram.com/AbraBerens/
Web:
https://www.abraberens.com/
Web:
https://www.plantforwardkitchen.org/abra-berens
WorldCat:
http://www.worldcat.org/search?q=Abra++Berens
---
Selected Titles
Grist: A Practical Guide to Cooking Grains, Beans, Seeds, and Legumes
ISBN: 179720713X OCLC: 1237345778 Chronicle Books 2021 The only grain and legume cookbook you need! Shortlisted for the 2022 Art of Eating Prize As featured in Epicurious, Modern Farmer, Refinery29, Shape, Plated, Eater, Food52, Midwest Living, Bon Appetit, MindBodyGreen, The Infatuation, Associated Press, On the Menu, and NPR's The Splendid Table. Make grains the easiest, healthiest, and most exciting stars on your table. Abra Berens, a James Beard semifinalist for Outstanding Chef and the author of Ruffage, shares more than 300 recipes and variations, plus substantial reference information to help you discover the next great grain. Grist includes more than 125 recipes for 29 different types of grains, legumes, and seeds that, in combination with vegetables and lean proteins, are the stars of the healthiest, most variable, and most satisfying meals—many of them gluten free. Home cooks will be attracted to the reference quality of the book, its beauty (more than 100 gorgeous photos and 30 illustrations) and heft (125 recipes + 300 variations = 448 pages), as well as the great writing, relatable voice, author authority, and unique recipe style. New and seasoned home cooks alike will find themselves turning to this guide to develop a repertoire of approachable, big-on-flavor recipes.
Pulp: A Practical Guide to Cooking with Fruit
ISBN: 1797207148 OCLC: 1345518292 Chronicle Books 2023 First vegetables, then grains, and now, fruit. This is the beautiful follow-up to Abra Berens's Ruffage and Grist, with more than 215 recipes and variations for using fruit in sweet and savory recipes to highlight seasonality and flavor. Pulp is a hardworking book of recipes that focuses on all the ways fruit can enhance simple, delicious mains—for example, by elevating roasted vegetables, garnishing soup, or adding perfume to a roasted pork or brisket. Unlike Ruffage and Grist, Pulp is about regularly incorporating fruit to add variety and seasonality to main dishes. Home cooks and bakers alike will rejoice in the alternately sweet and savory recipes such as Roast Chicken over Blueberries, Cornbread + Lemon; Melon, Cucumber + Chickpea Salad; and Rum-Plum Clafoutis. The book also features helpful reference material, a Baker's Toolkit, and more than 100 atmospheric photos, delivered with the can-do attitude and accessibility of the Midwestern United States. This next generous offering from beloved, trusted author Abra Berens is a necessary addition to any kitchen shelf alongside its predecessors and other mainstays like Plenty, Six Seasons, and Small Victories.THIS IS THE A TO Z OF FRUIT: The content is deep and authoritative, but also wide-ranging, with information and recipes for 15 different, widely accessible fruit varieties: Apples, Apricots, Blueberries, Cherries, Drupelet Berries (blackberries, raspberries, mulberries), Grapes, Ground Cherries (a.k.a. cape gooseberries), Melons, Nectarines + Peaches, Pears, Plums, Quince, Rhubarb, Strawberries, and Tart Round Fruits (cranberries, currants, gooseberries, lingonberries + autumn olive). Pulp features only fruits that grow in the Midwestern United States, so no bananas, passion fruit, or citrus here. CULINARY REFERENCE BOOK: Like Ruffage and Grist before it, Pulp is a truly useful reference cookbook. Organized by type of fruit, each chapter offers authoritative info and tips that the home cook can use to deepen their knowledge of ingredients and broaden their repertoire of techniques—all in the service of improving their meals. The recipes are simple, generally quick to prepare, and use ingredients that are easy to find and often already in your pantry. Plus, the many variations empower home cooks to flex their creativity and trust themselves in the kitchen.
Ruffage: A Practical Guide to Vegetables
ISBN: 1452169322 OCLC: 1037884912 Chronicle Books 2019 A how-to cook book spanning 29 types of vegetables: Author Abra Berens—chef, farmer, Midwesterner—shares a collection of techniques that result in new flavors, textures, and ways to enjoy all the vegetables you want to eat. From confit to caramelized and everything in between—braised, blistered, roasted and raw—the cooking methods covered here make this cookbook a go-to reference. You will never look at vegetables the same way again. Organized alphabetically by vegetable from asparagus to zucchini, each chapter opens with an homage to the ingredients and variations on how to prepare them. With 300 recipes and 140 photographs that show off not only the finished dishes, but also the vegetables and farms behind them. If you are a fan of Plenty More, Six Seasons, Where Cooking Begins, or On Vegetables, you'll love Ruffage. Ruffage will help you become empowered to shop for, store, and cook vegetables every day and in a variety of ways as a side or a main meal. Take any vegetable recipe in this book and add a roasted chicken thigh, seared piece of fish, or hard-boiled egg to turn the dish into a meal not just vegetarians will enjoy. Mouthwatering recipes include Shaved Cabbage with Chili Oil, Cilantro, and Charred Melon, Blistered Cucumbers with Cumin Yogurt and Parsley, Charred Head Lettuce with Hard-Boiled Egg, Anchovy Vinaigrette, and Garlic Bread Crumbs, Massaged Kale with Creamed Mozzarella, Tomatoes, and Wild Rice, Poached Radishes with White Wine, Chicken Stock and Butter, and much more.