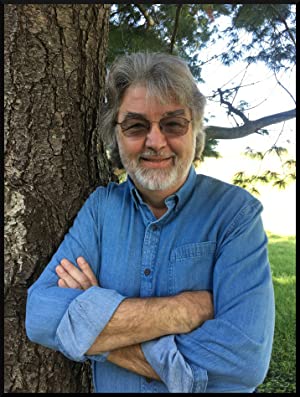 John B. Jamison
Born:
Pen Name:
JB Jamison, Pops Jamison
Connection to Illinois
: Jamison currently lives a mile West of Farmingdale. He is originally from Beardstown and did live in Springfield for several years while he was one of the pastors at Laurel United Methodist Church.
Biography
: 2017 was the year that John Jamison turned 65 and signed up for Medicare. It was also the year that as J. B. Jamison, he published his first novel called Disruption, as Pops Jamison he published his first children's book, and as John B. Jamison he signed a contract for his fourth collection of stories with C. S. S. Publishing. A long-time believer in the power of stories, John saw sixty-five as just another bookmark in his personal story…a story of possibilities. After using stories throughout his career and personal life, John decided it was a great time to fully change directions once again and spend more of his time writing. His background of growing up in a river and towboat family from Beardstown gives him a unique collection of stories. "I grew up in a family of storytellers and liars, and I spent most of my time trying to figure out which was which." His two grandchildren have helped provide the inspiration for his children's books. Today, after three novels, four children's books, a middle-grade adventure, and writing a weekly story with C.S.S. publishing, John isn't slowing down. "I feel more things creaking when I get up in the morning, and it's getting harder to bend over far enough to tie my shoes, but I still love a good story," John says. "I'm having fun spending my time on the things I can do, and not wasting my time thinking about the rest."
---
Awards
:
Primary Literary Genre(s):
Fiction
Primary Audience(s):
Adult readers; Children; Young adult readers
Web:
https://johnbjamison.com/
WorldCat:
http://www.worldcat.org/search?q=John++B.++Jamison
---
Selected Titles
Arnie Dufner and the Purple Principal
ISBN: 1732995931 OCLC: 1196834095 ImagiLearning, Inc. 2020 Arnie Dufner thought he was going to have a typical day at school: trying to stay awake in history class, not smiling back at Mary Beth O'Malley, and staying away from Denton Wallace. Arnie Dufner was wrong.
Disbelief: A third Emily Graham Adventure!
ISBN: 1732093091 OCLC: ImagiLearning, Inc. 2019 Agent Emily Graham is who she is today because of her family, her friends, and colleagues, and because of her absolute belief that everyone should be treated fairly. She sees it as her role to make sure those who do unfair things pay a price. She is a woman being true to her beliefs. But, what happens when someone decides that their beliefs are the only acceptable ones, and everyone else, including Emily Graham, must bow their heads and surrender to them? What happens when, one by one, those things Emily believes in are shaken: her belief in family, her belief in friends and colleagues, and even her belief in her role as protector of fairness? Emily Graham has faced difficult times before, but in this third book of the series, the greatest battle is a personal one. Will she bow? Will she survive? If she survives, who will she become?
Disruption: A River of Secrets and Betrayal
ISBN: 0998888524 OCLC: ImagiLearning, Inc. 2017 Some men like to give Emily Graham a difficult time. Once. A group team takes control of a Mississippi river towboat North of New Orleans and use it as their platform to carry out a mission designed to split the nation in half. Agent Emily Graham is already stressed-to-the max when she finds herself thrust into the role of having to figure out what is going on and find a way to stop it. Over the span of a very short week, Agent Graham finds that nothing is quite what it appears to be, no one is who they say they are, and the two people who have been her greatest strength are taken away from her; one quickly, and the other one day at a time. The result is a very determined, and very irritated FBI Agent. Agent Graham chases clues from New Orleans, to Louisville, to Memphis and St. Louis, with several stops in between, while the riverboat and its mission slowly continue up the Mississippi. When it is clear that force is not the solution, Graham relies on her gut and leads her group to a confrontation that ends one problem and creates an even bigger one in the process. Along the way, Graham discovers two important things. First, is the belief that even as she uncovers the secrets of this mission, there is something even bigger hiding just out of her sight. Second, Graham is reminded that it is never a good idea to break her number one rule in life. Never, EVER, ask, "What's next?" Disruption is the first book in the Emily Graham Series but can be read as a stand-alone story.
Distraction: Another Emily Graham Adventure
ISBN: 1732093024 OCLC: 1060574487 ImagiLearning, Inc. 2018 There have always been people warning us that technology could not be trusted. "Someone might use it against us!" they said. "Someone might find a way to take the things we have created to serve us and use them as a way to destroy us!" they said. Today, it looks like those people may have been right. A small group of men with the power to do anything they desire, has chosen to use that power to make their empires even larger. After ten years of preparation, the attacks begin. But something goes wrong. Once again, Agent Emily Graham finds herself in the role of having to uncover the truth of what is happening, who is behind it, and how to stop it. And once again, she discovers that, sometimes, what you see and hear is not reality. It is just…Distraction!
I Can't Paint My Dog!
ISBN: 0998888575 OCLC: 1059857397 ImagiLearning, Inc. 2017 What can you do when you love to paint everything, but your dog just loves to run? A fun story for early listeners and early readers.
I Saw the Skwerdlock
ISBN: 1732093075 OCLC: 1059849082 ImagiLearning, Inc. 2018 As "Pops", John shares the stories he told his daughter years ago, and now tells his grandchildren today. Stories of fun and wonder, sometimes crazy, but always with a smile. "I Saw the Skwerdlock!" is the second in the Skwerdlock series and uses rhyme and repetition to create a fun story to enjoy with your early reader or listener. Pops lives in Central Illinois with his wife, Pat, just down the road from their daughter and the Skwerdlock.
Meet The Skwerdlock!
ISBN: 0998888591 OCLC: 1059841685 ImagiLearning, Inc. 2018 As "Pops", John shares the stories he told his daughter years ago, and now tells his grandchildren today. Stories of fun and wonder, sometimes crazy, but always with a smile. "Meet the Skwerdlock!" was created to help spark a love of books, help learn a few words, and just have an excuse to sit in the recliner and enjoy time together. Pops says: I really enjoy seeing nicely done illustrations in books. However, one of the goals of this book is to show that you don't have to be a professional artist or illustrator to create books. Children are filled with great stories, and I want to encourage them to write those stories down and bring them to life with their own pictures. If they end up looking really, really great, that's just fine. But if they end up looking like mine do, that's perfectly ok too!