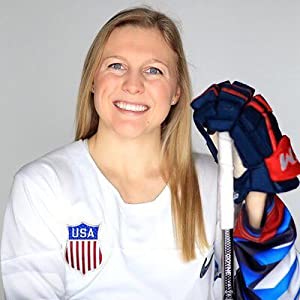 Kendall Coyne Schofield
Born:
Palos Heights, Illinois 1992
Pen Name:
Kendall Coyne
Connection to Illinois
: Coyne was born in Palos Heights. She grew up playing hockey in Orland Park.
Biography
: Kendall is a longtime member of the United States women's national hockey team and the current team captain. Over the span of her 14 years with USA Hockey, she has captured 22 medals in International Competition. She has won six gold medals at the IIHF World Women's Championships and a gold medal at the 2018 Winter Olympics and an Olympic Silver Medal at the 2014 Winter Olympics. She competed in 9 Four Nations Cups, capturing gold six times. At the age of 15, her Team USA career began when she was named to the United States Under-18 Women's National Team. She was a captain and 3-time member. She received 2 gold medals and one silver. She is currently the all-time leading scorer in tournament history with 33 points in 15 games. The Palos Heights, Illinois native played four seasons at Northeastern University in Boston, MA. During her time at Northeastern, she received her bachelor's and master's degree. The 3-time All American and 2-time captain finished her collegiate career as the Huskies' all-time leader in points (249), goals (141), and single season points (84). In addition, she became the Hockey East all-time leader in career points, career goals, single-season points, single-season goals, points per game, and goals per game. In 2016, she led Northeastern to its first ever NCAA appearance and was the recipient of the Patty Kazmaier Memorial Award which is given annually to the top player in division one college hockey. On January 25, 2019, Coyne was named a replacement for Colorado Avalanche forward Nathan MacKinnon at the 2019 NHL All-Star Skills Competition in the fastest-skater challenge as part of the 2019 NHL All-Star weekend. Although she was originally going to demonstrate the accuracy shooting challenge, Coyne became the first woman to compete in an NHL All-Stars skills competition. Coyne had a time of 14.326 seconds, which placed her seventh out of eight skaters, which was comparable to the rest of the eight-person field; Connor McDavid won the competition with a time of 13.378 seconds. In 2019, she became the second woman to serve as an analyst for an NHL Stanley Cup Playoff game. In addition to her duties with the US Women's National Team, two years ago Kendall served as an Analyst for the San Jose Sharks, a community ambassador for the Chicago Blackhawks, she is the president and co-founder of the Schofield Family Foundation that her and her husband, Michael Schofield, founded in January of 2019. In addition in 2020, the couple joined a new ownership of the Chicago Red Stars of the National Women's Soccer League (NWSL). In the work to create a sustainable and viable professional women's hockey league, Kendall is a board member for the Professional Women's Hockey Players Association (PWHPA). She is the founder of the Kendall Coyne Hockey camp which just completed its sixth year. Most recently Kendall was hired by the Chicago Blackhawks as a Player Development Coach and Youth Hockey Growth Specialist. She is the first female player development coach in Blackhawks history. Kendall will continue her broadcast career in various different ways including being a lead analyst for NBC Sports with the Notre Dame Men's Hockey Team. In her new role, Kendall will continue to train for the United States Women's National Team in hopes of representing Team USA at the 2022 Olympic Winter Games. Outside of sport, Kendall enjoys spending time with her family, cheering on her husband, Michael Schofield, at football games, traveling, motivating kids, and hosting her annual Kendall Coyne Hockey Camp, that is open to girls of all skill levels and sharing her message of "you don't have to be big to dream big." In addition, she has served as a local ambassador for the Chicago Blackhawks since 2013.
---
Awards
:
As Fast As Her: Dream Big, Break Barriers, Achieve Success Illinois READS Book Selection, Illinois Reading Council, 2023
Primary Literary Genre(s):
Non-Fiction
Primary Audience(s):
Young adult readers
Facebook:
https://www.facebook.com/kendallcoyne26/
Instagram:
https://www.instagram.com/kendallcoyne26/
Twitter:
https://twitter.com/KendallCoyne
Web:
https://www.kendallcoyne.com/
Wikipedia:
https://en.wikipedia.org/wiki/Kendall_Coyne_Schofield
WorldCat:
http://www.worldcat.org/search?q=Kendall++Coyne++Schofield
---
Selected Titles
As Fast As Her: Dream Big, Break Barriers, Achieve Success
ISBN: 0310771137 OCLC: 1289995444 Zonderkidz 2022 Dream big, follow your passion and never give up. Decorated US Olympian and accomplished hockey star Kendall Coyne shares the grit and determination it took to break down barriers and achieve her dreams against tremendous odds, encouraging you to follow your passions and never give up. The world told Kendall Coyne to slow down. They said "not so fast" when she picked up hockey skates instead of figure skates. They said "just a minute" when she tried out for the boy's team. They told her "you're not enough" so often that she started to believe it. But Kendall had a passion and a dream, so instead of slowing down, she sped up, going on to win Olympic gold and a spot in the Fastest Skater Competition at the 2019 NHL All-Star Weekend. As Fast as Her explores how Kendall held on to her dream, overcame her insecurities, defied her naysayers, and pushed herself past barriers to achieve her goals—and how you can too! Inside this inspirational, sports-meets-real-life inspirational autobiography, Kendall shares: stories that illustrate the lessons she's learned and how to apply them for success affirmations to help young people believe you are can reach your dreams encouragement to fit in, to find your "why," and to create lasting change for others her personal trials and triumphs, inspiring you to discover what excites and exhausts you motivation to be relentless in achieving your own goals Kendall pauses throughout her story to equip you with practical take-aways from her journey to become a top athlete and Olympic medalist, appropriately dubbed "Golden Coynes." As Fast As Her also includes behind-the-scenes and personal photos in a full-color, 8-page insert.