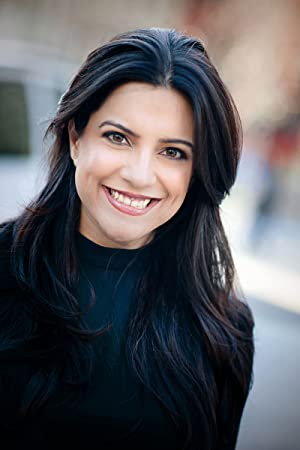 Reshma Saujani
Born:
Illinois 1975
Connection to Illinois
: Saujani was born in Illinois. She is a graduate of the University of Illinois at Urbana-Champaign.
Biography
: Reshma Saujani is the Founder and CEO of Girls Who Code, a national non-profit organization working to close the gender gap in technology and change the image of what a programmer looks like and does. With their 7-week Summer Immersion Program, 2-week specialized Campus Program, after school Clubs, and a 13-book New York Times best-selling series, Girls Who Code is leading the movement to inspire, educate, and equip young women with the computing skills to pursue 21st century opportunities. By the end of the 2018 academic year, Girls Who Code will have reached over 90,0000 girls in all 50 states and several US territories. Girls Who Code alumni are choosing to major in CS, or related fields, at a rate 15 times the national average; Black and Latina alumni are choosing to major in CS or related fields at a rate 16 times the national average. Reshma began her career as an attorney and activist. In 2010, she surged onto the political scene as the first Indian American woman to run for U.S. Congress. During the race, Reshma visited local schools and saw the gender gap in computing classes firsthand, which led her to start Girls Who Code. She has also served as Deputy Public Advocate for New York City and ran a spirited campaign for Public Advocate in 2013. Reshma's TED talk, "Teach girls, bravery not perfection," has more than four million views and has sparked a national conversation about how we're raising our girls. She is the author of three books, including the forthcoming Brave, Not Perfect - scheduled for release in Winter 2018, New York Times bestseller Girls Who Code: Learn to Code and Change the World, and Women Who Don't Wait In Line - in which she advocates for a new model of female leadership focused on embracing risk and failure, promoting mentorship and sponsorship, and boldly charting your own course — personally and professionally. Reshma is a graduate of the University of Illinois, Harvard's Kennedy School of Government, and Yale Law School. She's been named one of Fortune's World's Greatest Leaders, Fortune's 40 Under 40, a WSJ Magazine Innovator of the Year, a Future Lion of New York by the New York Times, a Harold W. McGraw, Jr. Prize in Education winner, one of the 50 Most Powerful Women in New York by the New York Daily News, CNBC's Next List, Forbes's Most Powerful Women Changing the World, Fast Company's 100 Most Creative People, Crain's New York 40 Under 40, Ad Age's Creativity 50, Business Insider's 50 Women Who Are Changing the World, City & State's Rising Stars, and an AOL / PBS Next MAKER. Saujani serves on the Board of Overseers for the International Rescue Committee, which provides aid to refugees and those impacted by humanitarian crises, and She Should Run, which seeks to increase the number of women in public leadership. Reshma lives in New York City with her husband, Nihal, their son, Shaan, and their bulldog, Stanley.
---
Awards
:
Brave, Not Perfect International Bestseller
Girls Who Code International Bestseller; Starred Review, School Library Journal
Primary Literary Genre(s):
Non-Fiction
Primary Audience(s):
Adult readers; Young adult readers
Facebook:
https://www.facebook.com/reshma.saujani
Instagram:
https://www.instagram.com/ReshmaSaujani/
LinkedIn:
https://www.linkedin.com/in/reshma-saujani
Twitter:
https://twitter.com/reshmasaujani
Web:
https://reshmasaujani.com
Wikipedia:
https://en.wikipedia.org/wiki/Reshma_Saujani
WorldCat:
http://www.worldcat.org/search?q=Reshma++Saujani
---
Selected Titles
Brave, Not Perfect: Fear Less, Fail More, and Live Bolder
ISBN: 1524762334 OCLC: 1050455633 Currency 2019 Imagine if you lived without the fear of not being good enough. If you didn't care how your life looked on Instagram. If you could let go of the guilt and stop beating yourself up for making human mistakes. Imagine if, in every decision you faced, you took the bolder path? As women, too many of us feel crushed under the weight of our own expectations. We run ourselves ragged trying to please everyone, pass up opportunities that scare us, and avoid rejection at all costs. There's a reason we act this way, Saujani says. As girls, we were taught to play it safe. Well-meaning parents and teachers praised us for being quiet and polite, urged us to be careful so we didn't get hurt, and steered us to activities at which we could shine. As a result, we grew up to be women who are afraid to fail. It's time to stop letting our fears drown out our dreams and narrow our world, along with our chance at happiness. By choosing bravery over perfection, we can find the power to claim our voice, to leave behind what makes us unhappy, and to go for the things we genuinely, passionately want. Perfection may set us on a path that feels safe, but bravery leads us to the one we're authentically meant to follow. In Brave, Not Perfect, Saujani shares powerful insights and practices to help us let go of our need for perfection and make bravery a lifelong habit. By being brave, not perfect, we can all become the authors of our best and most joyful life.
Girls Who Code: Learn to Code and Change the World
ISBN: 042528753X OCLC: 990266486 Viking Books for Young Readers 2017 Part how-to, part girl-empowerment, and all fun, from the leader of the movement championed by Sheryl Sandberg, Malala Yousafzai, and John Legend. Since 2012, the organization Girls Who Code has taught computing skills to and inspired over 40,000 girls across America. Now its founder, and author Brave Not Perfect, Reshma Saujani, wants to inspire you to be a girl who codes! Bursting with dynamic artwork, down-to-earth explanations of coding principles, and real-life stories of girls and women working at places like Pixar and NASA, this graphically animated book shows what a huge role computer science plays in our lives and how much fun it can be. No matter your interest—sports, the arts, baking, student government, social justice—coding can help you do what you love and make your dreams come true. Whether you're a girl who's never coded before, a girl who codes, or a parent raising one, this entertaining book, printed in bold two-color and featuring art on every page, will have you itching to create your own apps, games, and robots to make the world a better place.
Pay Up: The Future of Women and Work (and Why It's Different Than You Think)
ISBN: 1982191570 OCLC: 1295148707 Atria/One Signal Publishers 2022 The founder of Girls Who Code and bestselling author of Brave, Not Perfect confronts the "big lie" of corporate feminism and presents a bold plan to address the burnout and inequity harming America's working women today. We told women that to break glass ceilings and succeed in their careers, all they needed to do is dream big, raise their hands, and lean in. But data tells a different story. Historic numbers of women left their jobs in 2021, resulting in their lowest workforce participation since 1988. Women's unemployment rose to nearly fifteen percent, and globally women lost over $800 billion in wages. Fifty-one percent of women say that their mental health has declined, while anxiety and depression rates have skyrocketed. In this urgent and rousing call to arms, Reshma Saujani dismantles the myth of "having it all" and lifts the burden we place on individual women to be primary caregivers, and to work around a system built for and by men. The time has come, she argues, for innovative corporate leadership, government intervention, and sweeping culture shift; it's time to Pay Up. Through powerful data and personal narrative, Saujani shows that the cost of inaction—for families, for our nation's economy, and for women themselves—is too great to ignore. She lays out four key steps for creating lasting change: empower working women, educate corporate leaders, revise our narratives about what it means to be successful, and advocate for policy reform. Both a direct call to action for business leaders and a pragmatic set of tools for women themselves, Pay Up offers a bold vision for change as America defines the future of work.
Women Who Don't Wait in Line: Break the Mold, Lead the Way
ISBN: 0544027787 OCLC: 809613763 New Harvest 2013 There's never been a better time to be woman. We live in an era when girls are told they can do anything. So why aren't we seeing more women rising to the top ranks of corporations and the government? Why don't our girls have more women in leadership roles to look up to? Women Who Don't Wait in Line is an urgent wake-up call from politico and activist Reshma Saujani. The former New York City Deputy Public Advocate and founder of the national nonprofit Girls Who Code argues that aversion to risk and failure is the final hurdle holding women back in the workplace. Saujani advocates a new model of female leadership based on sponsorship—where women encourage each other to compete, take risks, embrace failure, and lift each other up personally and professionally. Woven throughout the book are lessons and stories from accomplished women like Susan Lyne, Randi Zuckerberg, Mika Brzezinski, and Anne-Marie Slaughter, who have faced roadblocks and overcome them by forging new paths, being unapologetically ambitious, and never taking no for an answer. Readers are also offered a glimpse into Saujani's personal story, including her immigrant upbringing and the insights she gleaned from running a spirited campaign for U.S. Congress in 2010. Above all else, Women Who Don't Wait in Line is an inspiring call from a woman who is still deep in the trenches. Saujani aims to ignite her fellow women—and enlist them in remaking America.