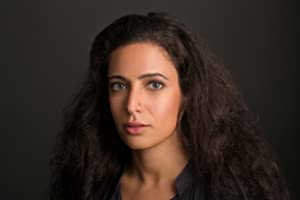 Hala Alyan
Born:
1986 in Carbondale, Illinois
Connection to Illinois
: Alyan was born in Carbondale.
Biography
: Hala Alyan is a Palestinian American writer and clinical psychologist whose work has appeared in Guernica and other literary journals. Her poetry collection ATRIUM was awarded the 2013 Arab American Book Award in Poetry, while her latest collection, HIJRA, was selected as a winner of the 2015 Crab Orchard Series in Poetry and published by Southern Illinois University Press. She is a Lannan fellow and currently resides in Brooklyn, where she works as a clinical psychologist.
---
Awards
:
Salt Houses Dayton Literary Peace Prize and the Arab American Book Award and a finalist for the Chautauqua Prize, Named a Best Book of the Year by NPR, Nylon, Kirkus Reviews, Bustle, BookPage
Atrium 2013 Arab American Book Award in Poetry,
Hijra winner of the 2015 Crab Orchard Series in Poetry and published by Southern Illinois University Press
Twenty-Ninth Year A Rumpus Most Anticipated of 2019 Pick; LitHub, Most Anticipated Books of 2019; Starred Reviews - Booklist and Library Journal
Primary Literary Genre(s):
Fiction; Poetry
Primary Audience(s):
Adult readers
Web:
https://www.halaalyan.com/
Wikipedia:
https://en.wikipedia.org/wiki/Hala_Alyan
WorldCat:
http://www.worldcat.org/search?q=Hala++Alyan
---
Selected Titles
Atrium: Poems
ISBN: 098358138X OCLC: 809456598 Three Rooms Press 2012 In Atrium, award-winning Palestinian-American poet Hala Alyan traces lines of global issues in personal spaces, with fervently original imagery, and a fierce passion and intense intimacy that echoes long after initial reading. The book received the 2013 Arab American Book of the Year Award for Poetry, an astounding achievement for a first collection. In addition, Alyan was recently tapped as a finalist in the Nazim Himet Poetry Competition.
Four Cities
ISBN: 162557939X OCLC: 923796600 Black Lawrence Press 2015 Poetry. Middle Eastern Studies. Wandering from Detroit to Haifa, Tripoli to Brooklyn, the poems of FOUR CITIES reveal the underbelly of cities, bearing witness to narratives of love, occupation and faith. These testimonies are harvested from displaced landscapes, histories and languages, revealing the unsettled lives of immigrants. Using urgent, haunting language, Alyan evokes the unlikely backdrop of Palestinian bazaars and Midwestern junkyards, policed checkpoints and boisterous nightclubs. A Lebanese village burns while lovers kiss in Paris. A traveler unpacks her grief in the homes of strangers. This lyrical collection captures the interplay between adopted and imposed homes, the poignant legacy of exile.
Hijra (Crab Orchard Series in Poetry)
ISBN: 0809335409 OCLC: 954481562 Southern Illinois University Press 2016 In her third poetry collection, Hijra, Hala Alyan creates poems of migration and flight reflecting and bearing witness to the haunting particulars in her transnational journey as well as those of her mother, her aunts, and the female ancestors in Gaza and Syria.
Salt Houses
ISBN: 1328915859 OCLC: 953710082 Harper Perennial 2018 On the eve of her daughter Alia's wedding, Salma reads the girl's future in a cup of coffee dregs. She sees an unsettled life for Alia and her children; she also sees travel and luck. While she chooses to keep her predictions to herself that day, they will all soon come to pass when the family is uprooted in the wake of the Six-Day War of 1967. Lyrical and heartbreaking, Salt Houses follows three generations of a Palestinian family and asks us to confront that most devastating of all truths: you can't go home again.
The Arsonists' City
ISBN: 035812655X OCLC: 1129099310 Harper 2021 A rich family story, a personal look at the legacy of war in the Middle East, and an indelible rendering of how we hold on to the people and places we call home The Nasr family is spread across the globe—Beirut, Brooklyn, Austin, the California desert. A Syrian mother, a Lebanese father, and three American children: all have lived a life of migration. Still, they've always had their ancestral home in Beirut—a constant touchstone—and the complicated, messy family love that binds them. But following his father's recent death, Idris, the family's new patriarch, has decided to sell. The decision brings the family to Beirut, where everyone unites against Idris in a fight to save the house. They all have secrets—lost loves, bitter jealousies, abandoned passions, deep-set shame—that distance has helped smother. But in a city smoldering with the legacy of war, an ongoing flow of refugees, religious tension, and political protest, those secrets ignite, imperiling the fragile ties that hold this family together.
Twenty-Ninth Year
ISBN: 1328511944 OCLC: 1039188705 Ecco 2019 Wild, lyrical poems that examine the connections between physical and interior migration, from award-winning Palestinian American poet, novelist, and clinical psychologist Hala Alyan, author of Salt Houses. For Hala Alyan, twenty-nine is a year of transformation and upheaval, a year in which the past―memories of family members, old friends and past lovers, the heat of another land, another language, a different faith―winds itself around the present. Hala's ever-shifting, subversive verse sifts together and through different forms of forced displacement and the tolls they take on mind and body. Poems leap from war-torn cities in the Middle East, to an Oklahoma Olive Garden, a Brooklyn brownstone; from alcoholism to recovery; from a single woman to a wife. This collection summons breathtaking chaos, one that seeps into the bones of these odes, the shape of these elegies. A vivid catalog of heartache, loneliness, love and joy, The Twenty-Ninth Year is an education in looking for home and self in the space between disparate identities.