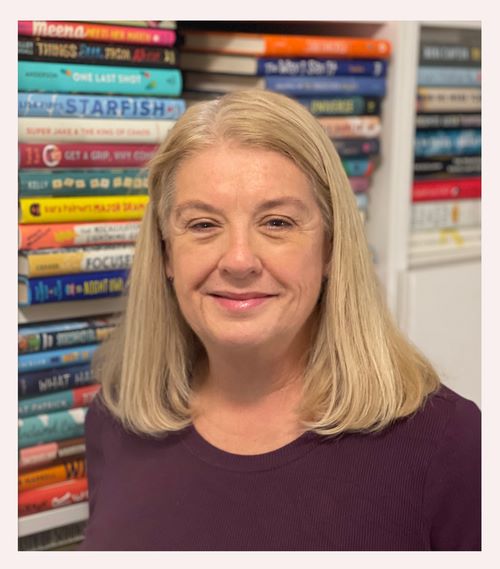 Linda B. Davis
Born:
Connection to Illinois
: Davis lives in the Chicago area.
Biography
: Linda B. Davis has always been curious about why we do the things we do. As a social worker, she became passionate about the need for accurate and accessible mental health information in children's books. She is a member of SCBWI and active in the Chicago writing community. Linda enjoys traveling with her family, gardening, buying more books than she can possibly read, and maintaining her Little Free Library. Food Fight is her first novel.
---
Awards
:
Primary Literary Genre(s):
Fiction
Primary Audience(s):
Children
Facebook:
https://www.facebook.com/linda.b.davis.12
Instagram:
https://www.instagram.com/linda_d65/
Twitter:
https://twitter.com/lindabdavis65
Web:
https://www.lindabdavisauthor.com
WorldCat:
http://www.worldcat.org/search?q=Linda++B.++Davis
---
Selected Titles
Food Fight
ISBN: 1646033434 OCLC: 1340901868 Fitzroy Books 2023 Ben Snyder is ready for middle school. But his super picky eating, which has never been a big deal before, is about to take him down. Suddenly everybody's on his case about what he's eating and what he's not—his old friends, his new friends, his weird lab partner, the girl he's crushing on, and a bully—and Ben finds himself in social free fall, sliding toward the bottom of the middle school food chain. Even worse, there's an upcoming three-day class trip to a colonial campsite. Knowing he can't handle the gag-worthy menu, Ben prepares for the outing like it's a survival mission. Armed with new and unexpected information about his eating habits that could change everything, he sets out with three tactical goals: impress the girl, outsmart the bully, and avoid every single meal. But when epic hunger threatens to push him over the edge, Ben must decide how far he will go to fit in and if he has the courage to stand out.