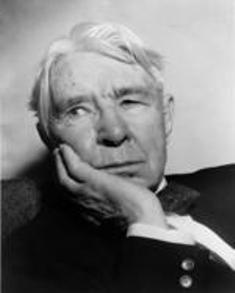 Carl Sandburg
Born:
January 6, 1878 in Galesburg, Illinois
Died:
July 22, 1967 in Flat Rock, North Carolina
Pen Name:
Carl (August) Sandburg, Militant, Jack Philips, Charles Sandburg, Charles A. Sandburg, and Carl Sandberg
Connection to Illinois
: Sandburg was born and raised in Galesburg. His ashes are buried beneath ''Remembrance Rock'' at his birth home - the Carl Sandburg State Historic Site. This site was dedicated as a Literary Landmark on April 25, 2015.
Biography
: Carl Sandburg was born Carl August Sandburg. His parents were Swedish immigrants, and his family was so poor that when he finished eighth grade he went to work full time. Sandburg spent many years traveling around the American West working at a wide variety of jobs, including bootblack, harvester, hotel dishwasher, and newspaper reporter. After fighting in the Spanish-American War, he went to Lombard College in his hometown. Although he did very well, he did not take his final exams and returned to being a hobo for several more years. At age 30, he settled down and put his years of traveling and learning American folksongs and stories to good use in this writing. One of America's best-loved poets, Sandburg was also a popular folklorist and a biographer of Lincoln. He is also famous for his book, ''Rootabaga Stories'', written for his daughters. His Abraham Lincoln biography has come to be considered an American epic. He won two Pulitzer Prizes, one for his poetry and another for a biography of Abraham Lincoln. Sandburg also served as Illinois' second Poet Laureate from 1962 until his death in 1967.
---
Awards
:
'''''Cornhuskers'''''
-- Pulitzer Prize for Poetry, 1919
"""Other Awards and Honors"""
-- Chicago Literary Hall of Fame, 2011
Primary Literary Genre(s):
Poetry
Primary Audience(s):
Adult readers
Instagram:
https://en.wikipedia.org/wiki/Carl_Sandburg
Website:
http://www.poets.org/poet.php/prmPID/28
Website:
https://poets.org/poet/carl-sandburg
Website:
https://www.poetryfoundation.org/poets/carl-sandburg
Website:
https://www.pbs.org/wnet/americanmasters/carl-sandburg-education-carl-sandburg-timeline/2320/
Website:
https://www2.illinois.gov/sites/poetlaureate/Pages/sandburg.aspx
---
Selected Titles
A patriot's handbook :
ISBN: 0786869186 OCLC: 52040923 Hyperion, New York : ©2003. From Publishers Weekly: The rich and sometimes discordant strains of American self-scrutiny fill this wide-ranging anthology. Kennedy (The Best-Loved Poems of Jacqueline Kennedy Onassis) arranges the more than 200 selections according to themes like The Flag, Freedom of Speech, Work, Opportunity and Invention and The Individual, and devotes equal space to the official, the devotional and the oppositional. The Declaration of Independence and the Constitution are reprinted in full, along with a large selection of presidential inaugurals and farewells and excerpts from landmark Supreme Court decisions. Popular songs include Yankee Doodle, This Land Is Your Land and Surfin' U.S.A. Poems and fiction from such luminaries as Whitman, Faulkner, Fitzgerald, Stephen Crane, Alice Walker and Annie Proulx explore the variegated textures of American life. The dissident voices of Thoreau, Susan B. Anthony and Frederick Douglass hold America to account for its injustice; H.L. Mencken castigates it as a commonwealth of third-rate men; and Oscar Wilde raises a sardonic eyebrow at the whole dubious enterprise. Combining traditional touchstones of Americanism with many insightful surprises, Kennedy's thoughtful arrangement of works of historical significance and literary quality will reward both casual browsers and those conducting a more focused investigation of the nation's patriotic literature.
Abe Lincoln grows up
ISBN: 9780156026154 OCLC: 3255283 Harcourt Brace Jovanovich, New York : 1975, ©1928. The story of Lincoln's boyhood, taken from the first part of Abraham Lincoln: The Prairie Years.
Abraham Lincoln;
ISBN: 0156027526 OCLC: 1166281 Harcourt Brace Jovanovich New York, [1974, ©1966] Brings to life the young country lawyer as well as the president who became the central figure in the wildest storm that ever shook the American Republic.
Always the young strangers /
ISBN: 0156047659 OCLC: 24212387 Harcourt Brace Jovanovich, San Diego : 1991. Carl Sandburg recalls his childhood in Galesburg, Illinois.
Billy Sunday and other poems /
ISBN: 0151621306 OCLC: 28212776 Harcourt Brace & Co., San Diego : ©1993. Previously unpublished, uncollected, and unexpurgated poems by the Pulitzer Prize-winning poet portray a variety of duplicitous characters, illustrate the folly of war, and ruminate on the dream of love.
Breathing tokens :
ISBN: 1590910389 OCLC: 70288307 Harcourt Brace Jovanovich, New York : c 2005, 1978.
Carl Sandburg at the movies :
ISBN: 0810817381 OCLC: 11043665 Scarecrow Press, Metuchen, N.J. ; 1985.
Chicago poems
ISBN: 9781313403078 OCLC: 861187493
Cornhuskers
ISBN: 9781514303498 OCLC: 946582121 Cornhuskers by Carl Sandburg is a collection of classic rural American poetry. -- Amazon.com.
Early moon ;
ISBN: 0156273268 OCLC: 856986 A collection of approximately seventy poems by Sandburg, with an introductory "short talk on poetry."
Ever the winds of chance /
ISBN: 0252068483 OCLC: 43365365 University of Illinois Press, Urbana : 1999.
Harvest poems, 1910-1960 /
ISBN: 0156391252 OCLC: 228084 "A representative selection of poems, culled from the Pulitzer Prize-winning poet's published verse." -- Amazon.com.
Honey and salt /
ISBN: 0156421658 OCLC: 37781206 Harcourt, Brace & Co., San Diego : 1991. A collection of 77 lyrical poems testifying to man's courage, frailty, and tenderness.
INCIDENTALS.
ISBN: 5519281297 OCLC: 972434165 Book ON DEMAND LTD, [Place of publication not identified], 2015.
Mary Lincoln, wife and widow /
ISBN: 1557092486 OCLC: 31434749 Applewood Books, Bedford, Mass. : [1995] A reprint of Carl Sandburg's 1932 biography of Mary Todd Lincoln, which discusses such subjects as her childhood in Kentucky, her relationship with Abraham Lincoln, her depression and mental illness after the death of her son Tad, and her institutionalization by her son Robert.
More Carl Sandburg reads.
ISBN: 1559948469 OCLC: 29206197 Caedmon, New York : ©1993.
More Rootabaga stories /
ISBN: 0152047131 OCLC: 51566827 Harcourt, Orlando, Fla. : 2003. A selection of tales from Rootabaga Country peopled with such characters as the Huckabuck Family, Big Buff Banty Hen, Dippy the Wisp, and many others.
Poems for children :
ISBN: 0679989900 OCLC: 39671384 Alfred A. Knopf, New York : ©1999. A collection of previously unpublished poems by the well-known American poet, Carl Sandburg, about such familiar objects and ideas as the moon, manners, eyes, necks, pencils, and clouds.
Poetry for Young People
ISBN: 140275471X OCLC: 166362082 Sterling Pub. Co., New York : 2008. Presents a collection of poems by the beloved American author who, as a young man, travelled across the Midwest as a hobo. The surrealistic illustrations, which appear to be rendered in pastels, are appealing; the soft edges and warm tones work well with Sandburg's imaginary. The full-color illustrations are nothing short of breathtaking. Displays the range of everyday topics in which Sandburg found beauty, humor, or pathos. Unfamiliar words are helpfully defined in footnotes, and an introductory biographical essay establishes a context for the poems. Arcella makes a grand debut; his intensely colored sculptural forms, carved from dramatic shadows, have a distinctly '30s look to them.
Prairie-town boy /
ISBN: 0152633324 OCLC: 21600998 Harcourt Brace Jovanovich, San Diego : [1990], ©1955. An autobiographical account of the author's boyhood in the Midwest.
Remembrance Rock /
ISBN: 0156763907 OCLC: 24216961 Harcourt Brace Jovanovich, San Diego : 1991. Portrays the hardships, successes, dreams, and loves of the men and women who struggled to realize the American dream from Colonial times to now.
Rootabaga pigeons /
ISBN: 1557095094 OCLC: 49521103 Applewood Books, Bedford, Mass. : [2000?]
Rootabaga stories /
ISBN: 015204714X OCLC: 51566829 An Odyssey/Harcourt Young Classic, Orlando, Fla. : 2003. A selection of tales from Rootabaga Country peopled with such characters as the Potato Face Blind Man, the Blue Wind Boy, and many others.
Rootabaga stories and Rootabaga pigeons
ISBN: 0824023145 OCLC: 2047923 Garland Pub., New York : 1976. A collection of fanciful, humorous tales introducing such characters as the Potato Face Blind Man, Henry Hagglyhoagly, the Blue Wind Boy, Googler and Gaggler, and others.
Sandburg range.
ISBN: 0156014084 OCLC: 947267495 Mariner Books, [Place of publication not identified] : 2001.
Selected poems
ISBN: 0517072440 OCLC: 43812537 Gramercy Books ; New York : 1992. A selection of favorites by the American poet.
Slabs of the sunburnt West
ISBN: 1290368252 OCLC: 940779786
Smoke and steel /
ISBN: 0766199444 OCLC: 66461611 Kessinger Publishing, [Whitefish, Mont.] : [2004]
Storm over the land :
ISBN: 9780544798878 OCLC: 926924883
The American songbag /
ISBN: 015605650X OCLC: 21442823 Harcourt Brace Jovanovich, San Diego : 1990. Two hundred and eighty songs and ballads trace the growth of America.
The Chicago race riots, July, 1919.
ISBN: 9780544416901 OCLC: 904439565 The Chicago Race Riots, July, 1919 With a preface by Ralph McGill and introductory note by Walter Lippmann.
The complete poems of Carl Sandburg /
ISBN: 0151009961 OCLC: 93593 "The original edition, published in 1950, won the Pulitzer Prize for poetry. This new, revised and expanded, edition contains, in addition to the introduction, an index of titles, an index of first lines, and 113 poems not included in the earlier volume."--Jacket.
The Family of man :
ISBN: 0870703412 OCLC: 11756389 The Museum : New York, N.Y. : 1983, ©1955. Hailed as the most successful exhibition of photography ever assembled, The Family of Man opened at The Museum of Modern Art in January 1955. It was groundbreaking in its scope--503 images by 273 photographers originating in 69 countries--as well as in the numbers of people who experienced it on its tour through 88 venues in 37 countries. As the permanent embodiment of Edward Steichen's monumental exhibition, this publication reproduces all of the 503 images that Steichen described as "a mirror of the essential oneness of mankind throughout the world. Photographs made in all parts of the world, of the gamut of life from birth to death."
The Huckabuck family and how they raised popcorn in Nebraska and quit and came back /
ISBN: 0374434492 OCLC: 38856059 Farrar Strauss Giroux, New York : 1999. After the popcorn the Huckabucks had raised explodes in a fire and Pony Pony Huckabuck finds a silver buckle inside a squash, the family decides it is time for a change.
The people, yes.
ISBN: 0156716658 OCLC: 235036 Harcourt, Brace & World New York, [©1964] A book of free verse expressing the voice of the people.
The Sandburg Treasury :
ISBN: 9781328521767 OCLC: 1020031335 Houghton Mifflin Harcourt, Boston : 2018. An illustrated volume of all of Carl Sandburg's books for young readers: Rootabaga Stories, Early Moon, Wind Song, Prairie-Town Boy, and Abe Lincoln Grows Up. Introduction by Paula Sandburg.
The wedding procession of the rag doll and the broom handle and who was in it
ISBN: 9780486815855 OCLC: 989802556 The rag doll and the broom handle marry and have a grand wedding procession that includes the Easy Ticklers, the Chubby Chubbs, and the Sleepyheads.