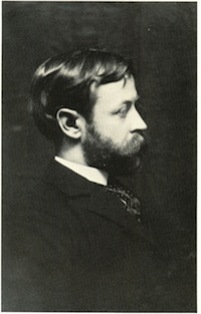 Henry Blake Fuller
Born:
January 9, 1857 in Chicago, Illinois
Died:
July 28, 1929 in Chicago, Illinois
Pen Name:
Sometimes, he wrote under the name of Stanton Page
Connection to Illinois
: Fuller was born and raised in Chicago.
Biography
: Henry Blake Fuller was an American novelist and short story writer. He was a leader in the flowering of Chicago literature in the 1890s. After finishing school, he traveled abroad and came to think that European culture was superior to American. He moved to Europe but returned to Chicago to take over the family business after his father died. His novel, The Cliff-Dwellers, set among residents of a Chicago skyscraper, is often identified as the first important American urban novel. His other Chicago fiction includes: With the Procession, On the Stairs, and Bertram Cope's Year as well as the short story collection Under the Skylights.
---
Awards
:
-- Chicago LGBT Literary Hall of Fame, 2000
-- Chicago Literary Hall of Fame, 2017 - The Henry Blake Fuller Award was created and named in his honor - to honor 'lifetime contributions to literature'
-- Name engraved on the frieze of the Illinois State Library alongside other great Illinois literary figures, 1990
Primary Literary Genre(s):
Fiction
Primary Audience(s):
Adult readers
Wikipedia:
https://en.wikipedia.org/wiki/Henry_Blake_Fuller
---
Selected Titles
Bertram Cope's Year
ISBN: 3842432771 OCLC: 916068339 tredition Hamburg 2011
Bertram Cope's year /
ISBN: 1406500607 OCLC: 742383501 Dodo Press, Peterborough, Ont. : ©2010.
Chevalier of pensieri-vani.
ISBN: 1176266411 OCLC: 945101721 Nabu Press, [Place of publication not identified] : 2010.
Cliff-dwellers :
ISBN: 1290335842 OCLC: 940837457 Hardpress Publishing, [Place of publication not identified] : 2012.
Last refuge.
ISBN: 1290205825 OCLC: 940506767 Hardpress Publishing, [Place of publication not identified] : 2012.
On the stairs.
ISBN: 1290309485 OCLC: 940524379 Hardpress Publishing, [Place of publication not identified] : 2012.
PUPPET-BOOTH.
ISBN: 3743322137 OCLC: 980282043 HANSEBOOKS, [Place of publication not identified], 2016.
The Puppet-Booth
ISBN: 0548218609 OCLC: 179780016 Kessinger Publishing, LLC 2007
Under the Skylights
ISBN: 9783842433199 OCLC: 920890348 tredition Hamburg 2011
With the Procession
ISBN: 9783842466326 OCLC: 920896892 tredition Hamburg 2011