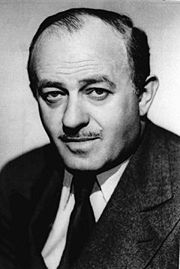 Ben Hecht
Born:
February 28, 1894 in New York City
Died:
April 18, 1964 in New York City
Pen Name:
None
Connection to Illinois
: Hecht worked at Chicago Journal, Chicago Daily News, and Chicago Literary Times between 1910 and 1924.
Biography
: Ben Hecht worked as a reporter in Chicago. He moved from journalism to a successful career as a novelist, Broadway playwright and prolific Hollywood screenwriter. As a writer for the ''Chicago Daily News'', he wrote a column that became the basis for the collection of sketches, ''A Thousand and One Afternoons in Chicago''. Hecht's greatest theatrical success was ''The Front Page'' (1928), written with Charles MacArthur and set in a Chicago newsroom. The play set the image of the tough, wisecracking newspaperman for decades. Moving to Hollywood, Hecht wrote, co-wrote or adapted some of the most successful movies of the 1930s, including the film version of ''The Front Page'' (1931), ''Nothing Sacred'' (1937), ''Gunga Din'' (1938) and ''Wuthering Heights'' (1939). Some of Hecht's liveliest writing about his Chicago years appears in ''Gaily, Gaily'' (1963; filmed in 1969), ''Letters from Bohemia'' (1946) and his autobiography, ''Child of the Century'' (1954).Hecht was called 'the most influential writer in the history of American movies.' He was nominated six times for the Academy Award, winning twice - in 1929 for ''The Scoundrel'' and in 1936 for ''Underworld''.
---
Awards
:
-- Name engraved on the frieze of the Illinois State Library alongside other great Illinois literary figures, 1990
-- Chicago Literary Hall of Fame, 2013
Primary Audience(s):
Adult readers
Ben Hecht on WorldCat :
http://www.worldcat.org/search?q=ben+hecht
---
Selected Titles
A child of the century /
ISBN: 091765742X OCLC: 12288957 Primus, New York : [1985], ©1982.
A thousand and one afternoons in Chicago
ISBN: 1153589028 OCLC: 606220172 General Books, Memphis, TN : 2010.
Ben Hecht's Actor's and sin
ISBN: 1557395918 OCLC: 457252421 Distributed by VCI Entertainment, [United States] : [2009] Some of legendary writer Ben Hecht's best work comes to the screen in a two-in-one show business-themed comedy-drama that reveals what goes on when the greasepaint comes off. In 'Actor's Blood, ' washed-up stage star Edward G. Robinson assembles all the suspects in the murder of his actress-daughter (Marsha Hunt); and in 'Woman of Sin, ' a Hollywood agent discovers to his chagrin that a highly sought-after script was written by a nine-year-old girl--Container.
Erik dorn.
ISBN: 131395487X OCLC: 926853871 Hardpress Ltd, [Place of publication not identified] : 2013.
FANTAZIUS MALLARE :
ISBN: 1333870000 OCLC: 980497738 FORGOTTEN Books, [Place of publication not identified], 2016.
Gargoyles.
ISBN: 0548016259 OCLC: 172977704 Gardners Books 2007.
Guide for the bedevilled /
ISBN: 096468862X OCLC: 36805790 Mila Press, Jerusalem : 1996.
Kingdom of evil :
ISBN: 0405081391 OCLC: 948517639 Ayer Co Pub, [Place of publication not identified] : 1987.
Los actores son un asco
ISBN: 8433912763 OCLC: 434538043 Anagrama Barcelona 1988.
Miss lonelyhearts
ISBN: 4938429527 OCLC: 675358568 Hon-no-tomosha, Tokyo : 1991.
Perfidy /
ISBN: 0964688638 OCLC: 41592806 Milah Press, Jerusalem ; 1997.
Revolution im Wasserglas :
ISBN: 3937834168 OCLC: 136942541 Berenberg Verlag, Berlin : ©2006.
The front page :
ISBN: 1575253100 OCLC: 49226411 Smith and Kraus, Hanover, NH : 2002.