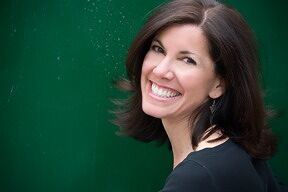 Jean Reidy
Born:
Highland Park, Illinois
Connection to Illinois
: Reidy was born and raised in Highland Park.
Biography
: Jean Reidy's bestselling and award-winning picture books have earned their spots as favorites among readers and listeners of all ages and from all over the world. She is honored to be a three-time winner of the Colorado Book Award, a Parent's Choice Gold Award Winner, a Charlotte Zolotow Honor winner and recognized on "Best of" lists by School Library Journal, the New York Times, NPR and Amazon. Jean writes from her home in Chicago where she lives just a short walk from her neighborhood library … which she visits nearly every day. She loves connecting with her readers. That's why she's a frequent presenter at schools across the country. For more information on scheduling a school visit or for free school and library resources, please see her website. Reidy currently resides in Colorado.
---
Awards
:
Truman An NPR Favorite Book of 2019; A New York Times Best Children's book of 2019; A Kirkus Reviews Best Picture Book of 2019; A School Library Journal Best Picture Book of 2019; Amazon Editor's Pick, Best Books Ages 3 - 5; Starred Review - Library School Journal
A Group Hug Starred Review - Kirkus
Pup 681 Amazon Editors Pick, Best Books Ages 3 - 5; Starred Review - Kirkus
Light Up the Night Starred Review - Kirkus
A Book About You and All the World Too Illinois READS Book Selections, Illinois Reading Council, 2024
Primary Literary Genre(s):
Fiction; Non-Fiction
Primary Audience(s):
Children
E-Mail:
reidy.jean@gmail.com
Facebook:
https://www.facebook.com/jeanreidy/
Instagram:
https://www.instagram.com/reidy.jean/
Twitter:
https://twitter.com/jeanreidy
Web:
https://jeanreidy.com/
---
Selected Titles
A Book About You and All the World Too
ISBN: 0063041529 OCLC: 1345218189 HarperCollins [S.l.] : 2023 Your whole world is waiting. Just step through the door. There's much to discover. There's more to explore.Together, there's so much we can do, in a book, me and you . . . and all the world too! Amazing adventures are in store when we play together, learn together, stand together, and work side-by-side. So, get ready for fun! Get ready to grow!From Jean Reidy and Joey Chou, the dynamic duo behind What Would You Do in a Book About You? and Me and You in a Book Made for Two, comes a story about the joy of sharing the world with others and all the wonderful things that can happen when you are part of something bigger.
A Grand Day
ISBN: 1534499768 OCLC: 1258043039 Simon & Schuster/Paula Wiseman Books 2022 Celebrate the special bond between grandparents and grandchildren with this charming picture book with stunning diorama illustrations.A million kisses! Hugs! Hooray!Our grand day begins this way.Whether planting a garden, having a picnic, or baking, any day spent together is sure to be grand.Follow all kinds of family configurations as grandparents and grandchildren celebrate togetherness: baking, exploring, gardening, and all of life's joyful moments. This rhyming, warmhearted picture book captures the unique bond between grandparents and grandchildren in every kind of family!Jean Reidy is the beloved and bestselling author of Truman and Sylvie. Here she joins forces with artist and craftswoman extraordinaire Samantha Cotterill, who brings this delightful story to life with her signature diorama-style illustrations.
All Through My Town
ISBN: 1619635623 OCLC: 903389909 Bloomsbury USA Childrens 2015 Rising, wakingBread is bakingSchool bus honks its hornWho are the people in your neighborhood? Perfect for the pre-K set, this adorable rhyming text takes a walking tour of your community. The fresh modern art of Leo Timmers features hidden details and a perennial theme reminiscent of Richard Scarry. Little ones will beg to re-read again as they discover the characters who repeat throughout the art in this sweet and vibrant story.
Busy Builders, Busy Week!
ISBN: 168119029X OCLC: 926312826 Bloomsbury USA Childrens 2016 In this bright, bold picture book, a cast of animal characters are building a brand-new playground in a local park for their community! Each day of the week contains a different construction plan as the steam-rolling, digging, and planting gets underway.Tuesday! Mix day!Pipe and boards and bricks day.Stack, spin, pour it in.Give the fence a fix day.Wednesday! Load day!Take it on the road day.Hoist, haul, pull it all.Something being towed day!The construction project comes together for a joyful, rhyming walking tour of a neighborhood, where young readers can learn the days of the week while watching everyone work as a team!
Group Hug
ISBN: 1250127106 OCLC: 1201179152 Henry Holt and Co. (BYR) 2021 There once was a slug, / needing someone to hug. When Slug happens upon a lonely beetle, he knows just what to do. He gives him a big hug―and then the two friends decide to pass it along. They meet Mouse, who's down in the dumps, Skunk, who's a bit smelly, and more and more animals, until their group hug stretches wide and tall. But when Bear comes along, will there be enough hug to share? This delightful picture book encourages kindness and goes to show "that a hugger finds happiness 'longside the hugged!"
Light Up the Night
ISBN: 1423120248 OCLC: 703206522 Hyperion Book New York : 2011 When it's time to sleep, it's nice to know there's a place that's safe. In a cozy house, in a comfy bed, under a blanket that's white and red under stars so bright they light up the night in your own little piece of the universe.
Me and You in a Book Made for Two
ISBN: 0063041510 OCLC: 1267752300 HarperCollins 2022 An excellent read-aloud to be shared again and again, Me and You in a Book Made for Two puts kids at the forefront and asks them to be the authors of their own stories. With its empowering and aspirational themes that celebrate the power of friendship, collaboration, and teamwork, this book fits the canon of timeless, classic books about how we're stronger together than we are apart.What would we do in a book, me and you?Would we repaint the world,and the universe too?Would we seesaw on stars while we take in the view?There are no limits to what we can do in a book made for TWO. So here we go—take my hand. And imagine all WE can do, me and you!
Pup 681: A Sea Otter Rescue Story
ISBN: 1250114500 OCLC: 1077247794 Henry Holt and Co. (BYR 2019 A heartwarming sea otter rescue story.Washed ashore alone, a tiny sea otter pup needs help! Soon, a rescuer is there, to take her in and keep her warm and fed. The pup faces challenges in her new life without her sea otter family. But with the love and care of her rescuer, she flourishes in her new home. Inspired by a true story, Pup 681 is a heartwarming and hopeful tale about family and love.
Sylvie
ISBN: 1534463488 OCLC: 1191457643 Atheneum Books for Young Readers 2022 Sylvie hangs on a silvery thread, safely hidden under her damp, dark fire escape. Sure, it's a little too close to the dumpster below, but if she stays carefully out of sight, she can watch over her people in the apartment building above—a painter, a proper lady, a man with a plan, and a girl with an exceptionally brave tortoise.Day and night, night and day, Sylvie watches over them making sure everything is just so. Lately though, her people seem to be missing…something. Sylvie wants to help, but she's always stayed out of view. After all, not everyone appreciates a spider who calls attention to herself. When a most audacious idea comes to her though, one that might make everything more than just so, maybe even just right, can Sylvie muster her moxie and risk stepping into the spotlight?
Time Out for Monsters!
ISBN: 1423131274 OCLC: 726695766 Hyperion Book New York : 2012 Where can you find a fire truck, a monster, and a great big pile of cupcakes? Come play with this exuberant kid as creativity and imagination transform a blank wall into a colorful adventure. Author Jean Reidy and illustrator Robert Neubecker invite anyone with an outsized imagination to join in this rambunctious romp about making your own world.
Too PIickely
ISBN: 1599903091 OCLC: 455870469 Bloomsbury USA Childrens New York : 2010 Too wrinkly, too squishy, too fruity, too fishy!It's lunchtime, but our fussy little boy does not like a single item on his plate. What is a boy to eat?Reidy's playful rhyming text is once again brought to life by Leloup's stylish bold art. Parents (and children) will love the hilarious antics the boy goes through, and the reassuring joy at the end of all that kitchen-table drama.
Too Princessy!
ISBN: 1599909553 OCLC: 820632327 Bloomsbury USA Childrens New York : 2013 It's a rainy day, but not a single toy in the toy box seems fun enough for our adventuresome little girl. Will her imagination cure her boredom? This sprightly text and stylish art make for a wildly fun board book. Parents (and the antsy toddlers they love) will appreciate this celebration of imagination that is the best solution of all.
Too Purply!
ISBN: 1408803151 OCLC: 966242082 Bloomsbury Childrens Books London : 2010 What can a girl wear to be super-comfortable? Join in with the sartorial adventures of one snazzy dresser as she discovers that so many clothes are too purply, too prickly, too fancy or too plain! But, of course, there is something that she loves to wear ...and it is just perfect.
Truman
ISBN: 1534416641 OCLC: 1012653370 Atheneum Books for Young Readers 2019 After his best friend Sarah leaves for her first day of school, a tortoise named Truman goes on an adventure across the living room and learns to be brave in this thoughtful and heartwarming twist on a first experience story.Truman the tortoise lives with his Sarah, high above the taxis and the trash trucks and the number eleven bus, which travels south. He never worries about the world below…until one day, when Sarah straps on a big backpack and does something Truman has never seen before. She boards the bus!Truman waits for her to return.He waits.And waits.And waits.And when he can wait no longer, he knows what he must do.Even if it seems…impossible!
What Would You Do in a Book about You?
ISBN: 0063041502 OCLC: 1175679606 HarperCollins 2021 For fans of Oh, The Places You'll Go! and The Wonderful Things You Will Be, What Would You Do in a Book About You? will empower kids to reach for their dreams. From Zolotow Honor award-winning author Jean Reidy (Truman) and illustrated by Joey Chou, this lyrical picture book haspitch-perfect rhythm and rhyme and makes for a great read-aloud.No dream is too big or too small in this heartwarming, heart-building book about you!So, stop. Dream. Think it through. And remember, there is so much you can do. Here is an exuberant book that asks what wonderful, endless possibilities your story and your future might hold, making YOU the author of your own powerful tale.Perfect for a graduation, a new baby, a birthday, or any milestone in a child's or adult's life, this book celebrates everything you are capable of doing and becoming. For after all, the best stories are the ones that you will write . . .
When the Snow is Deeper Than My Boots are Tall
ISBN: 1250127122 OCLC: 1064267569 Henry Holt and Co. (BYR) 2019 When the Snow Is Deeper Than My Boots Are Tall is a charming rhyming picture book celebrating the fun of snow and the coziness of winter.Find a frosty window./ Watch the flakes fall./ Look! The snow is deeper than my toes are tall.With young, rhyming verse and bright illustrations, Jean Reidy and Joey Chou captures the joy and excitement of a big snowfall. As the snow climbs over a boy's toes, ankles, shins, and boots, there's more and more fun to be had―snowmen, sledding, snow angels, and, finally, a cup of hot cocoa by a warm fire.