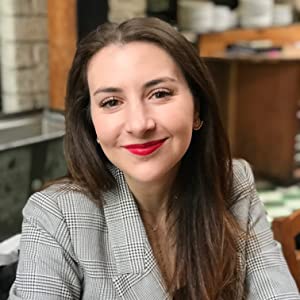 Dana Schwartz
Born:
Connection to Illinois
: Schwartz grew up in Highland Park.
Biography
: Dana Schwartz is a writer with bylines for Entertainment Weekly, Vanity Fair, Glamour, Marie Claire, the New Yorker, GQ, and more. She's the creator of the viral Twitter accounts @GuyInYourMFA and @DystopianYA, and the host and creator of the chart-topping history podcast NOBLE BLOOD. Dana lives in Los Angeles with her cat, Beetlejuice.
---
Awards
:
Immortality INSTANT #1 NEW YORK TIMES BESTSELLER; INSTANT #1 INDIE BESTSELLER; Starred Reviews - School Library Journal and Booklist
Anatomy INSTANT #1 NEW YORK TIMES BESTSELLER; INSTANT #1 INDIE BESTSELLER; INSTANT USA TODAY BESTSELLER; A REESE'S YA BOOK CLUB PICK; Starred Reviews - Booklist and School Library Journal
And We're Off Seventeen Magazine Best Book of the Year
Primary Literary Genre(s):
Fiction
Primary Audience(s):
Adult readers; Young adult readers
Instagram:
https://www.instagram.com/danaschwartzzz/
Twitter:
https://twitter.com/DanaSchwartzzz
Web:
https://dana-schwartz.com/
Wikipedia:
https://en.wikipedia.org/wiki/Dana_Schwartz
WorldCat:
http://www.worldcat.org/search?q=Dana++Schwartz
---
Selected Titles
Anatomy: A Love Story
ISBN: 1250774152 OCLC: 1249629363 Wednesday Books 2022 Dana Schwartz's Anatomy: A Love Story is a gothic tale full of mystery and romance. Hazel Sinnett is a lady who wants to be a surgeon more than she wants to marry. Jack Currer is a resurrection man who's just trying to survive in a city where it's too easy to die. When the two of them have a chance encounter outside the Edinburgh Anatomist's Society, Hazel thinks nothing of it at first. But after she gets kicked out of renowned surgeon Dr. Beecham's lectures for being the wrong gender, she realizes that her new acquaintance might be more helpful than she first thought. Because Hazel has made a deal with Dr. Beecham: if she can pass the medical examination on her own, Beecham will allow her to continue her medical career. Without official lessons, though, Hazel will need more than just her books―she'll need corpses to study. Lucky that she's made the acquaintance of someone who digs them up for a living. But Jack has his own problems: strange men have been seen skulking around cemeteries, his friends are disappearing off the streets, and the dreaded Roman Fever, which wiped out thousands a few years ago, is back with a vengeance. Nobody important cares―until Hazel. Now, Hazel and Jack must work together to uncover the secrets buried not just in unmarked graves, but in the very heart of Edinburgh society.
And We're Off
ISBN: 0448493810 OCLC: 957301912 Razorbill 2017 Seventeen-year-old Nora Holmes is an artist, a painter from the moment she could hold a brush. She inherited the skill from her grandfather, Robert, who's always nurtured Nora's talent and encouraged her to follow her passion. Still, Nora is shocked and elated when Robert offers her a gift: an all-expenses-paid summer trip to Europe to immerse herself in the craft and to study history's most famous artists. The only catch? Nora has to create an original piece of artwork at every stop and send it back to her grandfather. It's a no-brainer: Nora is in! Unfortunately, Nora's mother, Alice, is less than thrilled about the trip. She worries about what the future holds for her young, idealistic daughter—and her opinions haven't gone unnoticed. Nora couldn't feel more unsupported by her mother, and in the weeks leading up to the trip, the women are as disconnected as they've ever been. But seconds after saying goodbye to Alice at the airport terminal, Nora hears a voice call out: "Wait! Stop! I'm coming with you!" And . . . they're off.
Choose Your Own Disaster
ISBN: 1478970391 OCLC: 1003314006 Grand Central Publishing 2018 A"hilarious and heartbreaking" (Jo Piazza) and unflinchingly honest memoir about one young woman's terrible and life-changing decisions while hoping--and sometimes failing--to find herself, in the style of Never Have I Ever and Adulting. Join Dana Schwartz on a journey revisiting all of the awful choices she made in her early twenties through the internet's favorite method of self-knowledge: the quiz. Part-memoir, part-VERY long personality test, Choose Your Own Disaster is a manifesto about the millennial experience and modern feminism and how the easy advice of "you can be anything you want!" is actually pretty fucking difficult when there are so many possible versions of yourself it seems like you could be. Dana has no idea who she is, but at least she knows she's a Carrie, a Ravenclaw, a Raphael, a Belle, a former emo kid, a Twitter addict, and a millennial just trying her best. This long-form personality quiz manages to combine humor with unflinching honesty as one young woman tries to find herself amid the many, many choices that your twenties have to offer.
Immortality: A Love Story (The Anatomy Duology, 2)
ISBN: 1250861012 OCLC: 1310770062 Wednesday Books 2023 Immortality: A Love Story is the eagerly-anticipated sequel to Dana Schwartz's #1 bestselling gothic romance, Anatomy: A Love Story. Hazel Sinnett is alone and half-convinced the events of the year before―the immortality, Beecham's vial―were a figment of her imagination. She doesn't even know if Jack is alive or dead. All she can really do now is treat patients and maintain Hawthornden Castle as it starts to decay around her. When saving a life leads to her arrest, Hazel seems doomed to rot in prison until a message intervenes: Hazel has been specifically requested to be the personal physician of Princess Charlotte, the sickly granddaughter of King George III. Soon Hazel is dragged into the glamor and romance of a court where everyone has something to hide, especially the enigmatic, brilliant members of a social club known as the Companions to the Death. As Hazel's work entangles her more and more with the British court, she realizes that her own future as a surgeon isn't the only thing at stake for her. Malicious forces are at work in the monarchy, and Hazel may be the only one capable of setting things right.
The White Man's Guide to White Male Writers of the Western Canon
ISBN: 0062867873 OCLC: 1115010529 Harper Perennial 2019 ow do you use 'taraddidle' in a sentence? Is it possible to make a Gin Ricky that's also a metaphor for the American Dream? How can you tell your Faulkner from your Franzen if you haven't actually read either? Allow me, the @GuyInYourMFA, to expound on the most important (aka white male) writers of western literature. You've probably seen me around, observing the masses, or defying the wind by hand-rolling a cigarette outside a local, fair-trade coffeeshop. I've actually read Infinite Jest 9 1/2 times. Care to discuss? From Shakespeare's greatest mystery (how could a working-class man without access to an MFA program be so prolific?) to the true meaning of Kafkaesque (you know you've made it when you have an adjective named for you), the pages herewith are at once profound and practical. Use my ingenious Venn diagram to test your knowledge of which Jonathan—Franzen, Lethem, or Safran Foer—hates Twitter and lives in Brooklyn. (Trick question: all 3!) Sneer at chick-lit and drink Mojitos like Hemingway (not like middle-aged divorcées!). So instead of politely nodding along next time you make an acquaintance at a housewarming party in Brooklyn, you can roll up your sleeves and get to work schooling them in character arcs and the experimental form of your next great American novel. Dazzle your friends with how well you understand post-modernism. You'll be at a literary event asking a question "that's really more of a comment" in no time.