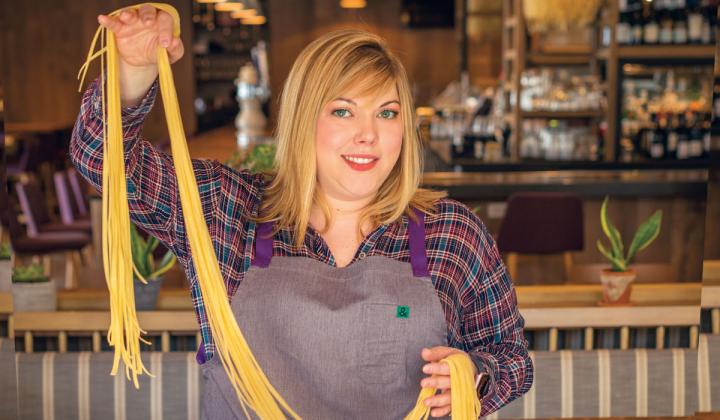 Sarah Gruenberg
Born:
Houston, Texas
Connection to Illinois
: Gruenberg lives in Chicago and is currently Chef/Partner of Monteverde Restaurant & Pastificio in Chicago's West Loop.
Biography
: Since her childhood cooking with her grandparents on their ranch in Texas, Sarah Grueneberg knew she was destined to work in the culinary world. Originally from Houston, Grueneberg moved to Chicago in 2005 to join the team at the award-winning Spiaggia under the leadership of Tony Mantuano. In 2017, Grueneberg received her first James Beard Foundation Award for "Best Chef: Great Lakes." Grueneberg has been a competitor and finalist on Bravo's "Top Chef: Texas" and Food Network's "Iron Chef Gauntlet." She has also been named a "Rising Star Chef" by Chicago Social magazine in 2009 and 2016 and Eater Chicago's "Chef of the Year" in the 2011 Eater Awards. Grueneberg is currently Chef/Partner of Monteverde Restaurant & Pastificio in Chicago's West Loop, which she opened in November 2015 with business partner and long-time friend Meg Sahs. The restaurant has received acclaimed reviews from various outlets, including three out of four stars by The Chicago Tribune. In 2016, Monteverde received accolades including: one of Food & Wine's "America's Best Restaurants," a top 50 finalist in Bon Appetit's "Best New Restaurants" list, Eater's "21 Best New Restaurants in America," GQ's "12 Best New Restaurants," Eater Chicago's "Restaurant of the Year" in the 2016 Eater Awards, the "Worth the Wait" award in Chicago Tribune Dining Awards and named one of Chicago Magazine's "15 Best New Restaurants." In 2017, Monteverde was named one "America's 38 Essential Restaurants" by Eater and then awarded "Restaurant of the Year" in the 2018 Jean Banchet Awards.
---
Awards
:
Listen To Your Vegetables Food & Wine's 28 Cookbooks and Food Books to Add to Your Shelf This Fall; Robb Report's The 9 Best New Cookbooks to Buy This Fall
Primary Literary Genre(s):
Non-Fiction
Primary Audience(s):
Adult readers
Facebook:
https://www.facebook.com/chefsarahjayne
IMDB:
https://www.imdb.com/name/nm4758733/
Instagram:
https://www.instagram.com/chefsarahjayne/
Twitter:
https://twitter.com/chefsarahjayne
Web:
http://www.chefsarahjayne.com/
Wikipedia:
https://en.wikipedia.org/wiki/Sarah_Grueneberg
WorldCat:
http://www.worldcat.org/search?q=Sarah++Gruenberg
---
Selected Titles
Listen To Your Vegetables: Italian-Inspired Recipes for Every Season
ISBN: 0358647118 OCLC: 1291170821 Harvest 2022 From Michelin star– and James Beard Foundation Award–winning chef/owner of Monteverde Restaurant in Chicago, Sarah Grueneberg, a vegetable focused cookbook of more than 180 Italian-inspired recipes. James Beard Award–winning and Top Chef finalist chef Sarah Grueneberg has a secret to share: fruits and vegetables are singing loudly around you, begging you to take them home and try something new. Are you listening? Some are asking to be put in salads, yes. But what does this asparagus want you to do with it? What does it like to be paired with? In this incredible exploration of seasonal produce, Sarah offers insights, techniques, and recipes to truly get the best out of your vegetables—how and when to shop for, cook, season, and seamlessly incorporate potatoes, squash, beans, greens, mushrooms, peppers, and more. Each of the 15 chapters focuses on a vegetable (or fruit, depending on your definition) so they can take center stage, plus one devoted entirely to pastas, drawing on Sarah's long love affair with Italian cooking and the methods that she uses at her renowned restaurant, Monteverde. This elemental cookbook celebrating seasonal produce offers more than 180 impressive yet surprisingly achievable recipes, including: Shaved Mushroom and Celery Salad with Truffle Vinaigrette (#thatsaladtho) Grilled Japanese Sweet Potatoes with Honey Butter and Pimenton Carrot and Lamb Merguez Sausage Lasagna You'll also find indispensable tips and techniques, under the heading "Get It Get It"—an expression Sarah uses in her kitchen when things are coming together perfect. With Listen to Your Vegetables, even the most carnivorous will be inspired to elevate their vegetable game.