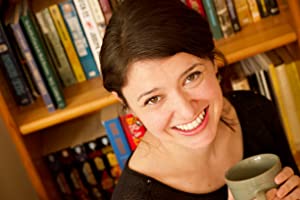 Beth Kander
Born:
Connection to Illinois
: Kander lives in Chicago.
Biography
: Beth Kander grew up in the small-town Midwest and spent more than a decade in the Deep South, always collecting stories. She has an MFA in Creative Writing from Mississippi University for Women and a Master of Social Work from the University of Michigan. Her novels draw readers into her characters' lives, often exploring haunted pasts, interconnected narratives, or re-imagined folklore. An award-winning playwright, she has more than a half-dozen scripts represented by Stage Rights, is the playwright in residence each fall at the Ashland New Plays Festival and has worked with theaters across the country.
---
Awards
:
Primary Literary Genre(s):
Fiction
Primary Audience(s):
Children
Facebook:
https://www.facebook.com/ByBethKander/
Instagram:
https://www.instagram.com/bethkander/
Web:
https://bethkander.com/
WorldCat:
http://www.worldcat.org/search?q=Beth++Kander
---
Selected Titles
Born in Syn
ISBN: 194700350X OCLC: 1088537664 Owl House Books 2019 How did we get here? That's the question that drives each friend, each foe, and every strand of the stories woven together in Born in Syn. From an eerily intelligent infant, to individuals wrongly accused or imprisoned, to insiders who know things they wish they didn't and outsiders determined to bulldoze their way into the action, dozens of small decisions and huge risks pile on top of one another, contributing to the creation of a future that will change everything. War. Ambition. Family. Betrayal. As every character hurtles us ever-faster forward, one truth becomes inescapable: Even the end of the world was once the beginning of someone's story.
Do Not Eat This Book!: Fun with Jewish Foods & Festivals
ISBN: 1534111883 OCLC: 1361674994 Sleeping Bear Press 2023 With a little Yiddish and a lot of humor mixed in, this bubbly read-aloud picture book about holiday foods and traditions emphasizes the joy of the Jewish experience. Rhyming text takes readers through Jewish holidays, including Tu B'Shevat, Purim, and Chanukah, and their related special dishes. Colorful artwork brings the mouthwatering foods to the page and the table. But no matter how delicious the foods look, do not eat this book! Back matter includes a glossary describing each holiday, along with easy, kid-friendly recipes for the featured dishes, kitchen-tested by the author and her family.
Glubbery Gray, the Knight-Eating Beast
ISBN: 1589808673 OCLC: 630478860 Pelican Publishing Gretna, La. : 2020 This colorful, laughter-filled, rhyming counting tale tells of eight knights who have just captured the infamous "Knight-Eating Beast." As they lead him away, however, the line of knights becomes shorter and shorter, until the remaining knight figures out that traveling with a knight-eating beast might not be the smartest idea.
Original Syn
ISBN: 1947003992 OCLC: 1027548053 Homebound Publications 2018 Fifty years after the Singularity, the world is divided into two populations locked in a cold war: Synthetic Citizens, or Syns, human-computer hybrids with extraordinary enhancements and potentially infinite lifespans; and Originals, the individuals who did not merge their bodies with the machines. But the decades-long battle between Original and Syn is almost at an end, because the Originals are on the verge of extinction. One of the only young Originals left in the world, Ere, knows he might someday be the very last of his kind. But when he meets a beautiful, powerful Syn girl called Ever, he questions everything he's ever been told about his lifelong enemies. Original Syn is a rich, dangerous world of family secrets, free will, forbidden love, and all of the unexpected peril that arises when aggressive technology meets stubborn humanity.
Syn & Salvation
ISBN: 194700381X OCLC: 1145091303 Owl House Books 2020 The Original rebels are quietly gearing up for their first uprising in decades, with Ere and Asavari playing critical roles in the fight for freedom; meanwhile, the Syns are distracted by other problems—including a mysterious electromagnetic pulse that begins periodically shuddering through their world, causing damage and devastation. Cal has fallen hard for Ever, who still cannot remember her past entanglement with Ere. And as Dr. Felix Hess fights to maintain control in an increasingly chaotic landscape, a new would-be ruler edges into view. Power struggles, prophecies, and people who just want their freedom all collide in the race to a conclusion that none of them saw coming.