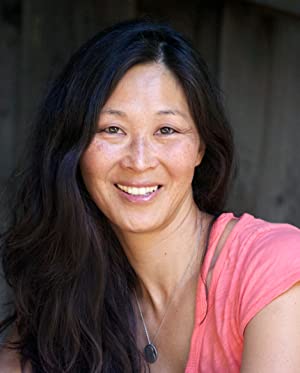 Misa Sugiura
Born:
Chicago, Illinois
Connection to Illinois
: Sugiura was born in Chicago and raised in the suburbs.
Biography
: Misa Sugiura's ancestors include a poet, a priestess, a samurai, and a stowaway. She writes contemporary young adult fiction and lives under a giant oak tree in California with her husband, two sons, and two cats.
---
Awards
:
This Time Will Be Different A Kirkus Reviews Best Book A 2020 YALSA Best Fiction for Young Adults Selection
Primary Literary Genre(s):
Fiction
Primary Audience(s):
Young adult readers
Blog:
https://misasugiura.com/blog/
E-Mail:
misasugiura.author@gmail.com
LinkedIn:
https://www.linkedin.com/in/misa-sugiura-319346138
Web:
https://misasugiura.com/
WorldCat:
http://www.worldcat.org/search?q=Misa++Sugiura
---
Selected Titles
It's Not Like It's a Secret
ISBN: 0062473417 OCLC: 985621425 HarperTeen 2017 This charming and bittersweet coming-of-age story featuring two girls of color falling in love is part To All the Boys I've Loved Before and part Simon vs. the Homo Sapiens Agenda.Sixteen-year-old Sana Kiyohara has too many secrets. Some are small, like how it bothers her when her friends don't invite her to parties. Some are big, like the fact that her father may be having an affair. And then there's the one that she can barely even admit to herself--the one about how she might have a crush on her best friend. When Sana and her family move to California, she begins to wonder if it's finally time for some honesty, especially after she meets Jamie Ramirez. Jamie is beautiful and smart and unlike anyone Sana's ever known. There are just a few problems: Sana's new friends don't trust Jamie's crowd; Jamie's friends clearly don't want her around anyway; and a sweet guy named Caleb seems to have more-than-friendly feelings for her. Meanwhile, her dad's affair is becoming too obvious to ignore. Sana always figured that the hardest thing would be to tell people that she wants to date a girl, but as she quickly learns, telling the truth is easy...what comes after it, though, is a whole lot more complicated.
Love & Other Natural Disasters
ISBN: 006299123X OCLC: 1253774348 HarperTeen 2021 This delightfully disastrous queer YA rom-com is a perfect read for fans of Jenny Han, Morgan Matson, and Sandhya Menon. When Nozomi Nagai pictured the ideal summer romance, a fake one wasn't what she had in mind. That was before she met the perfect girl. Willow is gorgeous, glamorous, and…heartbroken? And when she enlists Nozomi to pose as her new girlfriend to make her ex jealous, Nozomi is a willing volunteer. Because Nozomi has a master plan of her own: one to show Willow she's better than a stand-in, and turn their fauxmance into something real. But as the lies pile up, it's not long before Nozomi's schemes take a turn toward disaster…and maybe a chance at love she didn't plan for.
Momo Arashima Steals the Sword of the Wind
ISBN: 0593564081 OCLC: 1335756928 Yearling 2024 All Momo wants for her twelfth birthday is an ordinary life—like everyone else's. At home, she has to take care of her absentminded widowed mother. At school, kids ridicule her for mixing up reality with the magical stories her mother used to tell her. But then Momo's mother falls gravely ill, and a death hag straight out of those childhood stories attacks Momo at the mall, where she's rescued by a talking fox . . . and "ordinary" goes out the window. It turns out that Momo's mother is a banished Shinto goddess who used to protect a long-forgotten passageway to Yomi—a.k.a. the land of the dead. That passageway is now under attack, and countless evil spirits threaten to escape and wreak havoc across the earth. Joined by Niko the fox and Danny—her former best friend turned popular jerk, whom she never planned to speak to again, much less save the world with—Momo must embrace her (definitely not "ordinary") identity as half human, half goddess to unlock her divine powers, save her mother's life, and force the demons back to Yomi.
This Time Will Be Different
ISBN: 0062473441 OCLC: 1102633920 HarperTeen 2019 For fans of Jenny Han, Morgan Matson, and Sandhya Menon, critically acclaimed author Misa Sugiuradelivers a richly crafted contemporary YA novel about family, community, and the importance of writing your own history. The author of the Asian Pacific American Award-winning It's Not Like It's a Secret is back with another smartly drawn coming-of-age novel that weaves riveting family drama, surprising humor, and delightful romance into a story that will draw you in from the very first page. Katsuyamas never quit—but seventeen-year-old CJ doesn't even know where to start. She's never lived up to her mom's type A ambition, and she's perfectly happy just helping her aunt, Hannah, at their family's flower shop. She doesn't buy into Hannah's romantic ideas about flowers and their hidden meanings, but when it comes to arranging the perfect bouquet, CJ discovers a knack she never knew she had. A skill she might even be proud of. Then her mom decides to sell the shop—to the family who swindled CJ's grandparents when thousands of Japanese Americans were sent to internment camps during WWII. Soon a rift threatens to splinter CJ's family, friends, and their entire Northern California community; and for the first time, CJ has found something she wants to fight for.