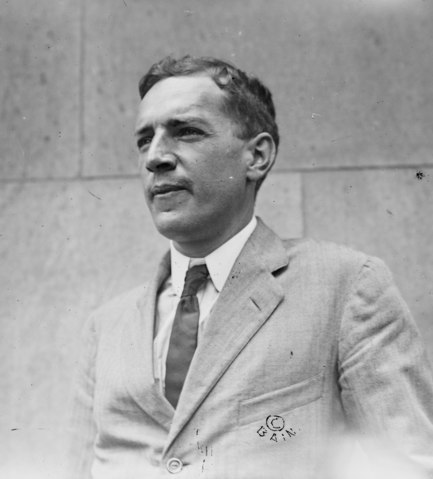 Upton Sinclair
Born:
September 20, 1878 in Baltimore, Maryland
Died:
November 25, 1968 in New Jersey
Pen Name:
None
Connection to Illinois
: Sinclair was most famous for his novel, 'The Jungle' which caused a public uproar that contributed to the passage of the Pure Food and Drug Act and the Meat Inspection Act. He worked in the Chicago stockyards as research for this novel.
Biography
: Upton Sinclair studid at CUNY and Columbia, founded the California chapter of the American Civil Liberties Union and ran twice for Congress on the Socialist ticket. In 1905 he founded the Inter-Collegiate Socialist Society with Clarence Darrow, Jack London, Florence Kelly, Sinclair Lewis, and other writers and intellectuals. This organization later became the League for Industrial Democracy and finally the Students for a Democratic Society in the 1960's. In 1934, ran for Governor of California on his 'End Poverty in California' (EPIC) program. By the time of His death, he had published over 90 works and several of his writings had been made into movies.
---
Awards
:
'''''The Jungle'''''
-- Pulitzer Prize for Novel, 1943
'''Other Awards and Honors'''
-- Name engraved on the frieze of the Illinois State Library alongside other great Illinois literary figures, 1990
-- Chicago Literary Hall of Fame, 2015
Primary Literary Genre(s):
Fiction; Non-Fiction
Primary Audience(s):
Adult readers
IMDB:
https://www.imdb.com/name/nm0801737/
Website:
https://www.biography.com/writer/upton-sinclair
Website:
https://americanliterature.com/author/upton-sinclair/
Wikipedia:
https://en.wikipedia.org/wiki/Upton_Sinclair
---
Selected Titles
King Midas :
ISBN: 9781911429128 OCLC: 974242523 Interactive Media : [United States] : 2016. It was that time of year when all the world belongs to poets, for their harvest of joy; when those who seek the country not for beauty, but for coolness, have as yet thought nothing about it, and when those who dwell in it all the time are too busy planting for another harvest to have any thought of poets; so that the latter, and the few others who keep something in their hearts to chime with the great spring-music, have the woods and waters all for their own for two joyful months, from the time that the first snowy bloodroot has blossomed, until the wild rose has faded and nature has no more to say.
Naturewoman.
ISBN: 1322646066 OCLC: 901218363 Trajectory, Inc., 2014.
Oil! :
ISBN: 9780331168877 OCLC: 1066136996
The flivver king :
ISBN: 9780882863573 OCLC: 173621017 Charles H. Kerr Pub. Co., Chicago : 2006, ©1984.
The jungle :
ISBN: 1884365302 OCLC: 52278809 See Sharp Press, Tucson, Ariz. : ©2003. The horrifying conditions in the meatpacking industry in the early 1900's are revealed through the experiences of immigrants as they try to make a living by working in the Chicago stockyards.
The machine
ISBN: 9781507635193 OCLC: 971497168
The metropolis
ISBN: 155685384X OCLC: 35034609 Audio Book Contractors, Washington, D.C. : ℗1995.
The moneychangers /
ISBN: 1605209066 OCLC: 701369828 Cosimo Classics, New York : ©2009.
The profits of religion :
ISBN: 1440459355 OCLC: 615604451 Seven Treasures Publications, Lexington, KY : ©2008.