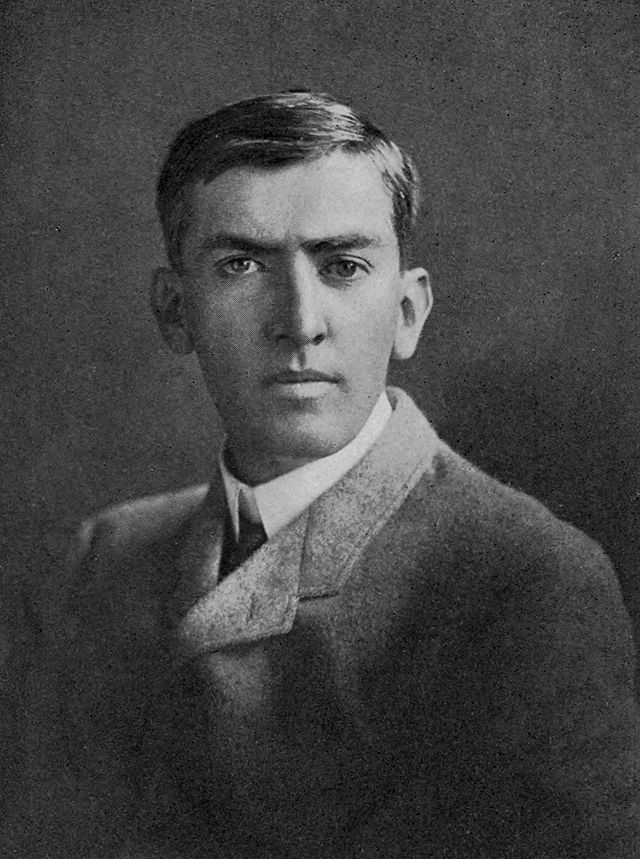 George Ade
Born:
February 9, 1866 in Kentland, Indiana
Died:
May 16, 1944 in Brook, Indiana
Connection to Illinois
: Ade lived and wrote in Chicago from 1890 to about 1902.
Biography
: George Ade wrote a popular newspaper column, Stories of the Streets and of the Town, for the Chicago Record between 1890 and 1900. These columns were the basis of Artie (1896), Pink Marsh (1897) and Doc Horne (1899). Ade's greatest success, however, was Fables in Slang (1899), a collection of short sketches that satirized turn-of-the-century manners in breezy vernacular language. Eleven other collections of fables followed. Ade also was a successful writer of musical comedies, including The College Widow (1904).
---
Awards
:
Body of Work Indiana Journalism Hall of Fame, 1982, Name engraved on the frieze of the Illinois State Library alongside other great Illinois literary figures, 1990
Primary Literary Genre(s):
Fiction
Primary Audience(s):
Adult readers
IMDB:
https://www.imdb.com/name/nm0011748/bio
Web:
https://americanliterature.com/author/george-ade
Web:
https://en.wikipedia.org/wiki/George_Ade_House
Wikipedia:
https://en.wikipedia.org/wiki/George_Ade
---
Selected Titles
Ade's fables.
ISBN: 1177119153 OCLC: 944988202 Nabu Press, [Place of publication not identified] : 2010.
Artie, a story of the streets and town
ISBN: 0548028303 OCLC: 176930722 Kessinger Publishing, LLC 1896
Bang! Bang! A Collection of Stories Intended to Recall Memories of the Nickel Library Days When Boys Were Supermen and Murder a Fine Art: A Collection
ISBN: 0836939085 OCLC: Freeport, N.Y., J. H. Sears & Co., Inc. Freeport, N.Y., 1928 Collection of adventure stories from the pen of humorist George Ade, starring Eddie Parks, the Newsboy Detective. These tales of high derring-do and heroism by the pint-sized adventurer pay tribute to the "nickel library" books that once entranced young boys and outraged their parents. Illustrated with delightful drawings by Ade's longtime collaborator, John T. McCutcheon. Originally published in The Chicago Record. 147 pages.
Breaking into society.
ISBN: 1407769650 OCLC: 940854983 Hardpress Publishing, [Place of publication not identified] : 2012.
Circus day.
ISBN: 1290287260 OCLC: 940517522 Hardpress Publishing, [Place of publication not identified] : 2012.
Doc' horne, a story of the streets and town.
ISBN: 1407679821 OCLC: 940458327 Hardpress Publishing, [Place of publication not identified] : 2012.
Fables in Slang
ISBN: 1125298820 OCLC: Herbert S. Stone and Company 1900 "Fables in Slang" is probably George Ade's most famous book and contains 26 of the humorist's satirical takes on peoples' struggles to fit into new booming cities such as Chicago. Ade, who was perhaps the first modern American humorist, followed in the footsteps of his idol Mark Twain by making expert use of the American language. In his unique "Fables in Slang," which used not so much slang as the American colloquial vernacular, Ade pursued an effectively genial satire notable for its scrupulous objectivity. Ade's regular practice in the best fables is to present a little drama incorporating concrete, specific evidence with which he implicitly indicts the object of his satire—always a type (e.g., the social climber). The fable's actual moral is nearly always implicit, though he liked to tack on a mock, often ironic moral (e.g., "Industry and perseverance bring a sure reward"). Through the values implicit in the fables, Ade manifested an ambivalence between the traditional rural virtues, in which he was raised (the virtues of Horatio Alger and the McGuffey Readers), and the craftiness he saw all around him in booming Chicago." (Wikipedia)
Forty modern fables.
ISBN: 1176622668 OCLC: 944412721 Nabu Press, [Place of publication not identified] : 2010.
Hand-made fables.
ISBN: 1230202714 OCLC: 923391559 Theclassics Us, [Place of publication not identified] : 2013.
I KNEW HIM WHEN :
ISBN: 1332142346 OCLC: 975451394 FORGOTTEN Books, [Place of publication not identified], 2015.
In babel :
ISBN: 1313308072 OCLC: 926966151 Hardpress Ltd, [Place of publication not identified] : 2013.
In pastures new
ISBN: 0665710178 OCLC: 53690665 Musson, Toronto : 1906.
Knocking the neighbors
ISBN: 9781519393739 OCLC: 953875154
More Fables
ISBN: 0548466122 OCLC: 270666 G.J. McLeod 1900
One afternoon with Mark Twain
ISBN: 0849200431 OCLC: 3310877 R. West, Philadelphia : 1977 [©1939]
People You Know
ISBN: B0BSLRK5X2 OCLC: 1905
Pink Marsh
ISBN: 0548393524 OCLC: 179776234 Kessinger Publishing, LLC 1897
Single Blessedness And Other Observations
ISBN: 0548420254 OCLC: 7330048 Kessinger Publishing, LLC 1933
Stories of Chicago
ISBN: 0252028708 OCLC: Urbana : University of Illinois Press Urbana : 2003 Originally published anonymously between 1893 and 1900 in a column in the "Chicago Record," a collection of stories offers a look at the social life of Chicago in the Gay Nineties.
The Girl Proposition
ISBN: B010R2WH7E OCLC: R. H. Russell 1903 More fables from humorist George Ade. These (subtitled A Bunch of He and She Fables), focus on the ever-challenging relationship between men and women. As the author states, "The Girl Proposition contains so many kinds of Human Endeavor that it has been found inadvisable to treat the Subject exhaustively in a mere Pocket Guide. The Purpose of this Volume shall have been accomplished if Students are aroused to a keener Interest in the sprightly Topic and feel encouraged to undertake Original Research, verifying by Experiment the Conclusions herewith set down." The illustrations, in imitation of the old-style woodcuts, are by John T. McCutcheon, Frank Holme, Carl Werntz, and Clyde J. Newman. 192 pages.
The old-time saloon :
ISBN: 9780226412306 OCLC: 944087067 Fancy a tipple? Then pull up a stool, raise a glass, and dip into this delightful paean to the grand old saloon days of yore. Written by Chicago-based journalist, playwright, and all-round wit George Ade in the waning years of Prohibition, The Old-Time Saloon is both a work of propaganda masquerading as "just history" and a hilarious exercise in nostalgia. Featuring original, vintage illustrations along with a new introduction and notes from Bill Savage, Ade's book takes us back to the long-gone men's clubs of earlier days, when beer was a nickel, the pretzels were polished, and the sardines were free.
The Slim Princess
ISBN: 0548007411 OCLC: 1075716 1st World Library - Literary Society 1907
True bills.
ISBN: 128662648X OCLC: 935005614 Nabu Press, [Place of publication not identified] : 2012.
VERSES AND JINGLES, The Indiana Society of Chicago
ISBN: B002HFS5Y4 OCLC: The Bobbs-Merrill Co. 1911 First collection of George Ade's humorous poetry. Limited to 1000 copies for The Indiana Society of Chicago. 91 pages.