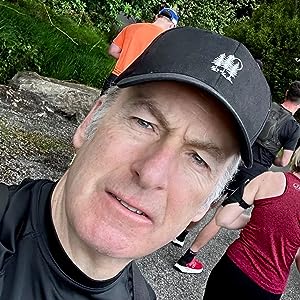 Bob Odenkirk
Born:
October 22, 1962 in Berwyn, Illinois
Connection to Illinois
: Odenkirk was born in Berwyn and raised in Naperville. He attended Southern Illinois University in Carbondale.
Biography
: Bob Odenkirk is best known as an actor from television shows like "Mr. Show with Bob and David", "Breaking Bad", and "Better Call Saul", and films like "Nobody", "The Post", and "Nebraska", among many others. He began his career as a writer, first at "Saturday Night Live" (1987-91), then on numerous television shows "Mr. Show", "Get A Life", and "Tenacious D HBO shorts", among many others. He has won two Emmy awards for writing, one for SNL and one for "The Ben Stiller Show", and numerous awards for acting. Despite his acting successes, he continues to insist on "tickling the ivories"...on a computer keyboard. His book of unproduced comedy scripts "Hollywood Said No" was a best seller (tho for some reason, Amazon won't list it here), and his memoir "Comedy Comedy Comedy Drama" also hit the list. As of this writing, his latest book, "Zilot and Other Important Rhymes" written WITH his children Nate and Erin when they were little, then rewritten when they were adults, features funny silly smart poetry for kids, and illustrations by Erin Odenkirk, who's now an adult and quite talented...as you shall see. He is happy to have made a lot of comedy and wants to keep making more, and he hopes he helps you smile today with something he made.
---
Awards
:
Primary Literary Genre(s):
Fiction
Primary Audience(s):
Adult readers
IMDB:
https://www.imdb.com/name/nm0644022/
Instagram:
https://www.instagram.com/therealbobodenkirk/
Twitter:
https://twitter.com/mrbobodenkirk
Web:
https://bobodenkirk.com/
WorldCat:
http://www.worldcat.org/search?q=Bob++Odenkirk
---
Selected Titles
A Load of Hooey
ISBN: 1938073886 OCLC: 858603022 McSweeney's 2014 Bob Odenkirk is a legend in the comedy-writing world, winning Emmys and acclaim for his work on Saturday Night Live, Mr. Show with Bob and David, and many other seminal TV shows. This book, his first, is a spleen-bruisingly funny omnibus that ranges from absurdist monologues ("Martin Luther King, Jr's Worst Speech Ever") to intentionally bad theater ("Hitler Dinner Party: A Play"); from avant-garde fiction ("Obituary for the Creator of Madlibs") to free-verse poetry that's funnier and more powerful than the work of Calvin Trillin, Jewel, and Robert Louis Stevenson combined. Odenkirk's debut resembles nothing so much as a hilarious new sketch comedy show that's exclusively available as a streaming video for your mind. As Odenkirk himself writes in "The Second Coming of Jesus and Lazarus," it is a book "to be read aloud to yourself in the voice of Bob Newhart."
Comedy Comedy Comedy Drama: A Memoir
ISBN: 0399180516 OCLC: 1269420244 Random House 2022 ONE OF THE BEST BOOKS OF THE YEAR: The New Yorker, Vulture, Newsweek Bob Odenkirk's career is inexplicable. And yet he will try like hell to explicate it for you. Charting a "Homeric" decades-long "odyssey" from his origins in the seedy comedy clubs of Chicago to a dramatic career full of award nominations—with a side-trip into the action-man world that is baffling to all who know him—it's almost like there are many Bob Odenkirks! But there is just one and one is plenty. Bob embraced a life in comedy after a chance meeting with Second City's legendary Del Close. He somehow made his way to a job as a writer at Saturday Night Live. While surviving that legendary gauntlet by the skin of his gnashing teeth, he stashed away the secrets of comedy writing—eventually employing them in the immortal "Motivational Speaker" sketch for Chris Farley, honing them on The Ben Stiller Show, and perfecting them on Mr. Show with Bob and David. In Hollywood, Bob demonstrated a bullheadedness that would shame Sisyphus himself, and when all hope was lost for the umpteenth time, the phone rang with an offer to appear on Breaking Bad—a show about how boring it is to be a high school chemistry teacher. His embrace of this strange new world of dramatic acting led him to working with Steven Spielberg, Alexander Payne, and Greta Gerwig, and then, in a twist that will confound you, he re-re-invented himself as a bona fide action star. Why? Read this and do your own psychoanalysis—it's fun! Featuring humorous tangents, never-before-seen photos, wild characters, and Bob's trademark unflinching drive, Comedy Comedy Comedy Drama is a classic showbiz tale told by a determined idiot.
Hollywood Said No!: Orphaned Film Scripts, Bastard Scenes, and Abandoned Darlings from the Creators of Mr. Show
ISBN: 1455526304 OCLC: 827082755 Grand Central Publishing 2013 Mr. Show fans rejoice! After all these years, Bob and David are finally back together with a collection of hilarious, never-before-seen scripts, sketches, and ideas that may have just been too good for Hollywood. Bob Odenkirk and David Cross, creators of HBO's classic sketch comedy show Mr. Show, present to you this collection of never-before-seen scripts and ideas that Hollywood couldn't find the gumption to green-light. Simply put... Hollywood Said No! Since Mr. Show closed up shop, Bob and David have kept busy with many projects--acting in fun, successful, movies and TV shows, directing things, and complaining about stuff that didn't turn out well to anyone who would listen, and even alone, in silence, inside their own heads. Hollywood Said No! reveals the full-length, never-before-seen scripts for Bob and David Make a Movie (fleshed out with brand-new storyboards by acclaimed artist Mike Mitchell) and Hooray For America!: a satirical power-house indictment of all that you hold dear. This tome also includes a bonus section of orphaned sketch ideas from the Mr. Show days and beyond, suitable for performance by church groups that aren't all koo-koo about religion. What you are looking at online, and are about to buy, is chock-full of comic twists, turns, and maybe a few hard truths. We said "maybe," but what we mean was "probably not." Now, for the first time, take a peek at the scripts that didn't get the go-ahead and ponder a world we can only dream about...and beyond!
Zilot & Other Important Rhymes
ISBN: 0316438502 OCLC: 1367236985 Little, Brown Books for Young Readers 2023 Emmy Award-winning and New York Times bestselling writer, comedian, and actor Bob Odenkirk and his daughter, illustrator Erin Odenkirk, present poetic nonsense for all ages perfect for fans of Shel Silverstein and Jack Prelutsky! Bob Odenkirk began writing these poems with his children when they were little, compiling the poetry into a homemade book entitled Olde Time Rhymes. He wanted Nate and Erin to understand that actual people had written the books the family loved to read and to instill in them the feeling that they could be writers and illustrators themselves. Almost twenty years later, when the Odenkirks found themselves quarantined under the same roof, they revisited these mostly silly, sometimes poignant works. It wasn't until Erin began to create illustrations to accompany the words, though, that the book grew to be something much bigger than an Odenkirk family treasure. From the titular made-up word for a blanket fort, an adorable dog with a penchant for the zoomies, and a father teaching his kids how umbrellas work, the subjects of these works, complemented by Erin's whimsical and detailed linework, come alive on these pages. Featuring over seventy poems, Zilot & Other Important Rhymes will delight readers young and old.