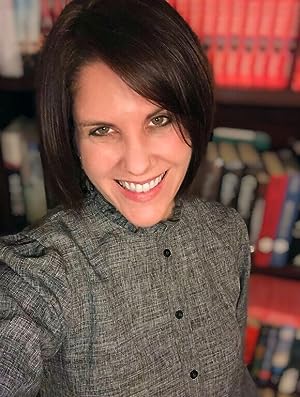 Amy Pine
Born:
Pen Name:
AJ Pine
Connection to Illinois
: Pine is from the Chicago suburbs.
Biography
: A librarian by day and a romance writer by night, A.J. Pine can't seem to escape the world of fiction, and she wouldn't have it any other way. When she finds that 25th hour in the day, she might indulge in a tiny bit of TV where she nourishes her undying love of vampires, superheroes, and all things K-Drama.
---
Awards
:
Primary Literary Genre(s):
Fiction
Primary Audience(s):
Adult readers
Facebook:
https://www.facebook.com/ajpineauthor
Instagram:
https://www.instagram.com/aj_pine/
Twitter:
https://twitter.com/AJ_Pine
Web:
https://www.ajpine.com/
Web:
https://www.afternoonadelight.com/
---
Selected Titles
A Little Country Christmas
ISBN: 1538735776 OCLC: 1196187458 Forever 2020 From matchmaking carolers to a festive lights competition, four bestselling authors explore the magic of the holidays in these heartwarming small towns.The Perfect Christmas by Carolyn BrownRugged cowboy Landon Griffin can't help being smitten by single mom Dixie Boudreaux and her baby girl. To help win their hearts, he wants to give them both the perfect holiday at Longhorn Ranch -- baking cookies, trimming the tree, building snowmen, and the whole works. But when nothing seems to go right, he might need a Christmas miracle to help him out of the mess.Joy to the World by Hope RamsayRetired music teacher Brenda McMillan has lost her holiday spirit, but reluctantly agrees to fill in for the director of the Magnolia Harbor Christmas Chorale -- even though Dr. James Killough, the town's biggest Christmas enthusiast, is the group's accompanist. Will he have enough Christmas magic to mend her broken heart?Home for the Holidays by Rochelle AlersPastry chef Iris Nelson is looking forward to spending Christmas on Cavanaugh Island with her best friend's family. But she wasn't expecting to celebrate with their very handsome visitor on leave from Afghanistan. Is their attraction just the glow of the season or a gift to enjoy forever?A Christmas Cowboy at Heart by A.J. Pine For Deputy Sheriff Daniela Garcia, no hometown tradition makes her happier than the Meadow Valley Holiday Light Parade. This year she's planning for the sheriff's office to have the most dazzling lights. But when the new mayor -- and certified grinch -- threatens to cancel the event, Dani will have to show him the true meaning of Christmas.
Finally Found My Cowboy
ISBN: 1728253780 OCLC: Sourcebooks Casablanca 2024 Nothing mends the heart quite like a cowboy.Dancer Beth Spence finally gets a shot at her dream―auditioning for the Radio City Music Hall Rockettes. But her audition concludes with a torn Achilles tendon and possibly the end of her dance career. When her sister, Delaney, flies her to Meadow Valley, California to recuperate, she is reluctant to go, but out of options. Beth has no idea that Delaney has set her up with a job managing widower Eli Murphy's veterinary clinic while staying in the guest house on his ranch. Beth and Eli's attraction is undeniable, but Beth has every intention of making a full recovery and heading back to New York. Eli has no intention of loving and losing again. Too bad their hearts have other plans.
Hard Loving Cowboy
ISBN: 1538727110 OCLC: 1085143360 Forever 2019 This cowboy's handsome, sexy, and definitely off limits . . . Walker Everett spends his days at the Crossroads Ranch wrangling cattle---and steering clear of anything that would complicate his already too-complicated life. Until Violet Chastain, the ranch's newest employee, asks him to pretend to be her boyfriend for her parents' anniversary party. She's the most beautiful woman he's ever met and needs his help. How can he refuse? Violet isn't about to fall for a brooding bad-boy cowboy, no matter how sizzling their chemistry. But she also never expected Walker to go along with the charade. Before long, he's charming her parents at their weekly dinners and kissing her way more than necessary. Spending so much time together tests the limits of their "just friends" relationship, but what happens when their game of pretend becomes all too real? Includes the bonus story Rocky Mountain Cowboy by Sara Richardson!
Holding Out for a Cowboy
ISBN: 1728253756 OCLC: 1322365683 Sourcebooks Casablanca 2022 Sweet and steamy is a heady combination… Casey Walsh and Boone Murphy had a bright future together until family betrayal and tragedy tore them apart. Now, more than a decade later, the beauty school dropout runs Meadow Valley's family tavern and steers clear of the boy who once stole her heart―no small feat in such a small town. When Casey's car breaks down on the way to an important interview, she's rescued by none other than Boone himself―on what was supposed to be his wedding day… Boone Murphy was finally going to put Meadow Valley in his rearview mirror. Except when it came time to say "goodbye" to his hometown and "I do" to his new life, he couldn't do it. Now he's back home and his only dream is winning back the girl he's always loved…
I Do
ISBN: 1682810291 OCLC: Entangled:Embrace 2015 Duncan McAllister is marrying Elaina Tripoli tomorrow. Except—he's missing. Jordan, Noah, Griffin, Maggie, and Miles arrive in Greece for the festivities to find frantic messages from both the bride and groom. Noah and Griffin set off to find Duncan while Jordan, Maggie, and Miles try to salvage what should be a day of celebration before the wedding. But the Americans have their own baggage. Noah's got a surprise planned for Jordan that has to go perfectly. Griffin's keeping life-changing news from Maggie. And Miles—well, he wasn't looking for love on this trip until a Greek sous chef named Alex rocks his world. The race is on for Duncan to make it back to Elaina before she decides not to take him back at all. For Noah to make sure his monumental plan goes off without a hitch. For Griffin to tell Maggie the truth without losing her. For Miles to admit that letting himself fall in love is worth the risk. Happily Ever After waits at the finish line…if the four couples can make it on time.
If Only
ISBN: 1500883751 OCLC: 904801701 Entangled: Embrace 2014 Sometimes it takes crossing an ocean to figure out where you belong.It's been two years since twenty-year-old Jordan had a boyfriend—which means it's been forever since she, well, you know. But now she's off to spend her junior year in Aberdeen, Scotland, the perfect place to stop waiting for Mr. Right and just enjoy Mr. Right Now.Sexy, sweet (and possible player) Griffin may be her perfect, no-strings-attached match. He's fun, gorgeous, and makes her laugh. So why can't she stop thinking about Noah who, minutes after being trapped together outside the train's loo, kisses Jordan like she's never been kissed before? Never mind his impossible blue eyes, his weathered, annotated copy of The Great Gatsby (total English-major porn)…oh, and his girlfriend.Jordan knows everything this year has an expiration date. Aberdeen is supposed to be about fun rather than waiting for life to happen. But E. M. Forster, Shakespeare, and mistletoe on Valentine's Day make her reconsider what love is and how far she's willing to go for the right guy.
Make Mine a Cowboy
ISBN: 1538749815 OCLC: 1130369289 Forever 2020 From this "fabulous storyteller" (Carolyn Brown, New York Times bestselling author) comes the next Meadow Valley western romance series. Dr. Charlotte North has no time for a player, not even one as tempting as Ben Callahan. Besides, Charlotte is only in Meadow Valley for a few months to help her grandmother. After that, it's back to New York and the career she loves. But when her gran starts to meddle in her personal life, Charlotte knows just the man to help her out. Ben's the perfect no-strings boyfriend, until Charlotte discovers that beneath that rugged, charming exterior lies a sweet and bighearted cowboy. Ben Callahan is tired of people assuming he's an immature playboy, so when the smart and sexy Charlotte asks him to be her pretend boyfriend, he jumps at the chance to show everyone that he's changed his ways. Though he and Charlotte are calling their relationship fake, Ben's heart says otherwise. Two months with Charlotte isn't nearly enough. Will Ben be able to prove he's worthy of her for real before their time together is up, or will she leave Meadow Valley -- and him -- forever? Includes the bonus novel Hometown Cowboy by Sara Richardson!
My One and Only Cowboy
ISBN: 1538749793 OCLC: 1129669127 Forever 2019 From this "fabulous storyteller" (Carolyn Brown, New York Times bestselling author) comes the first book in an all-new western romance series. Delaney Harper thought she'd seen the last of Meadow Valley after her deadbeat husband left her brokenhearted and, well, just flat broke. But news that her ex sold their land means she's heading back to reclaim her share of the property and the dreams she was forced to put on hold. Only one thing stands in her way now: a smoking hot cowboy. Sam Callahan is too busy trying to keep his new guest ranch afloat to spend any time on serious relationships-at least, that's what he tells himself. But when a gorgeous blonde shows up insisting she owns half his property, Sam quickly realizes he's got bigger problems than Delaney's claim on the land---she could also claim his heart. B~>Includes the bonus novel The Toughest Cowboy in Texas by New York Times bestselling author Carolyn Brown!
Only a Cowboy Will Do
ISBN: 1538749866 OCLC: 1242738670 Forever 2021 A small-town woman is swept off her feet by a caring stranger in this charming western romance from a "fabulous storyteller" (Carolyn Brown, New York Times bestselling author). Forty candles, and one for luck. Jenna Owens wants one thing for her birthday this year: a fairy-tale ending of her own and a little relaxation at a quaint California ranch. What she didn't want was to get caught in a storm on her way to Meadow Valley. Or to get stuck with a ridiculously hot, too-charming-for-his-own-good cowboy—one who makes Jenna reconsider her "I don't date younger guys" rule. But a little vacation flirtation might be just what she needs. Colt Morgan isn't interested in long-term relationships. Not since his last one crashed and burned after his fiancée found out he wanted a big family. So when he learns that Jenna has a list of items to accomplish on her trip—including having fling—Colt is all too happy to oblige. Yet the more he and Jenna get to know each other, the more Colt starts to wonder if maybe they have a chance at a real future. But when Jenna's past upends everything, Colt thought he wanted, are all bets off? Or will they find a way to make both their dreams come true? Includes the bonus novella Sealed with a Kiss by Melinda Curtis!
Second Chance Cowboy
ISBN: 1538723883 OCLC: 1342603347 Forever 2022 Once a cowboy, always a cowboyTen years ago, Jack Everett left his family's ranch without a backward glance. Now, what was supposed to be a quick trip home for his father's funeral has suddenly become more complicated. The ranch Jack can handle—he might be a lawyer, but he still remembers how to work with his hands. But turning around the failing vineyard he's also inherited? That requires working with the one woman he never expected to see again.Ava Ellis broke her own heart the night she let Jack go. She was young and scared—and secretly pregnant with Jack's baby. Now that he's back and asking for her help, Ava sees her opportunity to right the wrongs of the past. But how will he feel about the son he's never known? Could this be their second chance—or their final heartbreak?
Six Month Rule
ISBN: 1682812375 OCLC: 980395282 Entangled Publishing 2016 "A pitch-perfect blend of sexy and sweet, this office romance had me hooked from the first page." Jennifer Blackwood, author of The Rule Book She created the game, but the rules are about to change. The second I met Will Evans in his three-piece suit with that hot as hell British accent, I wanted him. That is...until he insulted my shoes and stole my corner office. Now I have to work side-by-side with the surly British arsehole who just set my career back six months. It's fine. That accent won't get to me, no matter how sexy it sounds when he asks permission to do things professionals shouldn't do. On the couch. In the corner office I still wish was mine. Maybe we can't keep our hands off each other, but I'm sure as hell not falling for a guy who lives an ocean away. Because in six months, he's leaving for good. I don't do broken hearts, but you know what they say... There's a first time for everything. Each book in the Kingston Ale House series is a standalone, full-length story that can be enjoyed out of order.
The Bloom Girls
ISBN: 153871857X OCLC: 1259549972 Forever 2021 Gilmore Girls meets My Big Fat Greek Wedding in this humorous, multi-generational story about a mother and daughter who discover that life happens when you least expect it.Gabi Bloom doesn't believe in signs. She believes in photographic evidence, the view through her camera lens, and the snap of the shutter. It's why she traveled to Europe—to satisfy her wanderlust and to kick off her photography career. But in Ireland, all of that changed when Gabi gazed into the impossibly blue eyes of an American bartender. She wasn't prepared for their intense and immediate attraction, or the fact that she'd be bringing Ethan home with her . . . as her fiancé.Gabi's upcoming marriage is the cherry on top of her mother's current predicament. Stumbling toward forty, Alissa is a pastry chef who raised her daughter single-handedly while Gabi's father traveled the globe. Now her baby girl is getting married after a whirlwind romance and Alissa—well, Alissa is pregnant. Again. And not only is her ex the father, he wants her back. For good. Until she can figure out that part of the puzzle, Alissa is hiding her big little secret even as she helps Gabi plan a happily-ever-after wedding. But somewhere between disaster and hope, life might just bloom in a way that is breathtakingly unexpected . . .
The Cottage on Glass Lake
ISBN: 1538718618 OCLC: 1386705780 Forever 2023 In this perfect beach read, a recent divorcee and a woman independent to a fault form a spectacular bond as they move forward and help each other through love, loss, and big life changes—perfect for fans of Jill Shalvis and Susan Mallery.Dr. Becca Weiland had the perfect life—or so she thought, until she learned her husband cheated on her after a decade of marriage. With divorce papers signed, Becca throws her trademark caution to the wind and agrees to an impromptu monthlong vacation at a beach house with Sadie, a woman she's known all her life but really doesn't know at all.Free-spirit Sadie Bloom is Becca's opposite in every way, living in the moment and wasting zero energy on what comes next. But the pastry chef's nothing-bothers-me exterior hides a fear she's not ready to face—one that may jeopardize a future she never realized she wanted.At first, Sadie's go-big-or-go-home style bumps up against Becca's perfectionism, but soon they're bonding over too much Schnapps, a leaky roof, a bikini wax gone awry, and awkward meet-cutes with two of the hottest men in town. Best of all, in getting to know each other, they've gotten to know themselves, and together they find the courage to discover what it really means to live.
The One That Got Away
ISBN: 1530406862 OCLC: CreateSpace 2016 JamieI've been in love with my best friend for as long as I can remember. I tried to tell her in high school, which royally backfired. Ten years hasn't changed things, but now I'm finally ready to lay it all out on the table. The only problem? She's got her sights set on someone else.I made the mistake of letting her go once before. This time, I'm going to prove that the only guy she needs is me.BrynnWe're best friends—nothing more—and it's good like this. That's what I've been telling myself since the night in high school when we shared a single kiss, a night that was great—but then wasn't. Now we're on a road trip to California, and he's surprising me at every turn—helping me overcome my fear of heights, belting out my favorite Monkees song, and looking way sexier with his shirt off than a best friend is supposed to.But admitting how I feel may mean losing our friendship. I thought I'd find happiness in California, but now I'm wondering if the right guy for me has been by my side all along.
The Second Chance Garden (Heart of Summertown, 1)
ISBN: 1728253845 OCLC: 1355039645 Sourcebooks Casablanca 2023 A small town is the perfect place to find love―but first there's work to do…When a tornado tears through her hometown of Summertown, Illinois, wreaking havoc on the people she loves, social media manager Emma Woods has no choice but to head back home from her life in the big city to help rebuild. She's determined to use her social media savvy to put Summertown back on the map in time for the annual Garden Fest with rival town Middlebrook. Summertown really needs that prize money now. And if she can only avoid Matteo Rourke―the reason she left Summertown in the first place―all the better.Matteo can't help what happened that broke up his and Emma's relationship years ago. All he can do now that she's back in town is avoid her, but of course everywhere he goes, Emma is there…
Three Simple Words
ISBN: 153905814X OCLC: CreateSpace 2016 AnnieI know where to find my happily ever after—between the pages of a romance novel. It's why I sell books, why I blog about them, and why I'll never get disappointed by love.So what if my brother's best friend from high school is now a bestselling author? Or that he just blew back into town on a Harley, filling out a pair of jeans like he never did before? Or that he's agreed to do a signing at my bookstore on such short notice? Because despite all his adoring female fans, I kind of hated his book.WesThe last time I saw Annie Denning, she was a senior in high school, three years older than me and way out of my league. Now I'm her last-minute date to a wedding, and what started as a night of pure fun has turned into something more real than either of us anticipated.Annie is my muse. When I'm with her, my writer's block fades away, and the words finally flow.The only problem? She wants the fairy tale—her very own happily ever after—and anyone who's read my book knows the truth. I just don't believe they exist.
Tough Luck Cowboy
ISBN: 1538727102 OCLC: 1014375697 Forever 2018 From this "fabulous storyteller" (Carolyn Brown, New York Times bestselling author) comes a sweet western romance between a rodeo cowboy and his best friend's ex-wife. What's the saying, bad luck comes in threes? If so, Lily Green is due for something good. First, her divorce is finalized---on her birthday, no less. Then the first job she lands for her catering company turns out to be for her ex-husband's wedding. To top it off, she's stuck working the event with Luke Everett, the sexy-as-hell best man who's never been able to stand her. When can a girl catch a break? For years, Luke has kept his feelings for Lily safely hidden. Hitting on his best friend's ex-wife would definitely break the cowboy code of honor. But ever since an injury sidelined his rodeo riding, the two of them keep getting thrown together. It's only a matter of time until his true feelings come to light. When that happens, it will either be the biggest mistake of his life, or a sign that his luck is about to change.
What If
ISBN: 150328011X OCLC: 1050112644 CreateSpace 2014 Sometimes it takes letting go of the past to find out who you want to be. During his semester abroad, Griffin Reed almost gave his heart to a girl who loved someone else. Lesson learned. Now he's home, where following in his father's footsteps may not be what he wants, but it's what his parents expect. It might be taking the easy road, but he doesn't see a way out. Something that could have killed Maggie Kendall took away the person she used to be instead. Her condition makes her dependent on sticky notes, photos, and medication just to get through each day. The last thing she needs is a distraction-or someone new to disappoint. What they refuse to see is they are perfect for each other. Maggie makes Griffin want to be a better man, and he makes her believe a future is possible. But these two have to find a way to share the secrets ripping them apart, if they're ever going to have a chance at happiness.
Worth the Wait
ISBN: 1539935183 OCLC: CreateSpace 2016 I like to think of myself as a man of pleasure…I enjoy a good pint of ale, being in the arms of a beautiful woman, and living by my own rules. The only thing I try to avoid? Commitment. And I've got a three-year success rate to prove it.I wasn't planning on Grace—the beautiful, funny, totally off-limits massage therapist who keeps popping up in my life. She's on a six-month mission to rid her life of toxins. No alcohol. No red meat. And, yeah, no men. I'm talking full-on man cleanse.I know I should walk away, but I can't…and the only way to keep her in my life is to live by her rules. I'll need to prove to a woman who's lost all trust in men that I'm worthy of her love. And do it all without so much as a single kiss.The only problem? If I win, I'll lose the one thing I swore I'd never give up. My heart.