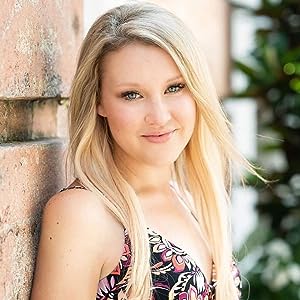 Jennifer Hartmann
Born:
Connection to Illinois
: Hartmann resides in northern Illinois.
Biography
: Jennifer Hartmann resides in northern Illinois with her own personal romance hero and three children. When she is not writing angsty love stories, she is likely pondering all the ways she can break your heart and piece it back together again.
---
Awards
:
The Wrong Heart ROMANCE FINALIST IN THE 2022 AUDIE AWARDS
Entropy A USA Today Bestselling title and Amazon Top 15
Primary Literary Genre(s):
Fiction; Romance
Primary Audience(s):
Young adult readers
E-Mail:
jenhartmannauthor@gmail.com
Facebook:
https://www.facebook.com/jenhartmannauthor/
Instagram:
https://www.instagram.com/author.jenniferhartmann
Pinterest:
https://www.pinterest.com/sweetiejenn/
Twitter:
https://twitter.com/authorjhartmann
Web:
https://www.jenniferhartmannauthor.com/
WorldCat:
http://www.worldcat.org/search?q=Jennifer++Hartmann
---
Selected Titles
A Pessimist's Guide to Love (Heartsong Duet)
ISBN: B0BSJLN954 OCLC: Independently Published 2023 Within the tangled roots of grief, we stand to lose so much. But no one ever acknowledges what we stand to gain. Strength. Perspective. Appreciation. Resilience. And sometimes, every once in a while, if you're truly lucky… There is love. After an emotional cliffhanger, we finally get inside Cal's head and discover his secrets, along with more details of his tragic past, that have been keeping him from Lucy. A Pessimist's Guide to Love is the final installment of the Heartsong duet, ending in a guaranteed HEA.
An Optimist's Guide to Heartbreak (Heartsong Duet)
ISBN: B0BS9WYK92 OCLC: Independently Published 2023 From USA Today Bestselling Author Jennifer Hartmann, comes a brand new, heartfelt, two-book romance series. There once was a girl with fireflies in her eyes and music in her soul. (Remember her... she's important.) She's the reason I panic-bought the little brick house on Maple Street; the one I lived next door to for eight magical years. Now that I'm back digging up floorboards and lost journals, I can't stop thinking about the two people who grew up here. You see, that girl was my best friend, and this house was once hers. She also had a big brother who was my everything before circumstance turned us into nothing more than memories. That's why I applied for a job at his auto shop—unprepared to discover that my new boss, Cal Bishop, is now gruff, built, and covered in tattoos. I'm the sun to his overcast sky. The smile to his surly solitude. A reminder of everything he longs to forget. But my heart has a secret, and we're running out of time to fix our torn pages. Maybe... the same girl who used to be the glue still holds the key to putting our pieces back together. (See? I told you she was important.) Toodles, Lucy
Aria (Duet Series Book 1)
ISBN: B0B4F85TN9 OCLC: Independently Published 2022 When the lead singer of my rock band sets his sights on a pretty waitress, I'll do whatever it takes to make sure she doesn't get in the way of our dreams. Only, my plan unravels when she accidentally spills her darkest secrets to me one night, triggering a profound connection neither of us saw coming. And when those dark secrets come back to haunt her, threatening more than just the new life she's built for herself, I'm the one she runs to. I know I should run the other way—I'm a single father who's been burned before. Not to mention, she's my front man's girl. But in my crusade to drive her away, I fell for her instead, and now, I'll do whatever it takes to keep her safe… whether she's mine, or not.
Claws and Feathers
ISBN: B08GV8ZXCF OCLC: Independently Published 2020 Orphaned at sixteen. Estranged from her only sibling. Betrayed by the one man she's ever loved. When Abigail Stone moves to the small town of Crow's Peak, she is expecting to leave her ghosts behind and create a new life for herself. A fresh start. She is not expecting to be abducted and held captive by a madman. When small town cop, Cooper McAllister, is forced to work at his father's bar one night, he is intrigued by the mysterious new girl with violet eyes. Haunted eyes. He wonders if she's had a bad day, or if she's had a bad life. He finds out sooner than he expects when she goes missing that same night. Finding Abby is just the beginning. The only way to truly save her is to unravel her secrets – a task that proves to be more challenging than he could ever anticipate. But nothing is more challenging than fighting the growing feelings that begin to form as Cooper is forced to get close to the enigmatic Abigail Stone. Her life is on the line – and so are their hearts. A gripping, psychological romance that will keep you guessing and touch your heart.
Coda (Duet Series Book 2)
ISBN: B0B4FKYGYG OCLC: Independently Published 2022 Six years ago, I hit rock bottom. In a desperate attempt to pull myself from the ashes, I had to burn the people I loved most. Now, those same people are drowning in darkness after their world is rocked by tragedy. I've made a business out of helping others, channeling my past trauma into a good cause. But when the one person who needs my help the most sends me away, I have another choice to make. I'm stronger now. I've spent years stitching up old wounds. But the wound of my broken love story has never fully healed. Six years ago, I lost myself. I lost him. I won't make the same mistake twice. This is a second chance romance, and the final installment of the Duet Series.
Entropy
ISBN: B09TG5GG92 OCLC: Independently Published 2022 ✦ A USA Today Bestselling title and Amazon Top 15 ✦ Surviving Monday might be the biggest accomplishment of their lives. By 9:03 A.M. Monday, bank manager Indie Chase thinks her day can't get worse. She's dealt with spills, an ex-husband, and her preschooler on bank time. She's wrong, though. In a matter of moments, that day becomes the stuff of nightmares. Dax Reed is a reluctantly retired pro hockey player with a past he'd rather forget. He's well on his way to doing so, on his way to Hawaii for a well-deserved vacation, when everything goes to hell. Together, they're caught in a robbery that's going to take everything they have to survive. It's going to take trust. It's going to take strength. It might even take … each other.
June First
ISBN: B0B14D293W OCLC: Independently Published 2022 Want to know what happens to a man who barely claws his way out of a tragedy, only to fall right into the arms of the one girl in the world he can never have? Another tragedy, that's what. When I was six years old, my father made a choice that altered the course of my entire life. Because of what he did, the only girl I ever loved became the only girl I couldn't have. In a lot of ways, I did have her… I had her first steps, her first words, her first smile. I had her milestones, her heartbreaks, her dreams. I had her heart so woven in with mine, I didn't know where she ended, and I began. Only, as the years pressed on, lines became blurred—and the blurrier the line, the easier it is to cross. They say tragedy comes in threes. For me, that was true. The first one changed me, the second one broke me, and the third one healed me. But at the center of all that tragedy… there is a love story. And at the center of that love story, There is June.
Lotus
ISBN: 1728290503 OCLC: 1395441125 Bloom Books 2023 "All these years, I've never given my heart to anyone… The truth is, I didn't have a heart to give. My heart was with a ghost." To the rest of the world, he was the little boy who went missing on the Fourth of July. But to Sydney Neville, he was everything. Her heart hasn't been the same since her best friend disappeared, but she's learned to build her life around that missing piece. Twenty-two years later, the last thing Sydney expects is for Oliver Lynch to return. Having been captive underground for decades, he's unfamiliar with the strange new world that awaits him―but he's alive. He's here. And no matter how he's changed, he and Sydney both still feel the connection that runs between them. But as their reborn friendship begins to feel like something more, Sydney and Oliver realize there are still jagged, painful truths creating space between them. The walls Sydney's built don't want to come down, and as Oliver hunts for his missing memories and lost time, he realizes his nightmare is not yet over. With nothing as it seems, is there space for love to bloom in this dark place?
Still Beating
ISBN: 1728290597 OCLC: 1374115965 Bloom Books 2023 He puts his hand against my chest. "It's still beating," he whispers, his words a soft kiss against my lips. "As long as it's beating, you're okay." When Cora Lawson attends her sister's birthday party, she expects at most a hangover or a walk of shame by the end of it. She doesn't anticipate a stolen wallet, leaving her stranded and dependent on her sister's fiancé, Dean Asher―her archnemesis and perpetual thorn in her side. And she really doesn't anticipate getting knocked out and waking up chained in a madman's basement, Dean in his own shackles beside her. After fifteen years of teasing, insults, and never-ending pranks, the ultimate joke seems to be on them. The two people who always thought they'd end up killing each other must now work together if they want to survive long enough to escape. But Cora and Dean don't know that their abductor has a plan for them. A plan that will alter the course of their relationship, blur the line between hate and love, and shackle them to each other long after they are freed from their chains. They're in this together―no matter what their unexpected bond might cost them.
The Thorns Remain
ISBN: B09NRZL3LR OCLC: Independently Published 2021 VENGEANCE. Hiding deep within the shadows of human nature, it smolders… Simmers… Waits. Only, for me, it was no longer a hibernating beast. The day I discovered the wrongs committed against me, vengeance clawed its way right through me. The beast had emerged from its lair with a burning need to destroy the man who tore my marriage apart. And now? Now, it was my lifeline. My dark lover. My. Whole. Purpose. REVENGE. They say it's sweet in the end, and I believed them. I could almost taste that honey on my tongue, like a balm I needed to quell the bitterness. But it was all a lie. I was blindsided. And not once did I think about who I might hurt along the way. I never considered the casualties that may fall across my path of destruction. No… Revenge is not sweet. Retaliation does not end in reward. Vengeance is not justice. The promises whispered by that beast within? They're all hollow. All it ever wanted was to be set free. In the end, I never expected things to be worse than when it all began. I never expected the wreckage left in my wake. I never expected her.
The Wrong Heart
ISBN: B09BZC19P1 OCLC: Independently Published 2021 ROMANCE FINALIST IN THE 2022 AUDIE AWARDS!! I had my future all planned out. A fairytale. Then, on my five-year wedding anniversary, my dreams shatter. My husband is cruelly ripped away from me, leaving my broken heart behind. But he leaves another heart behind, too… His. Drowning in grief, I reach out to his heart recipient, while seeking solace in a support group for fellow lost souls. Determined to find the bright, optimistic woman I used to be, I never expect what awaits me there. Enter Parker. Dark, brooding, emotionally detached. He's the opposite of me in every way, yet I'm inexplicably drawn to him. As our bond deepens, so do the secrets that come to light, challenging everything I thought I knew about love and loss, and blurring the line between heartache and hope. In a world where hearts break, I lost mine once. Now, another heart holds the power to heal me…or destroy me. WARNING: This book contains heavy themes, such as loss of a loved one and suicide. Please read responsibly.