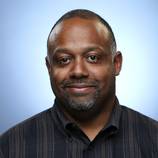 Marc Bernardin
Born:
Connection to Illinois
: Bernardin is from Winnetka.
Biography
: Marc Bernardin is a television writer-producer as well as a comic book author. His TV work includes serving as a supervising producer on Star Trek: Picard, a supervising producer on Starz's The Continental, was most recently a producer on Amazon's Victorian fantasy series Carnival Row, a co-producer on the USA Network spy drama Treadstone, a staff writer on the first season of Castle Rock, the Stephen King and J.J. Abrams original series for Hulu, and a staff writer on Syfy's superheroic television series Alphas. In an earlier life, he was an entertainment journalist: He was the Film Editor for the Los Angeles Times, overseeing the paper's movie coverage and coordinating the efforts of a dozen staffers. He was also the Deputy Editor of Playboy.com, a senior editor for The Hollywood Reporter, a senior editor for Entertainment Weekly, managing editor of Starlog magazine, and a consulting editor for Fangoria magazine. As a freelance writer, he has contributed to Wired, GQ, Empire, Details, Vulture.com, and Syfy.com. He also has written a fair number of comic books over the years. His most recent is Adora and the Distance, an original graphic novel coming from Comixology in early 2020. Other works include Genius (Image), an urban revolutionary miniseries which The A.V. Club called "the most relevant comic on stands, Static Shock (one of DC Comics' premiere African-American superheroes), X-Men Origins: Nightcrawler, Wolverine, The Authority, The Highwaymen, and Monster Attack Network.
---
Awards
:
Messenger: The Legend of Muhammad Ali Illinois READS Book Selections, Illinois Reading Council, 2024
Primary Literary Genre(s):
Fiction; Non-Fiction
Primary Audience(s):
Young adult readers
Facebook:
https://www.facebook.com/MarcBernardinOfficial/
IMDB:
https://www.imdb.com/name/nm4559033/
Instagram:
https://www.instagram.com/marcbernardin/
Wikipedia:
https://en.wikipedia.org/wiki/Marc_Bernardin
---
Selected Titles
Adora and the Distance
ISBN: 1506724507 OCLC: 1257480690 Dark Horse Books 2022 A new YA fantasy graphic novel following the epic adventures of Adora, a brave young woman of color who lives in a fantastical world with underground pirates, ghosts, and a mysterious force called "The Distance." The Distance threatens to destroy it all, and only Adora can stop it!
Genius Cartel (Issue #1 -Variant Cover by Rosi Kampe)
ISBN: B074W89414 OCLC: Image La Jolla, CA : 2017 Seventeen-year-old Destiny Ajaye took on the LAPD in her South Central Siege and paid for it—not with her life, but with her freedom. Now, Destiny is sequestered in the Madrasa Institute, a government school for prodigies. But will she use her gifts to wage war at the military's behest—or is she already planning another revolution?
Genius Volume 1
ISBN: 1632152231 OCLC: 893895867 Image Comics 2015 What if the greatest military mind of our generation was born to a people who are already supremely conditioned to wage war, who know nothing but violence since birth, and must continually adapt to new predators in order to survive? What if the second coming of Alexander the Great, of Genghis Khan, of Napoleon, of Patton...what if it was a teenaged girl from South Central, L.A. named Destiny? And what if she decides to secede three blocks of the 'Hood from the Union? Who is going to take it back from her and her army of gangbangers? Who CAN?
Genius: Cartel Volume 2
ISBN: 153430486X OCLC: 1054262741 Image Comics 2018 The greatest military mind of her generation returns in the follow up to the winner of Top Cow's Pilot Season. Seventeen-year-old Destiny Ajaye took on the LAPD in her South Central Siege and paid for it ― not with her life, but with her freedom. Now, Destiny is sequestered in the Madrasa Institute, a government school for prodigies. But will she use her gifts to wage war at the military's behest – or is she already planning another revolution?
Hero Complex
ISBN: 0982985711 OCLC: 707968237 Arc Entertainment & Kickstart Com Next page Ketchum, ID : 2010 (W) Adam Freeman, Marc Bernardin (A) Javi Fernandez Captain Supreme has strength, speed, an unabashedly noble heart - but not the lucrative sponsorships and merchandising deals the other superheroes
Heroes Reborn: Peter Parker, The Amazing Shutterbug (2021)
ISBN: B0947F4KHM OCLC: Marvel Comics Publishing 2021 Peter Parker is the biggest Hyperion fan in the world, and he also just happens to be chummy with his favorite hero thanks to a photography gig at the Daily Bugle! SURELY, nothing can go wrong, with his camera (and him) in the heart of the action… Right?
Messenger: The Legend of Muhammad Ali
ISBN: 1596439718 OCLC: 1392444096 First Second 2023 Muhammad Ali was one of the most photographed―and photogenic―figures in the history of sports. He demanded to be looked at, to be seen, and this epic captures his meteoric rise from Cassius Clay to Olympian and heavyweight champion of the world with stunning illustrations befitting his storied legacy. Bringing readers through major moments of his life―his first meeting with civil rights leader Malcolm X, his interview with sports broadcaster Howard Cosell about his reasons for opposing the Vietnam War, and his titanic bout with then-undefeated heavyweight champion George Foreman, among others―this graphic biography will be a crucial and instantly popular resource on The Greatest.
Monster Attack Network
ISBN: 1932051503 OCLC: 156817644 AiT/PlanetLar San Francisco, Calif. : 2007 Marvel at the Pacific island of Lapuatu, perfect in every way... except for the giant monsters. Thrill as Nate Klinger and his daring team of first-responders at the Monster Attack Network expertly deal with the frequent rampaging-beast-related crises. Wonder if the shady American industrialist who comes to the island bearing "gifts" and the mysterious, gorgeous Lapuatuan ex-patriate are up to no good. Enjoy the hair-raising adventures of the noble men and the drop-dead sexy women of the Monster Attack Network!
Nightwatchman
ISBN: 1938655125 OCLC: 1099805200 Kickstart Comics 2012 An aging, corrupt police detective finds hope in a homeless man who has begun to act out his own brand of vigilante justice.
Push
ISBN: 140122492X OCLC: 316030930 WildStorm La Jolla, CA : 2009 An action-packed graphic novel prequel to the blockbuster movie Push starring Chris Evans. A secret war is about to begin, fought on battlefields obscured in shadow . . . and the weapons in this new conflict will be the human mind! The United States government set up the ultra-secret Division to fight this war and take the forefront in this unique arms race. Enter agent Ezra Lowe, an operative in the Division trained from an early age in psychic warfare, until one mission went horribly wrong. Hunted by a team from Division, Ezra evades his own people after they deem him a threat they must eliminate! Fortunately, he discovers he's not the only Division member with grave doubts about the company.
The Highwaymen
ISBN: 1401217338 OCLC: 180753182 WildStorm La Jolla, CA : 2008 Two men. One drives, the other shoots. In their prime, they were the Highwaymen; a special breed of couriers capable of ferrying anything, anywhere, anytime. But that was long ago. Now, Able "Speed" Monroe and Alistair McQueen are a little worse for wear, almost obsolete . . . until they are called out of retirement and must cross the river of bad blood between them to deliver some very dangerous cargo for a dead President. If only they knew what is was -- and why everyone else wants to kill them for it.