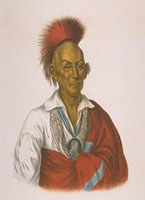 Black Hawk
Born:
1767 in the village of Saukenuk (Present-day Rock Island, Illinois)
Died:
October 3, 1838 in Davis County, Iowa
Connection to Illinois
: Black Hawk was born in the village of Saukenuk on the Rock River, in present-day Rock Island.
Biography
: As a chief of the Sauk tribe, Black Hawk led the Sauk and Fox Indians in the Black Hawk War of 1832. The war was a revolt against government orders for Indians to vacate disputed tribal lands along the Rock River in northwestern Illinois. In 1833, he dictated his autobiography, which is considered a classic statement of his people's grievances. He earned a place in the History of Illinois literature with his eloquent autobiography, ''Life of Ma-ka-tai-me-she-kia-kiak'' (1833), republished as ''Black Hawk: An Autobiography'' (1955).
---
Awards
:
Name engraved on the frieze of the Illinois State Library alongside other great Illinois literary figures, 1990
Black Hawk on WorldCat :
http://www.worldcat.org/search?q=black+hawk
---
Selected Titles
Black Hawk :
ISBN: 1599869616 OCLC: 233702523 Filiquarian Pub., LLC, [Place of publication not identified] : 2006.
Life of Black Hawk
ISBN: 0486281051 OCLC: 29548970 Dover Publications, New York : 1994.
Life of Black Hawk, or Ma-ka-tai-me-she-kia-kiak /
ISBN: 0143105396 OCLC: 213358035 Penguin Books, New York : 2008. Presents the transcribed autobiography of Black Hawk, a Sauk leader who struggled against white encroachment on his people's lands in western Illinois in the 1800s before his defeat at the Battle of Bad Axe in 1832, and includes a map of the Black Hawk War of the same year.