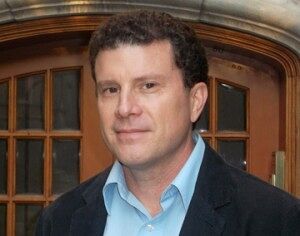 Scott Blackwood
Born:
Connection to Illinois
: Blackwood was a professor of creative writing at Southern Illinois University-Carbondale and Roosevelt University in Chicago. While teaching at Roosevelt, he lived in Evanston.
Biography
: Scott Blackwood is the author of three award-winning books of fiction, the novels SEE HOW SMALL (winner of the 2016 PEN USA Award for fiction, a NY Times "Editor's Choice" pick and an NPR "Great Reads" Book of the year), WE AGREED TO MEET JUST HERE, and a short story collection, IN THE SHADOW OF OUR HOUSE. He's also published a two-volume set of creative nonfiction books about the rise of early Jazz and Blues, THE RISE AND FALL OF PARAMOUNT RECORDS, with musician Jack White, which was nominated for a 2015 GRAMMY AWARD for writing on music. Blackwood has also received a Whiting Writers' Award in Fiction, the AWP Prize for the Novel, Texas Institute of Letters Award for best work of fiction, and was a finalist for the 2016 National Magazine Award in nonfiction. He holds an M.F.A. in Creative Writing from Texas State University and currently teaches as a Distinguished Professor of Creative Writing at Hollins University in Roanoke, Virginia.
---
Awards
:
SEE HOW SMALL NAMED A TEXAS BOOK OF THE DECADE (2010-2019) BY THE TEXAS OBSERVER WINNER OF THE 2016 PEN USA AWARD FOR FICTION NPR'S "BEST BOOKS OF 2015″ SELECTION NEW YORK TIMES BOOK REVIEW "EDITOR'S CHOICE" PICK AMAZON EDITOR'S "SPOTLIGHT" BEST BOOK OF THE MONTH JANUARY 2015 PEOPLE MAGAZINE, BEST NEW BOOKS 2015 PUBLISHER'S WEEKLY STARRED REVIEW
WE AGREED TO MEET JUST HERE WINNER WHITING AWARD FOR FICTION WINNER AWP PRIZE FOR NOVEL TEXAS INSTITUTE OF LETTERS AWARD FOR BEST FICTION 2010
Primary Literary Genre(s):
Fiction; Non-Fiction
Primary Audience(s):
Adult readers
Wikipedia:
https://en.wikipedia.org/wiki/Scott_Blackwood
WorldCat:
http://www.worldcat.org/search?q=Scott++Blackwood
---
Selected Titles
In the Shadow of Our House: Stories
ISBN: 087074464X OCLC: 46785274 Southern Methodist University Press Dallas : 2001 Blackwood penetrates life's shadows with disarming candor, piercing the gloom of contemporary domesticity in a debut collection of nine powerful and poignant short stories. Each resonates with the stark reality born of desolation. Intricately subtle, resolutely ambiguous, Blackwood's stories benefit from multiple visits, encouraging the reader to peel back layer after tenuous layer on a provocative voyage of discovery. Disaffected teenagers, divorced parents, dejected lovers--all face relentless scrutiny as Blackwood probes the camouflaged insecurities, doubts, and betrayals that lead to the dissolution of families and relationships. Elegiac and contemplative, Blackwood's angst-ridden characters face life's major and minor challenges with discouraging results: reconciliations disenchant; marriages disintegrate; parenthood disappoints. Blackwood excels at spare and singular characterizations, as in the title story's evocative portrait of the elderly physician who unwittingly discovered the bodies at Guyana's Jonestown massacre and remains forever bound by the memory. There are no happy families residing in Blackwood's house, and he views his characters with a distant familiarity, as if from an obscure and illusory vantage point. Carol Haggas Copyright © American Library Association.
See How Small: A Novel
ISBN: 031637394X OCLC: 884882186 Little, Brown and Company 2015 One late autumn evening in a Texas town, two strangers walk into an ice cream shop shortly before closing time. They bind up the three teenage girls who are working the counter, set fire to the shop, and disappear. See How Small tells the stories of the survivors -- family, witnesses, and suspects -- who must endure in the wake of atrocity. Justice remains elusive in their world, human connection tenuous. Hovering above the aftermath of their deaths are the three girls. They watch over the town and make occasional visitations, trying to connect with and prod to life those they left behind. "See how small a thing it is that keeps us apart," they say. A master of compression and lyrical precision, Scott Blackwood has surpassed himself with this haunting, beautiful, and enormously powerful new novel.
The Rise and Fall of Paramount Records: A Great Migration Story, 1917–1932
ISBN: 0807179140 OCLC: 1340037893 LSU Press 2023 Founded in 1917, Paramount Records incongruously was one of several homegrown record labels of a Wisconsin chair-making company. The company pinned no outsized hopes on Paramount. Its founders knew nothing of the music business, and they had arrived at the scheme of producing records only to drive sales of the expensive phonograph cabinets they had recently begun manufacturing. Lacking the resources and the interest to compete for top talent, Paramount's earliest recordings gained little foothold with the listening public. On the threshold of bankruptcy, the label embarked on a new business plan: selling the music of Black artists to Black audiences. It was a wildly successful move, with Paramount eventually garnering many of the biggest-selling titles in the "race records" era. Inadvertently, the label accomplished what others could not, making blues, jazz, and folk music performed by Black artists a popular and profitable genre. Paramount featured a deep roster of legendary performers, including Louis Armstrong, Charley Patton, Ethel Waters, Son House, Fletcher Henderson, Skip James, Alberta Hunter, Blind Blake, King Oliver, Blind Lemon Jefferson, Ma Rainey, Johnny Dodds, Papa Charlie Jackson, and Jelly Roll Morton. Scott Blackwood's The Rise and Fall of Paramount Records is the story of happenstance. But it is also a tale about the sheer force of the Great Migration and the legacy of the music etched into the shellacked grooves of a 78 rpm record. With Paramount Records, Black America found its voice. Through creative nonfiction, Blackwood brings to life the gifted artists and record producers who used Paramount to revolutionize American music. Felled by the Great Depression, the label stopped recording in 1932, leaving a legacy of sound pressed into cheap 78s that is among the most treasured and influential in American history.
We Agreed to Meet Just Here
ISBN: 1930974809 OCLC: 246899404 New Issues Poetry and Prose Kalamazoo, Mich. : 2009 Fiction. Winner of the 2007 AWP Award for the Novel. Robert Eversz, Judge. "WE AGREED TO MEET JUST HERE is a lyrical mystery about disappearance, told in precise and luminous prose. A young lifeguard in an Austin suburb vanishes one night while returning from a screening of The Third Man. A doctor, ill with cancer, goes missing from his home, and is later seen, bearded and ragged, wandering the aisles of a grocery store. A car is stolen, the unseen consequences tragic. One child is given up to adoption, another is lost up a tree. The absences are so keenly felt, in the drifting lucidity of the author's sentences, that every reappearance reads like a small miracle"--Robert Eversz.