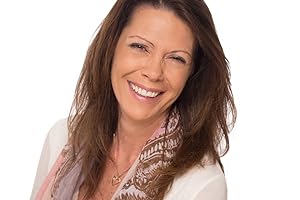 Heidi Herman
Born:
1968, in Bloomington, Illinois
Connection to Illinois
: Herman was born in Bloomington and grew up in small-town Central Illinois, attending Towanda Elementary, graduating from NCHS, and taking classes at Illinois State University. She later moved to Chicago and worked in telecommunications, which took her to six different states over the course of twelve years. She returned to settle back Central Illinois - this time in Morton - in 2013.
Biography
: Heidi Herman spent more than thirty years in the telecommunications industry, becoming one of the most skilled cost management consultants in the country. Her career included specialties in sales, systems installation, training, and contract negotiation, giving her a broad understanding of business which she later applied to entrepreneurship, first in a successful multi-location restaurant and later in a boutique publishing company. She had authored seven books in five genres, the most recent a motivational book, "On With the Butter! Spread More Living onto Everyday Life." Today, she continues to write between time spent on motivational speaking, travel, and a variety of hobbies. Born in the United States, Heidi cherishes the Icelandic heritage passed down from her mother. Heidi loves to travel, sharing Icelandic culture and her books. When she's not on the go, she is usually found cooking something up in the kitchen. Her first works were children's folklore, inspired by her mother's memoirs of growing up in Iceland. "The Legend of the Icelandic Yule Lads," "The Guardians of Iceland and Other Icelandic Folk Tales," and "The Icelandic Yule Lads Mayhem at the North Pole" were followed by an Icelandic cookbook, "Homestyle Icelandic Cooking for American Kitchens" co-authored with her mother, Íeda Jónasdóttir Herman. The cookbook won a Gourmand World Cookbook Awards. The following year, in 2018, Heidi published her debut novel, "Her Viking Heart", which was named the 2018 Foreword INDIES Book of the Year Gold Winner - Romance Category. Her most recent work was a step into non-fiction. "On With the Butter", an inspirational guide to living a zestful life, is based on life lessons learned from her mother, who was active until her passing at the age of 94. After Heidi finished her mother's final work, a motivational photo journal of 93 new experiences in a single year at the age of 93, undertaken to show you're never too old for something new. Heidi felt like her mother's message was incomplete and endeavored to write a guidebook to help others achieve that level of life activity. The result was called a "A sunny self-help guide that aims to reveal the secret to an active and exuberant lifestyle" by Kirkus Review.
---
Awards
:
The Guardians of Iceland and other Icelandic Folk Tales 2017 Book Excellence Award Winner for Multicultural Fiction.
Her Viking Heart 2018 Foreword INDIES Book of the Year Gold Winner - Romance Category 2018-2019 Reader Views Literary Finalist - Romance Category 2018 American Fiction Award Finalist - Chick Lit/Women's Lit Category
Primary Literary Genre(s):
Fiction
Primary Audience(s):
Adult readers
E-Mail:
heidi@heidihermanauthor.com
Facebook:
https://www.facebook.com/HeidiHermanAuthor/
Instagram:
https://www.instagram.com/heidihermanauthor/?hl=en
LinkedIn:
https://www.linkedin.com/in/heidi-herman
Twitter:
https://twitter.com/storiesbyheidi
Web:
https://heidihermanauthor.com/
WorldCat:
http://www.worldcat.org/search?q=Heidi++Herman
YouTube:
https://www.youtube.com/channel/UCq4YY14vnM1C2GJflHIlpEg
---
Selected Titles
Her Viking Heart
ISBN: 194723384X OCLC: Hekla Publishing LLC 2018 Anna Miller's small Midwestern town upbringing led to a safe, uneventful life. Until everything changed. While packing up her parent's home after their deaths, she discovers a shocking family secret. Anna is determined to find answers and follows the clues to a small town in Wyoming. Sexy local rancher Logan Harris crosses her path and for the first time in her thirty years, Anna finds herself caught up in passion she can't resist. Wyoming opens a whole new world to her as she follows the clues to her family's history. Anna embraces the growing new love Logan and a sense of belonging in the small town, finding the start of happiness. As she unravels the secret, present and past collide with lies and vicious deceit, she must find the strength to fight for her future. She must choose the path to her own love and family - Logan's love or her true family heritage. Is her family in the past or the future and is her heart strong enough to decide?
Homestyle Icelandic Cooking for American Kitchens
ISBN: 1947233904 OCLC: 970663978 Hekla Publishing LLC 2017 Whether you're looking to connect with your roots, try something new or already love Icelandic cooking, this book is a must for your cookbook shelf. This is a collection of 25 traditional everyday Icelandic recipes, translated with step-by-step instructions. These are some of the simple classic favorites that truly reflect the home-style Icelandic flavors and heritage.
Never Too Late
ISBN: 1947233009 OCLC: Hekla Publishing LLC 2020 An inspirational true story of a year-long mission for ninety-three new experiences a nonagenarian undertook to show it's never too late for something new. Between her 93rd and 94th birthdays, Ieda Jonasdottir Herman committed to finding ninety-three things she had never done before as part of her ongoing effort to motivate others to live life with vitality. The result was a year of ordinary adventures that prove you're never too old for something new - even at 93.
On With The Butter: Spread More Living onto Everyday Life
ISBN: 1947233033 OCLC: 1196026510 Hekla Publishing LLC 2020 Carry on, keep doing what you're doing, forge ahead, and keep moving. Icelanders have a saying for it: Áfram með Smjörið - on with the butter! If you're looking for new ways to add zest to your life or have free time in retirement, this book offers a wide variety of activities and challenges, along with inspiring and heartwarming stories. Discover ways to explore, play, take, chances, try new things, make a difference, and have more fun in life. You're the activities director, and On with the Butter! is your guidebook. As we get older, it's easy to become consumed with our health and taking care of ourselves. We may change our diet, take prescriptions to treat medical conditions, and focus more on physical fitness. But while we're working so hard to increase our life span, what are we doing to appreciate and make the most of that time? Those are the questions On with the Butter invites us to entertain. So keep moving, keep doing, and keep spreading more living onto everyday life. After all, everything's better with butter.
The Guardians of Iceland and Other Icelandic Folk Tales
ISBN: 1947233963 OCLC: Hekla Publishing LLC 2016 Trolls and Hidden Folk are a part of daily life in Iceland. This collection of Icelandic folklore and legends comes from the days of the Vikings. The twenty-five short stories are centuries old and have been updated for today's readers of all ages. Children and adults alike will love to delve into this fantastic collection of traditional Icelandic fairy tales and legends. These short stories of trolls, elves with magical powers, and Hidden People have been passed down from generation to generation. First written down hundreds of years ago, the stories are now brought together and updated for a modern audience, so now you too can read about the trolls who freely roamed Iceland, the race of Hidden People with strong magical powers and of the four powerful beings who still protect Iceland from invaders to this day. Packed full of fascinating myths, this collection of folklore is a must for anyone wanting to discover a world of mermaids and mermen, giants, shape-shifting seals and dragons in disguise.
The Icelandic Yule Lads Mayhem at the North Pole
ISBN: 1947233785 OCLC: Hekla Publishing LLC 2018 Follow the misadventures and mayhem of the Icelandic Yule Lads as the search for the source of the amazing holiday smells of goodies cooking. Along the way, they must use their troll magic to defeat the Monster Worm, the legendary ogre Gryla. They cause havoc as they travel through Scandinavia on their search with their puffin, whale and polar bear friends. Their mischief causes trouble at the Reindeer Training Camp and leads to mayhem at the North Pole! When Santa gets involved, they find themselves in big trouble.
Yule Lads Legend: Iceland's Jólasveinar
ISBN: 1947233866 OCLC: 1342603035 Hekla Publishing LLC 2020 After accidentally being seen by a human, an Icelandic Christmas troll must rely on a young shepherd boy to keep his presence in the village a secret. The troll makes a gift as a bribe for the little boy's silence but is surprised at the child's happiness. The troll soon learns that giving joy to someone else can be one of the greatest gift you can receive. He shares this secret with his twelve troll brothers and one by one, they each find the meaning of Christmas spirit. Even from a source as unlikely as a troll, something that starts as a selfish act, when wrapped up in Christmas spirit can grow into something wonderful. A modernized version of the Icelandic Yule Lads folk tale. FULLY ILLUSTRATED