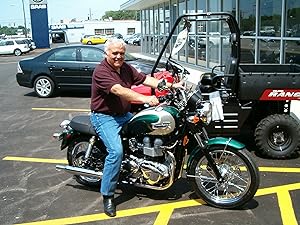 Johnie T Snedeker
Born:
1941, in Laporte, Indiana
Pen Name:
Ted Snedeker
Connection to Illinois
: Snedeker was raised in Marshall and graduated from Marshall High School. His great-great-grandfather homesteaded in Clark County in the 1830's and his family lived there ever since. His father was a building contractor and built James Jones's mansion in 1953 as well as the buildings that made up the Handy Writers Colony. James Jones became a good friend of his father, rode motorcycles with him and was in and out of their lives like family. It was his experience meeting Jones and Lowney Handy that planted the seed of my desire to write. One of the protagonists in 'Betrayed, Deserted, Forgotten' is shown to grow up in a rural Illinois town patterned after Marshall. The two 'Deputy' books are set in 'Sagamon' County, but Clark is described. Snedeker currently lives in Clark County on a farm that has been in his wife's family for over a hundred years.
Biography
: Johnie Snedeker is a veteran of the US Navy and 25-year member of the Marshall Post 90 American Legion. He is an elder at Grace Lutheran Church in Paris, Illinois. He spent fifty years working in the wireline telecom industry, thirty-one years in his own engineering business. He has lived in Fort Wayne, Guam, Tokyo, Dallas, Honolulu, Orlando, and Anchorage, Alaska before coming back to Marshall, where he built his own home and started his own business - Digital Communications Services, Inc. In 1991, he immediately landed a contract with Hawaiian Telecom. DCS had crews working in Hawaii until the company was shut down in 2014. In addition to working on all the Hawaiian Islands DCS did projects in Guam, China, Venezuela, the Dominican Republic, Brazil, Peru, New Zealand, American Samoa, and Tahiti. In 2014, after shutting down the business, Snedeker started writing. He has published seven books since August 2014. Three of which are digital and published under his pen name of Ted Snedeker - 'Of Dragons and Templars' and 'Return of the Dragon.'
---
Awards
:
Primary Literary Genre(s):
Fiction; History; Mystery
Primary Audience(s):
Adult readers
E-Mail:
tedsnedil@gmail.com
WorldCat:
http://www.worldcat.org/search?q=Johnie++T++Snedeker
---
Selected Titles
Betrayed, Deserted, Forgotten: Story of the US 31st Regiment in the Philippines (Farewell to Innocence)
ISBN: 1720803595 OCLC: 1043949513 CreateSpace 2018 Two brothers joined the Army in the leadup to WW2 thinking they could avoid the upcoming war in Europe by volunteering for service in the Philippines. This misguided decision led them to be involved in the battles for Bataan and Corregidor. This book tells their story as well as introduces their nephew who will be a central character in a sequel about the 31st Regiment's demise at the Chosin Reservoir.
Dreams of Camelot: The Dragon Thwarted (Return of the Dragon - Sinclair Saga)
ISBN: 1726031586 OCLC: 1054790316 CreateSpace 2018 Dreams of Camelot is the 2nd book in a series. This book tells of King Arthur building his kingdom after the initial book, "Comes the Dragon," described his grandfather's life and Arthur as a child and young man. Locked in a struggle with the powers of darkness as well as the invaders coming from every corner of his kingdom, Arthur struggles to find his place in the world, establish his kingdom, keep peace within his family and cling desperately to his faith. Guided by his mentor, Merlyn, and a pair of fairies who are able to discern the future, Arthur is driven to affect the coming Nexus. The fairies see the timelines converging later in Arthur's life where his actions can change the future for good, or failing, see it drift off into chaos and disaster for all of mankind. Dreams of Camelot is historical fiction. The imaginary characters are placed in meticulously researched historical settings with actual documented personas such as Emperor Marcian, Aspar the Alan, Pope Leo I, Attila the Hun and many more. Only where the historical record is blank or vague does the author take license to insert his on suppositions on what might have happened.
Of Dragons and Templars: Book Four of Return of the Dragon - The Sinclair Saga
ISBN: 1726353516 OCLC: 1054798153 CreateSpace 2018 This book is the continuation of Return of the Dragon. Garet Sinclair continues his battle with the Krull on the earth and has to deal with the beautiful android, Merlyna, who has been seeking intimacy with him. Meanwhile, the terrible threat of an energy-state Krull returning from deep space threatens the very existence of mankind.
Return of the Dragon: Book 3 of Return of the Dragon - Sinclair Saga
ISBN: 1726204685 OCLC: 1054790663 CreateSpace 2018 Entering his fifth decade Garet Sinclair thought his life was settled and routine. He ran his engineering company, dealt with the day-to-day problems and lived with the ennui of an extramarital affair that had almost wrecked his marriage. His comfortable, routine existence was shattered by the appearance of a beautiful android lady who appeared one evening seeking his assistance. Garet was shocked to discover that he was descendent of King Arthur and that his family had been in the forefront of a millennial long war with a terrible evil that had plagued mankind from the race's earliest beginnings. Garet is recruited to take command of an ancient near-sentient spaceship and confront the evil that has returned after centuries of absence. In book one, "Return of the Dragon," Garet has put together a small band of mercenary soldiers, a retired Marine Corps general, a distant cousin and an old pastor friend, and set off on a quest to combat the evil Krull.
Taunt the Widowmaker: 2nd Edition (The Deputy)
ISBN: 1725742438 OCLC: CreateSpace 2018 Taunt the Widowmaker is the 2nd book in a planned trilogy that began with The Deputy. It tells the story of a small-town deputy sheriff caught up in a dystopian world where the US Government was eradicated in a nuclear attack by an Islamic terror organization. In the aftermath, the individual states stepped into the breach to manage the chaos fomented by other terrorist attacks across the country. Roy Lee White is an ex-marine who only wanted to ride rodeo but was drafted by his neighbors to lead a militia fighting terrorists and drug dealers who were destroying the country. After Roy Lee rescues Illinois governor's daughter, he is drafted into performing "special projects" for the governor. At odds with the chief of state police, pursued by the governor's beautiful aide, Roy Lee struggles to balance the responsibilities of his family and his community while trying to survive in a dystopian world.
The Deputy - 2nd Edition: Reaping the Whirlwind
ISBN: 1724974831 OCLC: 1056952763 CreateSpace 2018 In a consummate act of terror, Washington DC is vaporized by a Russian nuclear truck bomb employed by a radical Islamic group. All Roy Lee White wanted to do after serving with the Marine Corps in Grenada and Lebanon was go home and ride Rodeo. Unfortunately, becoming a father after a single night's fling put paid to his rodeo dreams. In the chaos after DC was vaporized, militias were formed to police the hinterland in the face of terror attacks and lawlessness that descended on the country at the demise of the Federal government. Roy Lee's success as a Militia commander led to his appointment as a deputy sheriff and later as a special operative of the governor. At odds with the commander of state police and pursued by the governor's beautiful assistant, Roy Lee struggles to balance the conflicting responsibilities of his family and his various jobs, to survive in a dystopian world.