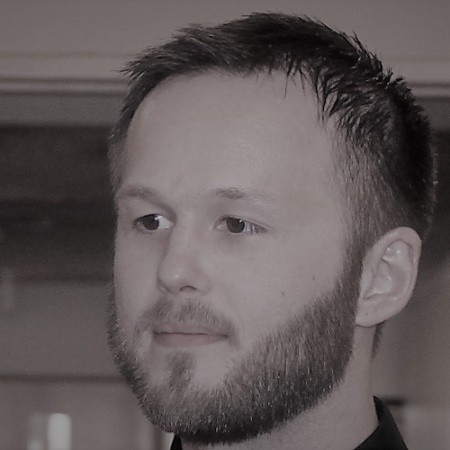 Andrew Dickerson
Born:
1987, in Normal, Illinois
Pen Name:
A.K. Dickerson - when writing with his wife Krystle Able
Connection to Illinois
: Dickerson was born in Normal and grew up in Central Illinois.
Biography
: Andrew Dickerson is an Army combat veteran. With his wife, Krystle Able, they write under the pen name - A.K. Dickerson. They've written the 'La Lechuza' horror series available on Amazon and other retailers. They both love to write dark fantasy, horror, and in other genres on the darker side of things. He also writes professionally and runs a content creation business called TypedIt. As professional writers, they've written many bestselling fiction and nonfiction books for other authors and businesses around the world. Even though their name isn't on the covers, their work is being read by millions, and they plan to work hard as authors to give everyone their work with their name on it. We are new authors, but aren't new to the author community, and we frequently help promote authors like Lee Mountford, Iain Rob Wright, Darcy Coates, and many more. We aren't stuck to one genre, so we want to network with everyone! Thank you for taking the time to get to know us.
---
Awards
:
Primary Literary Genre(s):
Fiction; Mystery
Primary Audience(s):
Adult readers
LinkedIn:
https://www.linkedin.com/in/typeditceo
WorldCat:
http://www.worldcat.org/search?q=Andrew++Dickerson
---
Selected Titles
Becoming La Lechuza (Escape from Reality Series)
ISBN: 1797418580 OCLC: Independently Published 2019 Becoming La LechuzaBook 23Escape From Reality SeriesA.K. DickersonCole Jackson isn't letting the deaths of his girlfriend and her students hinder his plans for turning Crystal Mountain into an exotic, underground theme park. The only problem is that Sofia Fierro, the only survivor of the terrible incident won't stop ranting about La Lechuza who she insists is responsible for the deaths last fall. Luckily, she's been discredited by nearly everyone in town after spending months in the psych ward of Escape Hospital. Opening day of The Underground approaches and eerie cries are heard nightly from Crystal Mountain as rumors of La Lechuza are stirred up once again. The disturbances on the mountain escalate quickly, putting The Underground in jeopardy, and soon everyone in Escape realizes the kind of evil capable of becoming La Lechuza.
Releasing La Lechuza (Escape From Reality Series)
ISBN: 1731302266 OCLC: Independently Published 2018 Everyone in Escape had heard the legend of La Lechuza. The eerie cries at night, hikers that disappear with only bones found scattered along the base of the mountain. Tales of Spanish Conquistadors who chased the owl-witch into the cave systems of Crystal Mountain hundreds of years ago has been enough to keep citizens and visitors alike from setting foot on Crystal Mountain. No one has seen the owl-witch, but all have heard her terrifying cries at night. Theme park developer Cole Jackson is determined to put the legend of La Lechuza to rest once and for all by building an underground theme park inside of Crystal Mountain. When a team of university students is sent into Crystal Mountain Caves to determine suitability for the project, they encounter a beast their zoology classes never prepared them for. La Lechuza is real and she is angry, hungry, and ready to be released.