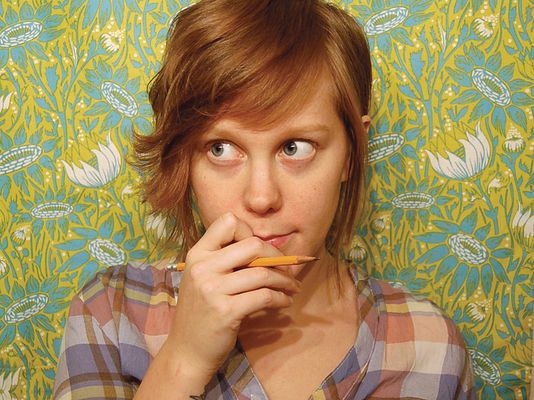 Lucy Knisley
Born:
Pen Name:
None
Connection to Illinois
: Knisley lives in Chicago. She attended The School of the Art Institute of Chicago.
Biography
: Lucy Knisley is an author and illustrator. She is a critically acclaimed award-winning comic creator whose previous books include the New York Times bestselling Relish: My Life in the Kitchen. She specializes in personal, confessional graphic novels and travelogues. She has also made comics for Marvel, Valiant Comics, and BOOM! Studios.
---
Awards
:
Kid Gloves New York Times Bestseller;11 Notable Chicago books of 2019, Chicago Tribune
Relish New York Times Bestseller; Best Children's Book of 2013, Publishers Weekly; Best Book of 2013, NPR
Margaret and the Moon Illinois READS Book Selection, Illinois Reading Council, 2018
Apple Crush Illinois READS Book Selection, Illinois Reading Council, 2023
Primary Literary Genre(s):
Fiction; Illustrator; Non-Fiction
Primary Audience(s):
Adult readers; Children
Instagram:
https://www.instagram.com/LucyKnisley/
Twitter:
https://twitter.com/LucyKnisley
Web:
https://www.lucyknisley.com/
---
Selected Titles
Adventure Time Marceline And The Scream Queens #1 Incentive Lucy Knisley Variant Cover
ISBN: B008IWB6U0 OCLC:
An age of license /
ISBN: 1606997688 OCLC: 870098541 Cartoonist Lucy Knisley got an opportunity that most only dream of: a travel-expenses-paid trip to Europe and Scandinavia, thanks to a book tour. An Age of License is Knisley's comics travel memoir recounting her adventures. It's punctuated by whimsical visual devices; peppered with the cats she meets along the way; and, of course, features her hallmark -- drawings and descriptions of food that will make your mouth water. But it's not all kittens and raclette crêpes: Knisley's experiences are colored by anxieties, introspective self-inquiries, and quotidian revelations -- about traveling alone in unfamiliar countries, and about her life and career.
Apple Crush: (A Graphic Novel) (Peapod Farm)
ISBN: 1984896873 OCLC: Random House Graphic 2022 After finally adjusting to life on a family farm with two brand new step-sisters, a young girl faces an even bigger challenge - figuring out where she fits in at her first year in middle school. This middle grade graphic novel explores family, friendship, and change! Jen is just getting used to her life on Peapod Farm with her new stepsisters, Andy and Reese. But when the school year starts, there are even more changes in store for her. Jen has to navigate new friends and new challenges--but at least she'll have Andy with her, right? As she starts the sixth grade, she finds that her stepsister seems way more interested in crushes and boys than hanging out with her, while Jen wants to know when the world decided boys and girls couldn't be "just friends" anymore. Jen's story continues in the standout sequel to Stepping Stones that captures everything awesome (and scary) about growing up.
Displacement /
ISBN: 1606998102 OCLC: 881207830
French milk
ISBN: 9781416575344 OCLC: 261204844 A lighthearted travelogue--rendered in the form of a graphic novel--about a mother and daughter's life-changing six-week trip to Paris is comprised of the graphic artist daughter's illustrations of the sights and scenes they visited while each was facing a milestone birthday.
GO TO SLEEP I MISS YOU :
ISBN: 1250211492 OCLC: 1089281708 Lucy Knisley is one of the great memoirists of the graphic novel format. Following the completion of her pregnancy memoir Kid Gloves (and the birth of her baby), Lucy embarked on a new project: documenting new motherhood in short, spontaneous little cartoons, which she posted on her Instagram, and which quickly gained her a huge cult following among other moms. The best of those wildly popular little cartoons are collected in this adorable gift book, Go to Sleep (I Miss You), a perfect read for expecting parents, new parents, and anyone who loves funny, relatable comics storytelling.
Heart :
ISBN: 0978942779 OCLC: 213355143
Kid gloves :
ISBN: 1626728089 OCLC: 1028189299
Love, Penelope /
ISBN: 141972861X OCLC: 1000583456 Fifth-grader Penny writes a series of letters to her future sibling, including facts about their Oakland, California, home, questions about whether their moms will ever marry, and especially that he or she is loved.
Margaret and the Moon :
ISBN: 9780399551871 OCLC: 930068049 Margaret Hamilton loved numbers as a young girl. She knew how many miles it was to the moon (and how many back). She loved studying algebra and geometry and calculus and using math to solve problems in the outside world. Soon math led her to MIT and then to helping NASA put a man on the moon! She handwrote code that would allow the spacecraft's computer to solve any problems it might encounter. Apollo 8. Apollo 9. Apollo 10. Apollo 11. Without her code, none of those missions could have been completed.
Radiator days /
ISBN: 0979882850 OCLC: 262559900
Relish :
ISBN: 9781596436237 OCLC: 846728171 Lucy Knisley loves food. The daughter of a chef and a gourmet, this talented young cartoonist comes by her obsession honestly. In her forthright, thoughtful, and funny memoir, Lucy traces key episodes in her life thus far, framed by what she was eating at the time and lessons learned about food, cooking, and life. Each chapter is bookended with an illustrated recipe-- many of them treasured family dishes, and a few of them Lucy's original inventions--From publisher's web site.
Searching for Cassady
ISBN: 0979882842 OCLC:
Side B :
ISBN: 0615220800 OCLC: 495361704
Something new :
ISBN: 9781626722491 OCLC: 910980800 In 2010, Lucy and her long-term boyfriend John broke up. Three long, lonely years later, John returned to New York, walked into Lucy's apartment, and proposed. This is not that story. It is the story of what came after: the wedding.
Stepping stones /
ISBN: 1984896849 OCLC: 1108817470
You are new /
ISBN: 1452161569 OCLC: 1019835766