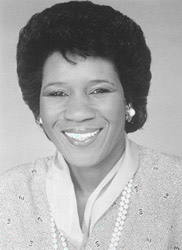 Deloris Jordan
Born:
N/A
Pen Name:
Deloris M. Jordan
Connection to Illinois
: Deloris lives in Chicago.
Biography
: Deloris is the mother of former Chicago Bulls basketball legend Michael Jordan. She is the coauthor of ''Salt in His Shoes'', illustrated by Kadir Nelson, which Booklist called 'inspirational,' and ''Did I Tell You I Love You Today?,'' illustrated by Shane W. Evans, which was called 'a tender read-aloud' by Kirkus Reviews. She is also the author of ''Family First: Winning the Parenting Game'', a book highlighting the seven principles of parenting. Through her work with the James Jordan Foundation in Chicago, Illinois, as well as the Jordan Institute for Families at the University of North Carolina at Chapel Hill, Mrs. Jordan is widely regarded as an advocate for children and families. Jordan is a sought-after national speaker on famiy issues and serves as the volunteer president of the James Jordan Foundation. She is the mother of five children and the grandmother of eleven.
---
Awards
:
Deloris was honored at the 2005 Illinois Authors Book Fair sponsored by the Illinois Center for the Book and the Illinois State Library in Springfield, Illinois.
James Jordan Foundation :
http://www.jamesjordanfoundation.com/
Website:
http://www.jamesjordanfoundation.com/
Deloris Jordan on WorldCat :
http://www.worldcat.org/search?q=deloris+jordan
---
Selected Titles
Baby blessings :
ISBN: 9781416953623 OCLC: 226304693 Simon & Schuster Books for Young Readers, New York : ©2010. This celebration of family life exalts the blessings and hopes a mother and father feel for their new baby. The text consists of the baby's parents' simple declarations of reassurance, love, and inspiration.--Amazon.com.
Family first :
ISBN: 0062513885 OCLC: 34283018 HarperSanFrancisco, [San Francisco] : ©1996. Deloris Jordan knows a thing or two about being a mom. She is the mother of five high-achieving children - Ronald, Deloris, Larry, Michael, and Roslyn - a sought-after national speaker on the family, and the volunteer president of the Michael Jordan Foundation. Her galvanizing message on encouraging responsibility and a passion for excellence has inspired parents across the country. Being the mother of basketball's greatest player has given Deloris Jordan a platform but it's her experience bringing up an accomplished family in a challenging environment, along with her deep commitment to church and community, that gave her the expertise she passes on in this invaluable handbook for parents of children of all ages. Using warm anecdotes and never-before-told family stories, Jordan paints a realistic and uplifting portrait of the potential power of parents. She explores the universal goals that parents set for their children - self-discipline, responsibility, perseverance, moral values, and the desire to achieve - and explains the practical tools and strategies the Jordan family uses to realize those goals. And through personal examples and wise, plainspoken insight, Deloris Jordan challenges, guides, and encourages parents who long to do everything they can to help their children learn, grow, prosper, and succeed.
Xie zi li de yan :
ISBN: 9789866310195 OCLC: 862431779 Wei jing, Tai bei shi : 2008.10.