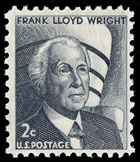 Frank Lloyd Wright
Born:
June 8, 1867 in Richland Center, Wisconsin
Pen Name:
None
Connection to Illinois
: Frank Lloyd Wright moved to Chicago in 1887 where he joined the architectural firm of Joseph Lyman Silsbee. Within the year, he had left Silsbee to work for the firm of Adler & Sullivan as an apprentice to Louis Sullivan. In 1889, he married his first wife, Catherine Lee 'Kitty' Tobin (1871-1959) and purchased land in Oak Park, Illinois. There, he built his first home and studio.
Biography
: Frank Lloyd Wright is considered to be one of the founders of modern architecture. He is regarded by many as the greatest arechitect of the twentieth century. He was born in Richland Center, Wisconsin but began his career in Chicago. Some of his most famous examples of architecture are located in the Midwest. Wright authored twenty books and numerous articles and was a popular lecturer in the United States and in Europe.
---
Awards
:
Primary Audience(s):
Adult readers
Frank Lloyd Wright Foundation :
http://www.franklloydwright.org/
Frank Lloyd Wright, Wisconsin Historical Society :
http://www.wisconsinhistory.org/topics/flw/
Frank Lloyd Wright Preservation Trust :
http://www.gowright.org/
Wikipedia:
http://en.wikipedia.org/wiki/Frank_Lloyd_Wright
Frank Lloyd Wright on WorldCat :
http://www.worldcat.org/search?q=frank+lloyd+wright
---
Selected Titles
A testament by Frank Lloyd Wright
ISBN: 0517020734 OCLC: 901527751 Bramhall House, New York : 1957.
An autobiography /
ISBN: 0764932438 OCLC: 64590957 The iconic American architect describes his life, philosophy, and work; and discusses his childhood and family, apprenticeship with Dankmar Adler and Louis Sullivan, personal life, travels, and architectural achievements.
An organic architecture :
ISBN: 0262230445 OCLC: 562929 M.I.T. Press, Cambridge : [1970, ©1939]
An organic architecture :
ISBN: 1848222327 OCLC: 972158522 In May 1939, the celebrated American architect Frank Lloyd Wright visited London and gave four lectures at the Royal Institute of British Architects. The meetings were hailed at the time as the most remarkable events of recent architectural affairs in England, and the lectures were published as 'An Organic Architecture' in September 1939 by Lund Humphries. The texts remain an important expression of the architect's core philosophy and are being reissued now in a new edition to commemorate the 150th anniversary in 2017 of Frank Lloyd Wright's birth.--Dust jacket.
Architectural theory
ISBN: 9781405102599 OCLC: 57352756 Blackwell Pub., Malden, MA : 2006-<2008> The present volume, which is the first of two, begins with theory in ancient and classical times and concludes in 1870--Page [xxiii]. [This volume], along with the forthcoming second volume, covering 1870 to 2000, is an indispensable reference for any student or scholar of architecture. Organized thematically, it features general and section introductions and headnotes to each essay written by a renowned expert on architectural theory--Back cover.
Frank Lloyd Wright collected writings
ISBN: 0847815463 OCLC: 24795185 Rizzoli ; New York : 1992-1995.
Genius and the mobocracy.
ISBN: 0818000228 OCLC: 161509 Horizon Press New York, [1971]
Genius and the mobocracy.
ISBN: 0436582600 OCLC: 386941 Secker & Warburg London, [1972]
Modern architecture :
ISBN: 9780691129372 OCLC: 195748978 Princeton University Press, Princeton, N.J. ; ©2008.
The future of architecture
ISBN: 0452010187 OCLC: 832920797 Horizont Press New York 1981
The Japanese print :
ISBN: 2252038675 OCLC: 819718263 The influence that Japan - as well as its culture and architecture - exerted on the celebrated American architect Frank Lloyd Wright is most evident in his own creations. Unlike his contemporaries in the United States who viewed European architecture as part of their heritage, Wright chose Japan and the Japanese culture as his aesthetic model. This influence was also reflected in his collections of art objects, sculptures and, above all, prints. In 1906, he displayed his ukiyo-e woodblock print collection at an exhibition of Hiroshige's works held at the Art Institute of Chicago. He had begun constituting the prints a year earlier, during his first trip to Japan. As one of the pioneer collectors of such works in the West, and an astute art dealer, he immediately developed an interpretive theory which he published exactly 100 years ago - The Japanese Print: An Interpretation. The book became a fundamental reference work for experts and amateurs of Japanese art and for anyone seriously striving to understand Wright's architecture.
The natural house
ISBN: 0452007968 OCLC: 263428773 New American Library, New York : 1982.
The Work of Frank Lloyd Wright :
ISBN: 0818000031 OCLC: 287472 Horizon Press, [New York] : [1965]