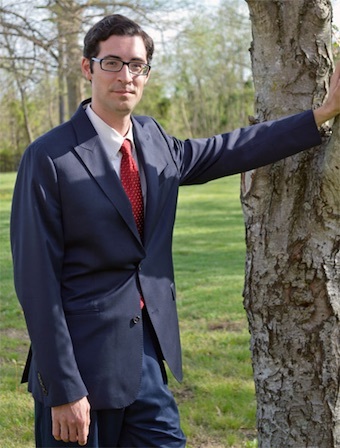 David L Finnigan
Born:
Pen Name:
None
Connection to Illinois
: Finnigan has lived in Illinois for most of his life. He attended school in Springfield, then Lincoln. After high school he earned a B. S. in Industrial Technology at Eastern Illinois University. After college he went to work in Springfield for the Illinois Historic Preservation Agency (IHPA) where he was a site interpreter leading tours of the Old State Capitol, Lincoln-Herndon Law Office, and Lincoln Tomb. He is also familiar with the Vachel Lindsay and Dana-Thomas homes. He received his Master of Architecture degree at Southern Illinois University Carbondale, 2019. He is interested in architectural history and plans to write more books on this subject. He has studied Robert Allerton and the Allerton family extensively. He is also knowledgeable on Abraham Lincoln's funeral and burial, having researched the subject at the Lincoln Presidential Library while working for IHPA.
Biography
: David L. Finnigan graduated in 2012 from Eastern Illinois University (EIU) where he studied industrial technology. At EIU he was invited to give a lecture on architecture as part of a symposium on ancient Egyptian culture in 2011, and again for ancient Greece in 2012. After working at Illinois Historic Preservation Agency in Springfield, he accepted a position at Fischer-Wisnosky Architects in 2019 after completing his Master of Architecture degree at Southern Illinois University. He is a member of the American Institute of Architects. Mr. Finnigan enjoys nature hikes, film photography, travel abroad, and history. Inside Allerton is his second book.
---
Awards
:
Primary Literary Genre(s):
Non-Fiction
Primary Audience(s):
Adult readers
Website:
https://www.amazon.com/David-L-Finnigan/e/B071RKWSNP/
---
Selected Titles
Inside Allerton :
ISBN: 9780692867402 OCLC: 988032135 Named one of the Seven Wonders of Illinois, Robert Allerton Park is visited by nearly 100,000 people annually. Allerton, a wealthy Chicago philanthropist and art collector, donated his palatial country estate to the University of Illinois in 1946 with the intent that it should be maintained as a wildlife preserve and an example of landscape gardening. Today Robert Allerton Park is both a National Historic Site and National Natural Landmark. Take a tour of the home and gardens, led by architecture graduate student David L. Finnigan. Beautiful color photography and original architect's drawings bring the history of Allerton Park to life. Dozens of archival photographs, 21 in color, have all been painstakingly restored especially for this book, many never before published. This extensively researched book begins with the story of the Allerton family, from origins as Mayflower pilgrims to Samuel Allerton's fortunes in the Chicago banking and stockyard industry. Follow the path of young Robert Allerton, Samuel's only son, as he travels to Europe for art school, becomes a patron of the Art Institute of Chicago, and develops his Piatt County estate into an oasis on the prairie with formal gardens and statuary. The story concludes with the changes to the Park since 1946 when the University of Illinois acquired the property. Beautifully produced and lavishly illustrated, Inside Allerton stands as a definitive record of this unique destination in central Illinois.
The new Apple II user's guide /
ISBN: 0615639879 OCLC: 802292907 Mac GUI, [United States?] : ©2012. This book covers all models of Apple II, and contains everything that the new user needs to know to get started using and programming his Apple. Learn how to setup and start using the Apple, then learn how to program in BASIC. Further chapters cover graphics and sound, the disk system, networking, printing, and much more. This book is completely up-to-date and covers all recent advancements and developments in the Apple II world.
Thousand-Year Statehouse: The Art and Architecture of the Illinois State Capitol
ISBN: 0578711974 OCLC: GS Brenac 2021 Thousand-Year Statehouse by David L. Finnigan is an oversize, 258-page hardcover volume that you will be delighted to own. Inside you will find the architectural history and fascinating stories behind each major room in the New Statehouse, accompanied by over 140 full-page, color photos. The book begins with the story of the New Statehouse, its design and construction. Learn about the European and ancient Greek precedents which inspired its architecture. Then, embark on a personal tour of this extraordinary building, from the basement tunnels to the top of the dome. Step inside grand halls and private rooms alike. Dozens of close-up photos bring intricate details to hand. Discover the stories of the sculptures, paintings, and ornamentation (and the artisans who made them) which make this building unique both in Illinois and across the nation.