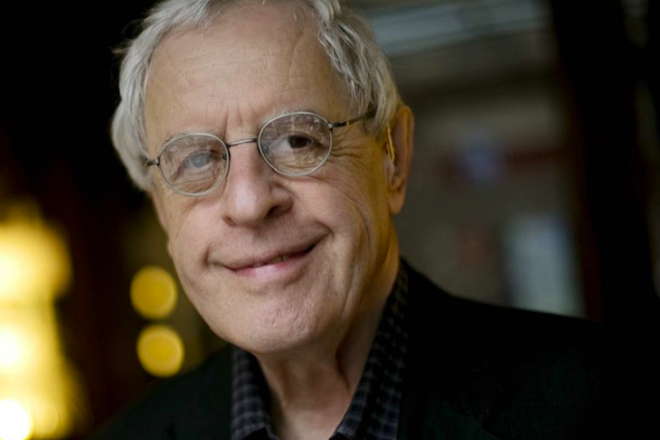 Charles D. Simic
Born:
Belgrade, Yugoslavia May 9, 1938
Died:
Dover, New Hampshire, January 9, 2023
Pen Name:
None
Connection to Illinois
: Simac moved to Oak Park in 1955 and attended Oak Park/River Forest High School. After graduation he worked as an office assistant for the Chicago Sun Times while attending college at the University of Chicago. He left Chicago when he was drafted into the armed service in 1961.
Biography
: Charles Simac was named the 15th Poet Laureate of the United States by the Library of Congress In 2007. He wrote on many diverse topics such as jazz, art, and philosophy. He exerted considerable influence not only as poet, but as translator, essayist and philosopher, opining on the current state of contemporary American poetry. He held the position of poetry editor of The Paris Review. He was also a professor of English and Creative Writing at the University of New Hampshire for more than 30 years.
---
Awards
:
The World Doesn't End Pulitzer Prize for Poetry, 1990
Notable Awards Named 15th Poet Laureate Consultant in Poetry to the Library of Congress, 2007; Wallace Stevens Award, 2007; Frost Medal for Lifetime Achievement in Poetry, 2011; Zbigniew Herbert International Literary Award, 2014; MacArthur Foundation Genius Grant
Primary Literary Genre(s):
Non-Fiction; Poetry
Primary Audience(s):
Adult readers
Web:
https://www.poetryfoundation.org/poets/charles-simic
Web:
https://poets.org/poet/charles-simic
Wikipedia:
https://en.wikipedia.org/wiki/Charles_Simic
---
Selected Titles
A Fly in the Soup: Memoirs (Poets on Poetry)
ISBN: 0472089099 OCLC: 191029024 University of Michigan Press, Ann Arbor [Mich.] : 2002. A Fly in the Soup is a book of memoirs. Charles Simic was born in 1938 in Belgrade, Yugoslavia, and spent his childhood in a city bombed by the Nazis in 1941 and then by the Allies in 1944. He was jailed with his mother after the war for trying to flee what was by then a communist country. He managed to emigrate in 1953, first to Paris and then a year later to the United States. He lived in New York, completed his high school education in Chicago and began writing in English and publishing his first poems in 1959 when he was twenty-one years old. The book collects pieces written on such diverse subjects as memory, history, the bombing of cities, cuisine, philosophy, life in the army, movies, and growing up in wartime. Arranged chronologically, they make an unusual memoir of exile and refugee life, a collage of stories, anecdotes, meditations and poetic fragments from one of the most barbaric periods of the last century. This is a story of a young man whose travel agents were Hitler and Stalin--the autobiography of the early years of one of the most respected contemporary American poets. Charles Simic has published more than sixty books in the United States and abroad for which he has received a number of prestigious literary awards including the Pulitzer Prize for poetry and the MacArthur Fellowship.
A Wedding in Hell
ISBN: 0156001292 OCLC: San Diego : Ecco San Diego : 1994 Simic puts chirping birds, sex, and happiness into a world of broken windows, shivering trees, soldiers, lone dogs, the homeless of the city, and a God still making up his mind. "Provocative...a tantalizing, beautiful fusion of visions" (Bloomsbury Review).
Austerities: Poems
ISBN: 0807610437 OCLC: New York : George Braziller New York : 1982 Poems record the author's observations on a wide range of subjects, including the natural world, city life, and his personal experiences.
Charles Simic: Selected Early Poems
ISBN: 0807614564 OCLC: New York : George Braziller New York : 1999 Charles Simic is widely recognized as one of America's leading poets. Selected Poems, 1963- 1983 was lauded as "easily the best volume of poetry published in 1985." In this newly expanded edition entitled Charles Simic: Selected Early Poems, to which the author has added twenty-seven poems and extensively revised others, we are treated to Simic's terse style, incisive imagery, and often disturbing rendering of everyday experiences--all coupled with a delightful sense of humor and more than a touch of mysticism.
Come Closer and Listen: New Poems
ISBN: 0062908464 OCLC: Ecco 2019 An insightful and haunting new collection from Pulitzer Prize-winning poet Charles Simic Irreverent and sly, observant and keenly imagined, Come Closer and Listen is the latest work from one of our most beloved poets. With his trademark sense of humor, open-hearted empathy, and perceptive vision, Charles Simic roots his poetry in the ordinary world while still taking in the wide sweep of the human experience. From poems pithy, wry, and cutting—"Time—that murderer/that no has caught yet"—to his layered reflections on everything from love to grief to the wonders of nature, from the story of St. Sebastian to that of a couple weeding side by side, Simic's work continues to reveal to us an unmistakable voice in modern poetry. An innovator in form and a chronicler of both our interior lives and the people we are in the world, Simic remains one of our most important and lasting voices on the page.
Dime-Store Alchemy: The Art of Joseph Cornell (New York Review Books Classics)
ISBN: 1590171705 OCLC: New York : NYRB Classics New York : 2006 In Dime-Store Alchemy, poet Charles Simic refects on the life and work of Joseph Cornell, the maverick surrealist who is one of America's great artists. Simic's spare prose is as enchanting and luminous as the mysterious boxes of found objects for which Cornell is justly renowned. In a work that is in various degrees biography, criticism, and sheer poetry, Simic tells the story of Cornell's life and illuminates the hermetic mysteries of his extraordinary boxes–objects in which private obsessions were alchemically transformed into enduring works of art. Simic sees Cornell's work as exemplifying a distinctively American aesthetic, open to the world, improvisatory, at once homemade and universal, modest and teasing and profound. Full of unexpected riches, Dime-Store Alchemy is both an entrancing meditation on the nature of art and a perfect introduction to a major American artist by one of his peers–a book that can be perused at length or dipped into at leisure again and again.
Dismantling the silence: Poems (Braziller series of poetry)
ISBN: 0224005944 OCLC: London, Braziller London, 1971
Frightening Toys
ISBN: 0571173993 OCLC: London : Faber & Faber London : A selection from the last four collections ("Unending Blues", "The World Doesn't End", "The Book of Gods and Devils" and "Hotel Insomnia") by the Yugoslavian-born American poet, Charles Simic. He is a Pulitzer Prize winner and MacArthur Foundation Fellow.
Hotel Insomnia
ISBN: 0151421889 OCLC: San Diego : Harcourt San Diego : 1992 In this volume, Simic fills the wee hours of his poetry with angels and pigs, riddles and cemeteries. His is a rich, haunted world of East European memory and american present-a world of his own creation, one always full of luminous surprise. "Simic writes so simply that his words fall like drops of water, but they ripple outward to evoke an ominous and numinous world" (Washington Post Book World).
Jackstraws: Poems
ISBN: 0156010984 OCLC: 44190766 Harcourt, San Diego : 2000. Charles Simic's new collection of sixty-two poems continues to startle. Whether he is writing of wild flowers "Drunk with kissing/The red hot summer breezes"; or of God, that "Boss of all bosses of the universe/Mr. Know-it-all, wheeler-dealer, wire puller"; or of rain drops "Which take turns listening/To each other fall intermittently/As they go around collecting memories," Simic creates powerful, fresh images that are at once slangy and lyrical, irreverent and God-fearing, foreign and all-American, humorous and full of heartache.
Master of Disguises
ISBN: 0547397097 OCLC: Boston : Houghton Mifflin Harcourt Boston : 2010 In his first volume of poetry since his tenure as poet laureate, Charles Simic shows he is at the height of his poetic powers. These new poems mine the rich strain of inscrutability in ordinary life, until it is hard to know what is innocent and what ominous. There is something about his work that continues to be crystal clear and yet deeply weighted with violence and mystery. Reading it is like going undercover. The face of a girl carrying a white dress from the cleaners with her eyes half-closed. The Adam & Evie Tanning Salon at night. A sparrow on crutches. A rubber duck in a shooting gallery on a Sunday morning. And someone in a tree swing, too old to be swinging and to be wearing no clothes at all, blowing a toy trumpet at the sky.
My Noiseless Entourage: Poems
ISBN: 0151012148 OCLC: 56880179 Harcourt, Orlando, Fla. : ©2005. This new collection of poems from Charles Simic demonstrates once again his wit, moral acuity, and brilliant use of imagery. His settings are a farmhouse porch, a used-clothing store, empty station platforms; his subjects love, futility, and the sense of an individual life lived among a crowd of literal and imaginary presences. Both sharp and sympathetic, the poems of this collection confirm Simic's place as one of the most important and appealing poets of our time.
New and Selected Poems: 1962-2012 by Charles Simic
ISBN: B01F81QP5E OCLC: Houghton Mifflin Harcourt 2013 This retrospective collection by the Pulitzer Prize-winning poet contains "some of the strangest, most opalescent poems of the past half century" (Boston Globe). Over the course of his long career, former United States Poet Laureate Charles Simic has been celebrated for his brilliant and innovative imagery, his sardonic wit, and a voice all his own. In this new volume, he distills his life's work, combining for the first time the best of his early poems with his later works—including nearly three dozen revisions—along with seventeen new, never-before-published poems. Simic's body of work draws inspiration from a range of topics, from the inscrutability of ordinary life to American blues; from folktales to marriage and war. Consistently exciting and unexpected, the nearly four hundred poems in this volume represent the best of one of America's most distinguished and original poets.
Night Picnic: Poems
ISBN: 015100630X OCLC: New York : Harcourt New York : 2001 The poems in Charles Simic's new collection evoke a variety of settings and images, from New York City to small New England towns; from crowds spilling onto the sidewalk on a hot summer night to an abandoned wooden church and a car graveyard overgrown with weeds. His subjects range from a bakery early in the morning to the fingerprints on a stranger's front door; from waiters in an empty restaurant to the decorations in a window of a funeral home; from a dog tied to a chain to a homeless man sleeping at the foot of a skyscraper; and other moments of solitude and clear vision. "What is beautiful," he writes in one poem, "is found accidentally and not sought after. What is beautiful is easily lost." Simic is the metaphysician of the ordinary, a poet who reminds us of the mysteries of our daily lives.
No Land in Sight: Poems
ISBN: 059353493X OCLC: Knopf 2022 From one of America's most beloved poets, a piercing new collection reflecting on the characters and encounters that haunt us through this life and into the next Leading us into a city stirring with gravediggers and beggars, lovers and dogs, Charles Simic returns with a brilliant collection full of his singular wit, dark humor, and tenderheartedness. In poems that are often as spare as they are monumental, he captures the fleeting moments of modern life—peering inside pawnshop windows, brushing shoulders with strangers on the street, and walking familiar cemetery rows—to uncover all the beauty and worry hiding in plain sight. As the poet reflects on a lifetime's worth of pleasure and loss, he recalls instances when he "made excuses and hurried away," and considers the way memory always trails just behind. No Land in Sight is a testament to all we leave in our wake and, simultaneously, all we hang on to: the passing minutes, the evening's stillness, and the many lives we inhabit in dim thresholds and bright mornings alike.
Orphan Factory: Essays and Memoirs (Poets On Poetry)
ISBN: 0472066633 OCLC: Ann Arbor, Mich. : University of Michigan Press Ann Arbor, Mich. : 1997 Orphan Factory collects writing by Charles Simic, hailed as one of our finest contemporary poets. A native of Yugoslavia who emigrated to America in his teens, Simic believes that tragedy, comedy, and paradox are the commonplace experiences of an exile's life. In this delightful collection of journal entries, autobiographical essays, criticism, and prose poetry, the poet reveals once again his fondness for odd juxtapositions that reveal hidden and unexpected connections. In the title essay, Simic--whom critic Helen Vendler has called "the best political poet on the American scene"--reflects on his family's experiences of their war-torn homeland during World War II and the frightening familiarity of the recent tragic events in the region. The collection has many hilarious moments, such as Simic's memoir of his first days in New York City as a young poet and painter, impressions from his poet's notebook, and first lines from his unwritten books. The book also contains reflections on dreams, insomnia, and the night sky, and considers the work of poets Jane Kenyon and Ingeborg Bachmann, and of visual artists Saul Steinberg and Holly Wright. Charles Simic's most recent poetry collections are Walking the Black Cat ( 1996), nominated for the National Book Award, and Hotel Insomnia. He has won numerous prizes, including the Pulitzer Prize, Guggenheim and MacArthur Fellowships, and a P.E.N. Translation Prize.
Scribbled in the Dark: Poems
ISBN: 0062661175 OCLC: Ecco 2017 From the Pulitzer Prize—winning former poet laureate, a collection of elegiac, irreverent, lyrical new poems—an American master at the height of his talent, shining light out into the dark The latest volume of poetry from Charles Simic hums with the liveliness of the writer's pen—Scribbled in the Dark brings the poet's signature sardonic sense of humor, piercing social insight, and haunting lyricism to diverse and richly imagined landscapes. Peopled by policemen, presidents, kids in Halloween masks, a fortune-teller, a fly on the wall of the poet's kitchen; on crowded New York streets, on park benches, and under darkened skies: the pages within toy with the end of the world and its infinity. Charles Simic continues to be an imitable voice in modern American poetry, one of its finest chroniclers of the human condition.
Selected Poems, 1963-1983
ISBN: 0807611298 OCLC: New York, NY : George Braziller New York, NY : 1985 Poems consider mortality, nature, consciousness, fear, purpose, the universe, sexuality, language, dreams, and history
Sixty poems /
ISBN: 0156035642 OCLC: 167764292 Harcourt, Orlando, Fla. : ©2007. Gathers sixty poems from nine of Charles Simic's collections spanning 1986-2005, which explore themes in history, spirituality, and American culture.
That little something :
ISBN: 0156035391 OCLC: 262426496 Mariner Books : Boston : 2009, ©2008. A collection of over fifty poems by Serbian American, Pulitzer Prize-winning poet Charles Simic.
The Book of Gods and Devils
ISBN: 0156135469 OCLC: San Diego : Ecco San Diego : 1990 Loneliness, loss, sadness, and mystery mark this wonderful volume of forty-nine poems by Charles Simic, winner of the 1990 Pulitzer Prize for Poetry and praised as "one of the truly imaginative writers of our time" by the Los Angeles Times.
The Life of Images: Selected Prose
ISBN: 0062364715 OCLC: Ecco 2015 A collection of new and selected essays by the Pulitzer Prize–winner and former Poet Laureate. In addition to being one of America's most famous and commended poets, Charles Simic is a prolific and talented essayist. The Life of Images brings together his best prose work written over twenty-five years. A blend of the straightforward, the wry, and the hopeful, the essays in The Life of Images explore subjects ranging from literary criticism to philosophy, photography to Simic's childhood in a war-torn country. Culled from five collections, each work demonstrates the qualities that make Simic's poetry so brilliant yet accessible. Whether he is revealing the influence of literature on his childhood development, pondering the relationship between food and comfort, or elegizing the pull to return to a homeland that no longer exists, the legendary poet shares his distinctive take on the world and offers an intimate look into his remarkable mind.
The Lunatic: Poems
ISBN: 0062364758 OCLC: Ecco 2016 From Pulitzer Prize winner and former Poet Laureate Charles Simic comes a dazzling collection of poems as original, meditative, and humorous as the legendary poet himself. This latest volume of poetry from Charles Simic, one of America's most celebrated poets, demonstrates his revered signature style—a mix of understated brilliance, wry melancholy, and sardonic wit. These seventy luminous poems range in subject from mortality to personal ads, from the simple wonders of nature to his childhood in war-torn Yugoslavia. For over fifty years, Simic has delighted readers with his innovative form, quiet humor, and his rare ability to limn our interior life and concisely capture the depth of human emotion. These stunning, succinct poems—most no longer than a page, some no longer than a paragraph—validate and reinforce Simic's importance and relevance in modern poetry.
The monster loves his labyrinth :
ISBN: 1931337403 OCLC: 183162494 "Nabokovian in his caustic charm and sexy intelligence, Simic perceives the mythic in the mundane and pinpoints the perpetual suffering that infuses human life with both agony and bliss. . . . And he is the master of juxtaposition, lining up the unlikeliest of pairings and contrasts as he explores the nexuses of madness and prophecy, hell and paradise, lust and death."—Donna Seaman, Booklist "As one reads the pithy, wise, occasionally cranky epigrams and vignettes that fill this volume, there is the definite sense that we are getting a rare glimpse into several decades worth of private journals--and, by extension are privy to the tickings of an accomplished and introspective literary mind."—Rain Taxi
The Unemployed Fortune-Teller: Essays and Memoirs (Poets on Poetry)
ISBN: 0472095692 OCLC: Ann Arbor : University of Michigan Press Ann Arbor : 1995 Provides glimpses into the origins of Charles Simic's poetry.
The voice at 3:00 a.m. :
ISBN: 015603073X OCLC: 50803138 Harcourt, Orlando, Fla. : ©2003. One of the leading American poets offers a new collection of poems that plumbs the ordinary American experience for spiritual insights, wit, and historical relevance.
The world doesn't end :
ISBN: 0156983508 OCLC: 18191235 In this collection, winner of the 1990 Pulitzer Prize, Charles Simic puns, pulls pranks. He can be jazzy and streetwise. Or cloak himself in antiquity. Simic has new eyes, and in these wonderful poems and poems-in-prose he lets the reader see through them.
Walking The Black Cat
ISBN: 0151002193 OCLC: Harcourt 1996 Hamlet's ghost wandering the halls of a Vegas motel, a street corner ventriloquist using passersby as dummies, and Jesus panhandling in a weed-infested Eden are just a few of the startling conceits Simic unleashes in this collection. "Few contemporary poets have been as influential-or inimitable-as Charles Simic" (New York Times Book Review).