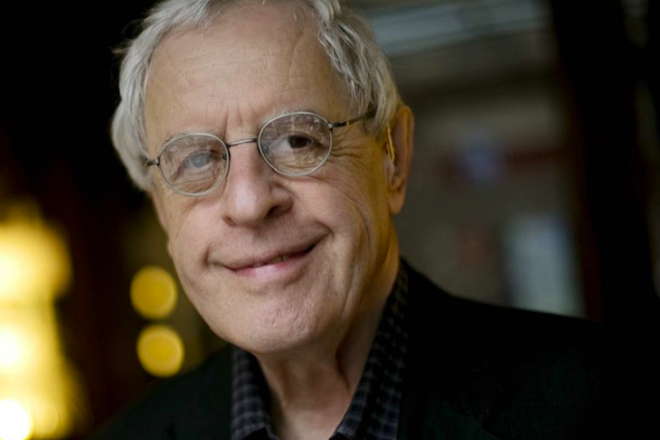 Charles D. Simic
Born:
1938 in Belgrade, Yugoslavia
Pen Name:
None
Connection to Illinois
: Charlse moved to Oak Park in 1955 and attended Oak Park/River Forest High School. After graduation he worked as an office boy for the Chicago Sun Times while attending college.
Biography
: In 2007 Charles Simac was named the 15th Poet Laureate of the United States by the Library of Congress. He writes on such diverse topics as jazz, art, and philosophy. He exerts considerable influence not only as poet, but as translator, essayist and philosopher, opining on the current state of contemporary American poetry. He held the position of poetry editor of The Paris Review. He is now a retired professor from the University of New Hampshire.
---
Awards
:
-- Pulitzer 1990, ''The World Doesn't End''
Primary Literary Genre(s):
Non-Fiction; Poetry
Primary Audience(s):
Adult readers
Charles D. Simic on WorldCat :
http://www.worldcat.org/search?q=charles+d.+simic
---
Selected Titles
A fly in the soup :
ISBN: 0472089099 OCLC: 191029024 University of Michigan Press, Ann Arbor [Mich.] : 2002.
Jackstraws :
ISBN: 0156010984 OCLC: 44190766 Harcourt, San Diego : 2000.
My noiseless entourage :
ISBN: 0151012148 OCLC: 56880179 Harcourt, Orlando, Fla. : ©2005. "My Noiseless Entourage is haunted by marooned, wordless individuals, but also by a sense of indecipherable, constant chatter, the murmuring on the other side of the wall. Charles Simic illuminates the slow, distracted quality of rural life, and the paranoia, the suspicions of city-dwellers. An old man sitting in his backyard with a rope in his hand. A flock of spooked starlings that seem to have heard something no one else has. The lodger no one has ever seen, drawing her bath upstairs. The poet as a dog, growling at something out there he cannot bring himself to name."--Jacket.
Sixty poems /
ISBN: 0156035642 OCLC: 167764292 Harcourt, Orlando, Fla. : ©2007. Gathers sixty poems from nine of Charles Simic's collections spanning 1986-2005, which explore themes in history, spirituality, and American culture.
That little something :
ISBN: 0156035391 OCLC: 262426496 Mariner Books : Boston : 2009, ©2008. A collection of over fifty poems by Serbian American, Pulitzer Prize-winning poet Charles Simic.
The horse has six legs :
ISBN: 1555975577 OCLC: 441136676 Graywolf Press, Minneapolis, MN : 2010.
The monster loves his labyrinth :
ISBN: 1931337403 OCLC: 183162494 "The current U.S. poet laureate and a Pulitzer Prize winner, Simic is famous for his short, cryptic poems that draw on his eventful early life, which he describes in dramatic detail here, in notebooks he has kept for decades but never published in book form. The young Simic and his family lived in Serbia, as bombs fell on it, during World War II; later, they fled to difficult lives in Chicago, where the poet's high-spirited father was often penniless. The first of the notebooks' four sections collect compelling autobiographical reminiscences, of Serbia, of Chicago, and of the young adult poet's time in New York. The second collects the sort of images and juxtapositions that Simic might well have wanted to use in a poem-the best are, in effect, prose poems: "Snow arriving this morning at my door like a mail-order bride." The last three of five sections do not always preserve the force of first: their statements about poetry in general, and their reactions to (and against) the academy, bear little surprise. Yet Simic's stature as a maker of poems still makes all of his prose worth reading, and the autobiographical sections make this book a keeper." Sept.) -- Publishers Weekly Reviews.
The voice at 3:00 a.m. :
ISBN: 015603073X OCLC: 50803138 Harcourt, Orlando, Fla. : ©2003. One of the leading American poets offers a new collection of poems that plumbs the ordinary American experience for spiritual insights, wit, and historical relevance.
The world doesn't end :
ISBN: 0156983508 OCLC: 18191235 A Pulitzer Prize-winning collection of prose poems by Charles Simic.