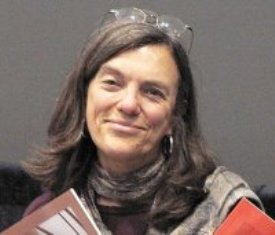 Ingrid Wendt
Born:
in Aurora, Illinois
Pen Name:
None
Connection to Illinois
: Wendt was born and raised in Aurora, Illinois.
Biography
: Ingrid Wendt is the author of five books of poems, two anthologies, a book-length teaching guide, numerous articles and reviews, and more than 200 individual poems in such magazines and anthologies as Poetry, Poetry Northwest, Antioch Review, Northwest Review, Ms., and No More Masks! An Anthology of 20th Century American Women Poets. She has taught literature and poetry writing for more than 30 years at all educational levels, including the MFA program of Antioch University Los Angeles; at teacher-training institutes throughout the United States and in Germany; and in hundreds of public school classrooms, grades K-12, in Oregon, Washington, Utah, Illinois, Iowa, and overseas. On October 21, 2006, she received a 'Distinguished Achievement Award' from the president of Cornell College, her alma mater. On April 24, 2008, she was inducted into the Fox Valley Arts Hall of Fame, at a banquet in Geneva, Illinois, 20 miles north of her home town of Aurora. Wendt currently resides in Oregon.
---
Awards
:
Oregon Book Award 2004 Editions Prize from WordTech Editions 2003 Yellowglen Award from Word Press Carolyn Kizer Award Several Pushcart nominations D.H. Lawrence Award
Primary Literary Genre(s):
Non-Fiction; Poetry
Email:
idwendt@comcast.net
Website:
http://www.ingridwendt.com
Ingrid Wendt on WorldCat :
http://www.worldcat.org/search?q=ingrid+wendt
---
Selected Titles
Blow the candle out :
ISBN: 1931247064 OCLC: 49322671 Pecan Grove Press, San Antonio, Tex. : 2002.
In her own image, women working in the arts /
ISBN: 0912670622 OCLC: 5170930 Feminist Press ; Old Westbury, N.Y. : ©1980. An anthology of visual and literary works by and about women artists and authors.
Singing the Mozart requiem /
ISBN: 0932576516 OCLC: 15221002 Breitenbush Books, Portland, Or. : ©1987.
Starting with little things :
ISBN: 3125161568 OCLC: 246315634 [Selbstverl.], Eugene, Or. : 1993.
Surgeonfish :
ISBN: 193345606X OCLC: 62878616 WordTech Editions, Cincinnati, OH : ©2005.
The angle of sharpest ascending :
ISBN: 1932339043 OCLC: 56836735 WordTech Editions, Cincinnati, OH : ©2004.