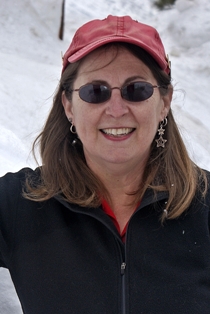 Smoky Trudeau
Born:
Aurora, Illinois
Pen Name:
None
Connection to Illinois
: Smoky Trudeau was born in Aurora, Illinois. Graduated from North Central College in Naperville, Illinois and attended Jane Addams College of Social Work at the University of Illinois at Chicago. Smoky also currently resides in Illinois.
Biography
: Smoky Trudeau is an author and editor with such passion for the written word she became a workshop instructor in the hopes of passing that passion onto others. She has led her writing and creativity workshops at several Illinois community colleges and other venues across the country. Graduated from North Central College in Naperville, Illinois, with a degree in psychology, Smoky jokes it took her 17 years to finish her degree because she majored in every subject except physics. Her diverse interests led to a career as a freelance writer. Her articles have appeared in publications such as Chicago Parent, Natural Health, and First for Women. Smoky gave up feature writing to turn her attention to her real love, writing fiction and poetry. Her short stories have appeared in literary journals such as Potpourri and CALYX; her poetry in We'Moon, PanGaia, and SageWoman magazines. Her story, The Last Flight Home, was nominated for the 2003 Pushcart Prize. Smoky is the author of two novels, Redeeming Grace and The Cabin, and one work of non-fiction: Front-word, Back-word, Insight Out: Lessons on Writing the Novel Lurking Inside You From Start to Finish.She lives in Champaign but dreams of one day moving to sunny California. The mother of two grown children, when she isn't writing she enjoys organic gardening, reading, and travel.
---
Awards
:
Primary Audience(s):
Adult readers
Email:
authorsmokytrudeau@gmail.com
Website:
http://www.smokytrudeau.com
Smoky Trudeau on WorldCat :
http://www.worldcat.org/search?q=smoky+trudeau
---
Selected Titles
Redeeming Grace /
ISBN: 098147392X OCLC: 213483504 Vanilla Heart Pub., Everett, WA : ©2008.
The cabin
ISBN: 9780981473956 OCLC: 243473920 Vanilla Heart Pub., Everett, WA : ©2008.