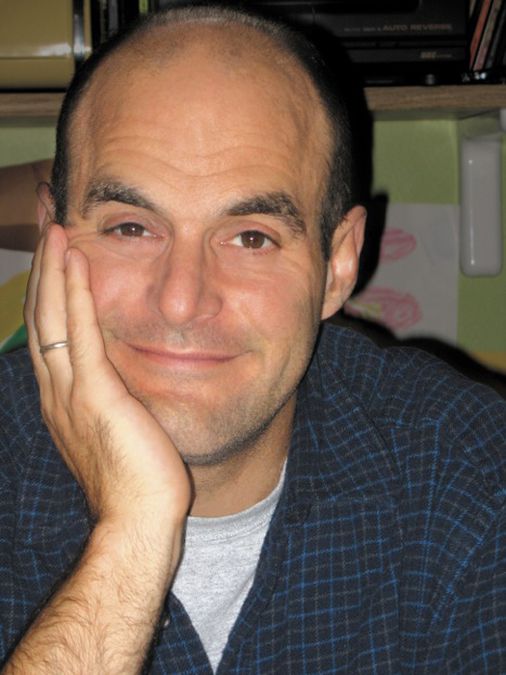 Peter Sagal
Born:
Berkeley, New Jersey 1965
Pen Name:
None
Connection to Illinois
: Sagal moved to the Chicago area in 1998 to host "Wait Wait…Don't Tell Me!" He currently lives in Highland Park.
Biography
: Peter Sagal is a playwright, screenwriter, author, journalist, columnist, podcast host, documentary host, and foreign correspondent. Probably best known as the host of the Peabody Award-winning NPR news quiz "Wait Wait…Don't Tell Me!", one of the most popular shows on public radio. He's the author of The Book of Vice and The Incomplete Book of Running, a memoir about the 2013 Boston Marathon Bombing and other adventures while running long distances and has run over 20 marathons across the United States. As a playwright, his work has been produced or commissioned by the Long Wharf Theater, Seattle Rep, Actor's Theater of Louisville, Florida Stage and many others here and abroad, and he's won awards from the Lannan Foundation, the Eugene O'Neill Theater Center and fellowships from the Camargo and Jerome Foundations. His screenwriting career began and pretty much ended with Dirty Dancing 2: Havana Nights which he wrote without meaning to. He's contributed essays to Opera News, Saveur, Finesse, The New York Times Magazine, Chicago Magazine, and was the "Road Scholar" columnist for Runner's World. He's also won the Kurt Vonnegut Award for Humor from the Kurt Vonnegut Library. On TV, Peter has made appearances on Late Night with Jimmy Fallon and other shows, and hosted Constitution USA with Peter Sagal for PBS, and National Geographic Explorer for the NatGeo Channel. He is host to a number of podcasts, including HBO's The Chernobyl Podcast and The Plot Against America Podcast, and appears as co-host on the narrowly popular Nerdette Recaps Podcast with Peter Sagal, because he is a giant nerd.
---
Awards
:
Primary Literary Genre(s):
Non-Fiction
Primary Audience(s):
Adult readers
E-Mail:
peter.sagal@petersagal.com
Facebook:
http://www.facebook.com/pages/Peter-Sagal/103670706339094?ref=ts
IMDB:
https://www.imdb.com/name/nm0755969/
Web:
http://www.petersagal.com
Web:
http://www.npr.org/templates/story/story.php?storyId=35
Web:
https://en.wikipedia.org/wiki/Wait_Wait..._Don%27t_Tell_Me!
Wikipedia:
https://en.wikipedia.org/wiki/Peter_Sagal
---
Selected Titles
The book of vice :
ISBN: 0060843829 OCLC: 162145878 HarperEntertainment, New York : ©2007. Presents an evaluation of the culture of vice and excessive misbehavior, offering insight into the appeal and rewards of taboo hobbies and advice on how to indulge in covert activities while retaining one's dignity if discovered.
The Incomplete Book of Running
ISBN: 1451696256 OCLC: Simon & Schuster 2019 Peter Sagal, the host of NPR's Wait Wait...Don't Tell Me! and a popular columnist for Runner's World, shares "commentary and reflection about running with a deeply felt personal story, this book is winning, smart, honest, and affecting. Whether you are a runner or not, it will move you" (Susan Orlean). On the verge of turning forty, Peter Sagal—brainiac Harvard grad, short bald Jew with a disposition towards heft, and a sedentary star of public radio—started running seriously. And much to his own surprise, he kept going, faster and further, running fourteen marathons and logging tens of thousands of miles on roads, sidewalks, paths, and trails all over the United States and the world, including the 2013 Boston Marathon, where he crossed the finish line moments before the bombings.