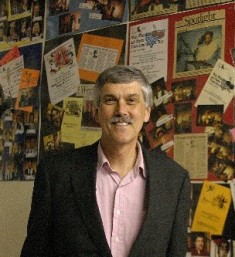 David Radavich
Born:
October 30, 1949 in Boston Massachusetts
Pen Name:
None
Connection to Illinois
: Radavich was a professor at Eastern Illinois University in Charleston for 26 years. He was selected as the 2009 Distinguished Professor at Eastern Illinois University and was inducted into the University Professionals of Illinois Wall of Fame in 2010.
Biography
: David Radavich is a poet and playwright who has written on a variety of contemporary issues. His poetry collections include SLAIN SPECIES (Court Poetry, London, 1980), BY THE WAY: POEMS OVER THE YEARS (Buttonwood, 1998), and GREATEST HITS (Pudding House, 2000). His plays have been performed across the U.S., including six Off-Off-Broadway, as well as in Europe. AMERICA BOUND: AN EPIC FOR OUR TIME (Plain View, 2007) narrates history from World War II to the present, while CANONICALS (Finishing Line, 2009) explores 'love's hours.' MIDDLE-EAST MEZZE (Plain View, 2011) visits a troubled yet enchanting part of our world. THE COUNTRIES WE LIVE IN (Main Street Rag, 2014) explores inner and outer geographies. His latest narrative collection is AMERICA ABROAD: AN EPIC OF DISCOVERY (Plain View, 2019). Radavich has also published a wide range of academic and informal articles on poetry and drama. He has performed in such far-flung locations as Canada, Egypt, England, France, Greece, Iceland, and Scotland. Among numerous prizes, he received the MidAmerica Award in 2012 for his contributions to Midwestern literature and scholarship, as well as the Zelda and Paul Gitlin Literary Prize for best essay on Thomas Wolfe. He was awarded the Gitlin Literary Prize again in 2014. A past president of the Thomas Wolfe Society, Charlotte Writers' Club, and North Carolina Poetry Society, he currently coordinates of the Gilbert-Chappell Distinguished Poet Series.
---
Awards
:
-- Carruth Memorial Poetry Competition Prizes, University of Kansas, 1973, 1974, 1976
-- 3rd Prize, Kansas Quarterly Poetry Contest, 1974
-- Listing in International Who's Who in Poetry (Cambridge, England), 1976 and ff.
-- 1st Prize, Tell-Tale Poetry Competition (Bolton, England), 1978
-- 1st Prize and Special Prize, International Competition for Rhymed Verse (Coventry, England), 1982
-- Listing in Poets and Writers' Directory of American Poets and Fiction Writers, 1983 and ff.
-- 3rd Prize, SuccessPoetry Competition (Peterborough, England), 1983
-- Consolation Prize, Phoenix International Poems for Peace Competition (Barcelona, Spain), 1984
-- Finalist, Alabama Press Poetry Series Competition, 1984
-- Inclusion in Die weiten Horizone
Primary Literary Genre(s):
Poetry
Primary Audience(s):
Adult readers
Facebook:
http://www.facebook.com/#!/profile.php?id=100001536845248=david+radavich
Website:
http://davidradavich.org/
---
Selected Titles
America abroad :
ISBN: 1632100606 OCLC: 1088406657
America bound: an epic for our time
ISBN: 9781891386688 OCLC: 156824289 Plain View Press, Austin TX : 2007.
By the way :
ISBN: 096580450X OCLC: 38909944 Buttonwood Press, Champaign, Ill. : 1998.
Middle-east mezze :
ISBN: 1935514113 OCLC: 707630888
The countries we live in :
ISBN: 1599484404 OCLC: 867866248