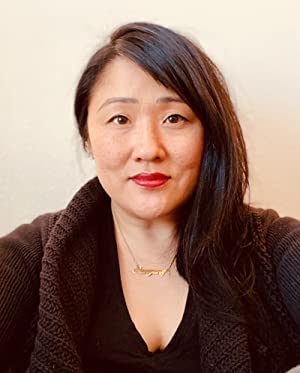 Sun Yung Shin
Born:
in Seoul, South Korea
Pen Name:
None
Connection to Illinois
: Yung Shin grew up in the Chicago area.
Biography
: Sun Yung Shin is the author of three poetry collections: UNBEARABLE SPLENDOR, which won the 2017 Minnesota Book Award for Poetry; ROUGH, AND SAVAGE, which was a finalist for The Believer Poetry Award; and SKIRT FULL OF BLACK, which won an Asian American Literary Award for Poetry, all published by Coffee House Press. She is co-editor of the anthology Outsiders Within: Writing on Transracial Adoption and the author of Cooper's Lesson, a bilingual (Korean/English) children's book. Her essays, stories, poems, and reviews have been published widely in anthologies, journals, newspapers, and in other venues such as art museums, a light rail transit station, a mayor's inaugural bash, community events, etc. She has performed and presented at numerous events across the U.S and in Korea, curated many readings, and taught creative writing to students of all ages. She is a full-time writer, anti-racism educator, and craniosacral therapist. She lives in Minneapolis.
---
Awards
:
Unbearable Splendor Finalist for the 2017 PEN USA Literary Award for Poetry; winner of the 2016 Minnesota Book Award for poetry
Skirt Full of Black Winner of the 2007 Asian American Literary Award for poetry
Rough, and Savage Finalist for the Believer Poetry Award
Unbearable Splendor Winner of the 2017 Minnesota Book Award for Poetry
A Good Time for the Truth: Race in Minnesota A 2020 selection of One Book, One Minnesota
Primary Literary Genre(s):
Fiction; Poetry
Primary Audience(s):
Adult readers; Children
Facebook:
https://www.facebook.com/sunyungshin
Pinterest:
https://www.instagram.com/sunyungshin/
Twitter:
https://twitter.com/sunyungshin
Web:
https://www.sunyungshin.com/
Web:
https://sunyungshin.medium.com/
Wikipedia:
https://en.wikipedia.org/wiki/Sun_Yung_Shin
---
Selected Titles
A Good Time for the Truth: Race in Minnesota
ISBN: 168134002X OCLC: Minnesota Historical Society Press 2016 A 2020 selection of One Book, One Minnesota! "Reading this book in community offers some Minnesotans the opportunity to see their experiences broadly shared and others a chance to educate themselves―and to discover ways to act on their convictions." In this provocative book, sixteen of Minnesota's best writers provide a range of perspectives on what it is like to live as a person of color in Minnesota. They give readers a splendid gift: the gift of touching another human being's inner reality, behind masks and veils and politeness. They bring us generously into experiences that we must understand if we are to come together in real relationships. Minnesota communities struggle with some of the nation's worst racial disparities. As its authors confront and consider the realities that lie beneath the numbers, this book provides an important tool to those who want to be part of closing those gaps. With contributions by: Taiyon J. Coleman, Heid E. Erdrich, Venessa Fuentes, Shannon Gibney, David Grant, Carolyn Holbrook, IBé, Andrea Jenkins, Robert Karimi, JaeRan Kim, Sherry Quan Lee, David Mura, Bao Phi, Rodrigo Sanchez-Chavarria, Diane Wilson, and Kao Kalia Yang
Cooper's Lesson
ISBN: 0892391936 OCLC: 52312109 Children's Book Press : San Francisco, CA : 2004. When Cooper, a biracial Korean-American boy, feels uncomfortable trying to speak Korean in Mr. Lee's grocery, his bad behavior eventually leads to a change in his attitude.
Rough, and Savage
ISBN: 1566893143 OCLC: Minneapolis : Coffee House Press Minneapolis : 2012 Sun Yung Shin's poems animate the elements of the epic poem and Korean history across a dystopian dreamscape of fairy tale and folklore. Filled with pithy observations and striking lyrics, this collection explores alienation, moral isolation, and nationhood.
Skirt Full of Black :
ISBN: 9781566891998 OCLC: 76786728 Coffee House Press, Minneapolis : ©2006. As Sun Yung Shin spins new myths from Catholic and Buddhist traditions and bestows new connotations upon the characters of the Korean alphabet, she gives voice to the spiritual and cultural hunger of transnational adoptees, crafting a nuanced, unique language for navigating the politics of gender, ethnicity, and identity.
The Wet Hex
ISBN: 156689638X OCLC: Coffee House Press 2022 Sun Yung Shin calls her readers into the unknown now-future of the human species, an underworld museum of births, deaths, evolutions, and extinctions.Personal and environmental violations form the backdrop against which Sun Yung Shin examines questions of grievability, violence, and responsibility in The Wet Hex. Incorporating sources such as her own archival immigration documents, Ovid's Metamorphoses, Christopher Columbus's journals, and traditional Korean burial rituals, Shin explores the ways that lives are weighed and bartered. Smashing the hierarchies of god and humanity, heaven and hell, in favor of indigenous Korean shamanism and animism, The Wet Hex layers an apocalyptic revision of nineteenth-century imagery of the sublime over the present, conjuring a reality at once beautiful and terrible.
Unbearable Splendor
ISBN: 1566894514 OCLC: Coffee House Press 2021 Sun Yung Shin moves ideas—of identity (Korean, American, adoptee, mother, Catholic, Buddhist) and interest (mythology, science fiction, Sophocles)— around like building blocks, forming and reforming new constructions of what it means to be at home. What is a cyborg but a hybrid creature of excess? A thing that exceeds the sum of its parts. A thing that has extended its powers, enhanced, even superpowered.
What We Hunger For: Refugee and Immigrant Stories about Food and Family
ISBN: 1681341972 OCLC: Minnesota Historical Society Press 2021 Eating is an intimacy bound with language, family, and migration. Travel far and near with fourteen gifted writers from immigrant and refugee families as they share their flavorful, luminous stories.Food can be a unifier and a healer, bringing people together across generations and cultures. Sharing a meal often leads to sharing stories and deepening our understanding of each other and our respective histories and practices, global and local. Newcomers to the United States bring their own culinary traditions and may re-create food memories at home, introduce new friends and neighbors to their favorite dishes, and explore comforting flavors and experiences of hospitality at local restaurants, community gatherings, and spiritual ceremonies. People coming to Minnesota from all over the globe must adapt to different growing seasons and to the regional selections available at corner stores and farmers markets. All of these experiences yield stories worth sharing around Minnesota cook fires, circles, and tables.In What We Hunger For, fourteen writers from refugee and immigrant families write about their complicated, poignant, funny, difficult, joyful, and ongoing relationships to food, cooking, and eating. They journey to Algeria, to Thailand, to Uganda to soothe body and mind; connect with generations past and present through rituals and recipes handed down from parent to child; and savor the flavors of home, whether creating familiar dishes in less-familiar places or coming to appreciate ancestral wisdom translated into modern foodways.Contributors: Valérie Déus, V. V. Ganeshananthan, Roy G. Guzmán, Lina Jamoul, Simi Kang, May Lee-Yang, Ifrah Mansour, Ánh-Hoa Thị Nguyễn, Zarlasht Niaz, Junauda Petrus-Nasah, Kou B. Thao, Michael Torres, Saymoukda D. Vongsay, and Senah Yeboah-Sampong.
Where We Come From
ISBN: 1541596129 OCLC: Carolrhoda Books 2022 In this unique collaboration, four authors lyrically explore where they each come from―literally and metaphorically―as well as what unites all of us as humans.Richly layered illustrations connect past and present, making for an accessible and visually striking look at history, family, and identity.We come from stardust / our bodies made of ancient elements. / We come from single cells / evolving over billions of years. / We come from place, language, and spirit. / And each of us comes from story.