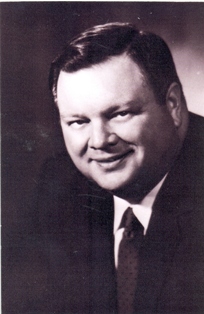 Howard C. Humphrey
Born:
Taylorville, IL
Died:
2009 in Florida
Pen Name:
None
Connection to Illinois
: Howard Humphrey lived most of his life in Springfield, Illinois.
Biography
: Howard joined the Franklin Life Insurance Company in 1959. He was appointed Assistant to the President in 1967, was elected a Vice President in 1968, was elevated to the post of Senior Vice President in 1971 and in 1974 was named Executive Vice President. Howard served as President, Chief Executive Officer, and Chairman of the Board as a member of the Franklin Board of Directors from 1972 through May 1996, and as Chairman of several affiliated companies. He attended the University of Illinois, was a member of Delta Tau Delta Fraternity, graduating in 1959 with a Bachelor's Degree from the College of Finance. He was awarded the U of I's Distinguished Service Award at the 2006 graduation ceremony. After retiring, Howard authored three novels.
---
Awards
:
Primary Audience(s):
Adult readers
Howard C. Humphrey on WorldCat :
http://www.worldcat.org/search?q=howard+c.+humphrey
---
Selected Titles
Dr. Faust's list /
ISBN: 157197136X OCLC: 41538715 Pentland Press, England ; ©1999.
The lost crusade /
ISBN: 1571972188 OCLC: 45701554 Pentland Press, Raleigh, NC : ©2000.
The treasure of Prester John /
ISBN: 1571973702 OCLC: 59755926 Pentland Press, Raleigh, N.C. : ©2003.