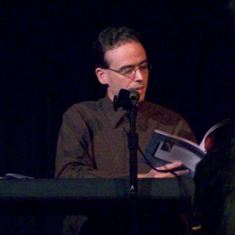 Stephen Koritta
Born:
1974 in Fairview Heights, IL
Pen Name:
None
Connection to Illinois
: Stephen was born and resides in Fairview Heights, Illinois and eaarned an Associate of Arts degree from Southwestern Illinois College.
Biography
: His poems have appeared in River King Poetry Supplement, Moon Reader, and The Asian American Times.His work has been selected for public display as part of Arts In Transit's Metrolines Poetry Contest.He has authored two books of poetry;Talksho: Haiku & Senryu.(Snark Publishing, 2003)and Vocal Folds.(Snark Publishing, 2009)An accomplished vocalist and guitarist, Stephen has been performing solo and with small groups steadily for more than eighteen years and collaborated on recording projects in the genres of folk, jazz, children's/educational and Americana.
---
Awards
:
Primary Literary Genre(s):
Poetry
Primary Audience(s):
Adult readers
Email:
Kareedani@aol.com
Facebook:
http://www.facebook.com/login/setashome.php?ref=home#!/search.php?q=Stephen%20Koritta%20&init=quick&tas=0.6319963927475387&search_first_focus=1302189148099=stephen+koritta
Website:
http://myspace.com/stephenkoritta
Stephen Koritta on WorldCat :
http://www.worldcat.org/search?q=stephen+koritta
---
Selected Titles
Talkshō :
ISBN: 0972894802 OCLC: 70886899 Snark Pub., O'Fallon, Ill. : ©2003.