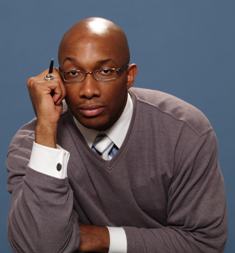 Reginald Kee
Born:
Suitland, Maryland
Pen Name:
Reggie Legend
Connection to Illinois
: Reggie Legend has lived in the Northwest suburbs of Chicago since 2002. He received his MBA from Argosy University - Schaumburg. He has worked at Elgin Community College and currently works for Columbia College Chicago. He presently resides in Elgin, IL.
Biography
: In 1996, Reggie Legend was led to write his first poem as he struggled with the academic and social aspects of collegiate life. That first poem became the gateway to over 4,000 written works which poetically chronicle Legendís journey as a man and a writer. Dually inspired by the potency of Godís Word and the wordplay of Hip-Hop artists, Reggie Legend seeks to put spiritual relevance on the struggles of man and society as a whole through his poetry. Reggie recently released his debut poetry book STEEL WATERS Volume I: DUPLicate AuthentICITY. This book is his account of the battle waging within between flesh and spirit. Flesh is represented by Hip Hop while spirit is represented by the Word of God. Christianity and Hip Hop have had a major influence on the views of many, including the author. This book is comprised of the authorís introspective thoughts as well as his views on race, politics, and society. All thoughts are expressed in poetic form from the vantage point of a Christian and a Hip Hop fan.Legendís work has won multiple contests for best poem/haiku on defpoetryjam.com and usatoday.com. His writings have also been featured in forums ranging from allhiphop.com to collegiate-level Composition classes. A current resident of the Chicagoland area, Reggie Legend was born and raised in Maryland and is an alumni of the University of Delaware and Argosy University. He is married with one child and is currently employed at Columbia College Chicago.
---
Awards
:
Primary Literary Genre(s):
Poetry
Primary Audience(s):
Adult readers; Young adult readers
Email:
reggielegend@steelwaterspoetry.com
Facebook:
http://www.facebook.com/login/setashome.php?ref=home#!/reggielegend=reginald+kee
Website:
http://www.steelwaterspoetry.com
Reginald Kee on WorldCat :
http://www.worldcat.org/search?q=reginald+kee
---
Selected Titles
Steel Waters
ISBN: 1450254659 OCLC: 2010-09 Steel Waters, Volume I: DUPLicate AuthentICITY reflects the duality of the author, Reggie Legend-concern and disregard, strengths and weaknesses, spirit and flesh, scriptures and rap lyrics, light and dark. While these counterbalanced themes define a man living in and torn between two worlds, they are also played out in the fullness of this collection of poetry. Steel Waters captures Reggie's struggle as he seeks to find the balance between Biblical scriptures and the lyricism of hip-hop, both of which influence the delivery and context of his message. Walk with Reggie Legend as he maps out this struggle through verses of rhyme and reason and decide for yourself. I disturb the peace like Luda- I'm the root cause of neighborhood watches. I disturb street dreams like Krueger- my Ruger haunts and robs safe havens of good conscience. As the hood darkens- I worsen the despair within. Ensnared in it, I ensure others will succumb to trouble- I'm a rebel of lost cause. I'm arrogant, I snub others with gun muzzles- I'm an unsettled thug in harsh squads ... My level's marred and off- I am an urban terrorist.