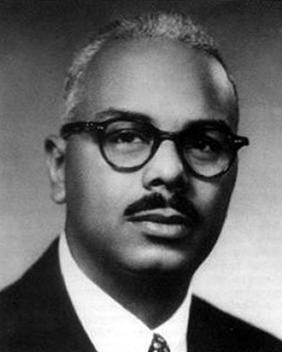 Cyrus Colter
Born:
January 8, 1910 in Noblesville, Indiana
Died:
April 17, 2002
Pen Name:
None
Connection to Illinois
: Colter lived in Chicago and attended Chicago-Kent College of Law. He was a Professor Emeritus of English at Northwestern University and was also the chairman of the department of African-American Studies and Chester D. Tripp Professor of Humanities.
Biography
: Cyrus Colter was a novelist, short story writer and lawyer. He published his first fiction at age 60, after a career as a Chicago attorney and serving on the Illinois Commerce Commission. The collection of stories, ''The Beach Umbrella'', and the novels ''The River of Eros'', ''The Hippodrome'' and ''Night Studies'' explore black life in Chicago across a wide range of social class and circumstances. Colter's last novel, ''City of Light'', was published in 1993.
---
Awards
:
-- Illinois Literary Heritage Award, Illinois Center for the Book, 1998
-- Doctor of Letters, University of Illinois Chicago
-- Name engraved on the frieze of the Illinois State Library alongside other great Illinois literary figures, 1990.
-- Chicago Literary
Primary Literary Genre(s):
Fiction
Primary Audience(s):
Adult readers
Cyrus Colter on WorldCat :
http://www.worldcat.org/search?q=cyrus+colter
---
Selected Titles
A chocolate soldier.
ISBN: 1874509441 OCLC: 59652065 Nia, London : 1997.
City of light :
ISBN: 0810150808 OCLC: 38039659 TriQuaterly Books, Evanston, Ill. : 1998.
Night studies :
ISBN: 0810150654 OCLC: 37001618 TriQuarterly Books, Evanston, Ill. : 1997.
The beach umbrella
ISBN: 9781587293450 OCLC: 773672624 University of Iowa Press, Iowa City : [2011], ©1970.
The beach umbrella and other stories /
ISBN: 0810150506 OCLC: 34150462 TriQuarterly Books/Northwestern University Press, Evanston, Ill. : 1996.
The hippodrome /
ISBN: 0810150360 OCLC: 30398921 TriQuarterly Books, Evanston, Ill. : 1994.
The rivers of Eros /
ISBN: 025206089X OCLC: 22004455 University of Illinois Press, Urbana : ©1990.