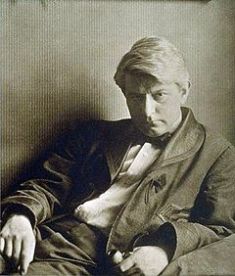 Benjamin Franklin Norris, Jr.
Born:
1870 in Chicago, Illinois
Pen Name:
None
Connection to Illinois
: Born in Chicagoo, Illinois.
Biography
: Frank Norris was born in Chicago, Illinois in 1870. His father, Benjamin, was a self-made Chicago businessman and his mother, Gertrude Glorvina Doggett, had a stage career. In 1884 the family moved to San Francisco where Benjamin went into real estate. In 1887, after the death of his brother and a brief stay in London, young Norris went to Académie Julian in Paris where he studied painting for two years and was exposed to the naturalist novels of Emile Zola. Between 1890 and 1894 he attended the University of California, Berkeley, where he picked up the ideas of human evolution of Darwin and Spencer that are reflected in his future writings. His stories appeared in the undergraduate magazine at Berkeley and in the San Francisco Wave. After his parents' divorce he went east and spent a year in the English Department of Harvard University. There he came under the influence of Lewis E. Gates, who encouraged his writing. He worked as a news correspondent in South Africa in 1895-96, and then an editorial assistant on the San Francisco Wave (1896–97). He worked for McClure's Magazine as a war correspondent in Cuba during the Spanish-American war in 1898. He joined the New York City publishing firm of Doubleday & Page in 1899.
---
Awards
:
Primary Literary Genre(s):
Fiction
Benjamin Franklin Norris, Jr. on WorldCat :
http://www.worldcat.org/search?q=benjamin+franklin+norris%2C+jr.
---
Selected Titles
Octopus :
ISBN: 1143978250 OCLC: 944171508 Nabu Press, [Place of publication not identified] : 2010.
The best short stories of Frank Norris /
ISBN: 0965530914 OCLC: 39971987 Ironweed Press, New York : ©1998. From Publishers Weekly: Those who know Norris (1870-1902) through his muckraking novels, The Pit and The Octopus, will be interested in these 14 stories culled by the editors from among more than 60 tales that he published in his brief life. They include strong evidence of Norris's naturalism and his sense of the primal, the healthy, the rural, as opposed to the corrupt, the urban, the effete. In "His Sister," Norris describes a magazine writer "knowing he'd be more apt to find undisguised human nature along the poorer unconventional thoroughfares." In the autobiographical "Dying Fires," he writes of an author: "he lived in the midst of-a life of passions that were often elemental in their simplicity and directness." The gold in "Judy's Service of Gold Plate" foreshadows the use of that element as a symbol for greed in McTeague. In such stories, one anticipates Norris's influence on John Steinbeck. Even in the more journalistic tales, precursors of Jim Thompson-esque noir, Norris's favored themes, particularly of injustice and class consciousness, persist. Three of the stories have never been collected in book form before, including the experimental "Man Proposes," written in five parts for a literary weekly. These somewhat mannered short pieces describe five couples who decide to get married: the ways they come to and act on their decisions reflect their varying social strata and cultural sensibilities.
The pit :
ISBN: 1617200786 OCLC: 722913753 Wilder Publications, Blacksburg, Va. : ©2010.