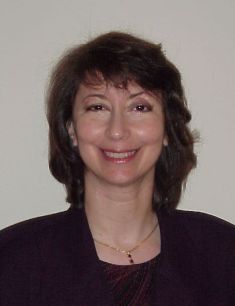 Jody Lynn Nye
Born:
1957 in Chicago, Illinois
Pen Name:
None
Connection to Illinois
: Jody Lynn Nye was born in Chicago, Illinois.
Biography
: Jody Lynn Nye is an American science fiction author.
---
Awards
:
Email:
jodynye@yahoo.com
Website:
http://www.sff.net/people/JodyNye/
Jody Lynn Nye on WorldCat :
http://www.worldcat.org/search?q=jody+lynn+nye
---
Selected Titles
Myth alliances /
ISBN: 0441011829 OCLC: 56028453 Ace Books, New York : 2004, ©2003. When the sheepish Wuhses are taken advantage of by the overbearing Pervects, Skeeve teams up with Zol Icty--self-help expert and bestselling author of Imps Are from Imper, Deveels Are from Deva--on a mission in personal empowerment.
Myth-gotten gains /
ISBN: 0441015727 OCLC: 166360120 Ace Books, New York : 2008, ©2006. Aahz discovers that the shabby-looking sword he bought at a flea market in a remote dimension is Ersatz, leader of the Golden Hoard, a fabled collection of powerful magical treasures that can turn any ordinary being into a hero. They go in search of the other members of the Hoard, only to find that they're not the only ones looking. A dancer named Calypsa, working with Aahz's old friend Tananda, is seeking to collect them to free her grandfather from the dreaded wizard Barrik. Trouble is, everyone wants the treasures for themselves, and there are good reasons why the Golden Hoard is never all in the same dimension at one time.
Myth-gotten gains, Robert Asprin and Jody Lynn Nye.
ISBN: 1592221041 OCLC: 868790554 Meisha Merlin Publishing, [Place of publication not identified] : 2006.
Myth-taken identity /
ISBN: 0441013112 OCLC: 61184941 Ace, New York : 2005, ©2004. Aahz gets an unwelcome visit from two blue-skinned bruisers and a small magician wanting Skeeve to cough up the dough for an extremely large bill that he skipped out on. Knowing that Skeeve has many faults, but welshing on a debt is not one of them, he enlists the aid of Chumley and Massha to go with him to the last place any self respecting Pervert would ever visit...the mall! Once there, they discover that the mall rats have created a scheme to steal customers' credit cards. Realizing that Skeeve is a victim of identity theft they set our to set matters right and to clear their friend's name.
Myth-told tales
ISBN: 9781440622601 OCLC: 883350512 Ace Books, New York : 2014. More information to be announced soon on this forthcoming title from Penguin USA.
Myth-told tales /
ISBN: 0441014860 OCLC: 84650815 ACE Books., New York : 2007. Presents all the short stories contained in the authors' M.Y.T.H. universe.
The death of sleep
ISBN: 9781476736679 OCLC: 881022929 Lunzie Mespil, healer, was traveling on a minig ship to her new job when the ship had a catastrophic collision with an asteroid. But Lunzie did not panic. She kept her head and made it to a lifeboat where, she thought, she would spend a month or two in cryogenic stasis awaiting inveitable rescue and then proceed with her life. Only it wasn't a month or two. Lunzie spends years in suspended animation before she is finally picked up, and she must deal with being reborn into a world she never made, a world that has grown strangely dark and dangerous during her long sleep--P. [4] of cover.
The death of sleep /
ISBN: 0671698842 OCLC: 21998854 Lunzie Mespil, Healer, is blown out of a space liner. She's not too worried; a month or two in cryogenic stasis awaiting inevitable rescue, and then on with her life. Only, it's not a month or two ... Lunzie waits for 62 years before she is finally picked up!
The dragonlover's guide to Pern /
ISBN: 0345412745 OCLC: 36745201 Del Rey, New York : 1997. Information: 2nd ed. Includes bibliographical references (p. 248-249) and index.
The planet pirates
ISBN: 1574535382 OCLC: 51390756 Fantastic Audio, San Bruno, CA : ℗2002. Escaping the life of a pirate's slave, Sassinak eventually becomes a Fleet ship captain, and with the help of her grandmother, Lunzie Mespil, just unfrozen from cryogenic sleep, saves the confederation.
The planet pirates /
ISBN: 0671721879 OCLC: 28710405 Three bestselling volumes--Sassinak, The Death of Sleep, and Generation Warriors--together in a single giant novel. McCaffrey traces the careers of two remarkable women--Sassinak and Lunzie--who work together to save a confederation of worlds.
The ship errant /
ISBN: 0671878549 OCLC: 35243408 In the sequel to The Ship Who Won, written by Nye with Anne McCaffrey, Carialle and Keff, the brainship and brawn who discovered intelligent life on the planet Ozran, now serve as couriers for the "globe-frogs", to return their new friends from whence they came. But to get there, they must transit a sector where Carialle experienced a trauma so intense it nearly destroyed her mind.
The ship who won
ISBN: 9781607476757 OCLC: 643515180 Phoenix Books, Beverly Hills : [2010] Like Helva, The Ship Who Sang (and Nancia from Partnership, Tia from The Ship Who Searched and Simeon, who runs The City Who Fought), Carialle was born so physically disadvantaged that her only chance for life was as a shellperson. And again like those others, Carialle decided she would strap on a spaceship. Her brawn is a guy named Keff. Their mission: to search the galaxy for intelligent beings.
The ship who won /
ISBN: 0671875957 OCLC: 29357436 On a mission to search the galaxy for intelligent beings, Carialle and Keff encounter a bizarre alien race ruled by sorcerers who seem to possess magical powers of enormous potency.
View from the Imperium /
ISBN: 1439134308 OCLC: 646112908 Baen Books, Riverdale, N.Y. : 2011. Ensign Thomas Innes Loche Kinago, fresh from the Academy is given his first command. A crumb from the upper crust, he's eager to uphold the traditions of his family, and in particular, his mother, a distinguished Admiral of the Imperium. Of course, he's aware of the importance of always having simply smashing tailored uniforms on hand, and having his camera ready to record memorable moments for his scrapbook. In the meantime, a charismatic leader has arisen who seems able to control the minds of anyone he meets, and may be on his way to taking over the entire galaxy. Can Kinago's aristocratic bearing and unbridled snobbery stand up to such a challenge? Fortunately, his constant companion, the unflappable Jeeves, er, Parsons, is on hand to look after the young, impulsive master, and somehow help his charge bumble his way through, perhaps even saving the galaxy in the process.