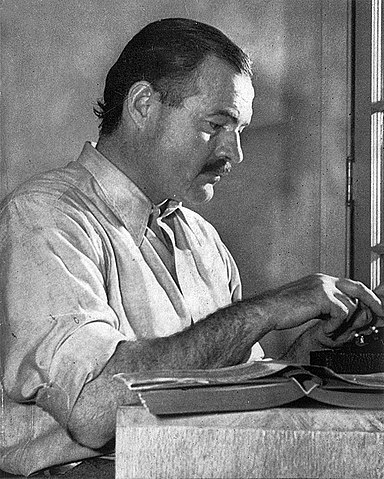 Ernest Hemingway
Born:
July 21, 1899 in Oak Park, Illinois
Died:
July 2, 1961 in Ketchum, Idaho
Connection to Illinois
: Hemingway was born and raised in Oak Park, Illinois.
Biography
: Ernest Hemingway was a novelist, short-story writer, and journalist. He is considered to be one of the major American novelists of the 20th Century. Several of his books were adapted for the big screen. He won the Nobel Prize for Literature in 1954. A little known fact about Hemingway: 'In 1918, while serving on the Italian Front as an ambulance driver for the Red Cross, 18-year-old Ernest Hemingway was struck by an Austrian mortar shell while handing out chocolate and cigarettes to soldiers in a dugout. He was knocked unconscious and shell fragments entered his entire body, including his head, legs, and hand. After he regained consciousness, Hemingway picked up a badly wounded Italian soldier and carried him to the first aid dugout; he later said he didn't remember how he got back. He was awarded the Silver Medal of Military Valor.' (Publishers Weekly, ''7 Authors Who Almost Died'' by Gabe Habash -- May 15th, 2012)
---
Awards
:
'''''The Old Man and the Sea'''''
-- Pulitzer Prize for Fiction, 1953
-- Finalist, National Book Award, 1953 for
'''Other Awards and Honors'''
-- Nobel Prize for Literature for his lifetime literary achievements, 1954
-- Name engraved on the frieze of the Illinois State Library alongside other great Illinois literary figures, 1990
-- Chicago Literary Hall of Fame, 2012
Primary Literary Genre(s):
Fiction; Romance
Primary Audience(s):
Adult readers
IMDB:
https://www.imdb.com/name/nm0002133/bio
Wikipedia:
https://en.wikipedia.org/wiki/Ernest_Hemingway
---
Selected Titles
A farewell to arms /
ISBN: 0684837889 OCLC: 36103848 Scribner Classics, New York : 1997. By turns romantic and harshly realistic, Hemingway's story of a tragic romance set against the brutality and confusion of World War I cemented his fame as a stylist and as a writer of extraordinary literary power. A volunteer ambulance driver and a beautiful English nurse fall in love when he is wounded on the Italian front. The best American novel to emerge from World War I, A Farewell to Arms is the unforgettable story of an American ambulance driver on the Italian front and his passion for a beautiful English nurse. Hemingway's frank portrayal of the love between Lieutenant Henry and Catherine Barkley, caught in the inexorable sweep of war, glows with an intensity unrivaled in modern literature, while his description of the German attack on Caporetto -- of lines of fired men marching in the rain, hungry, weary, and demoralized -- is one of the greatest moments in literary history. A story of love and pain, of loyalty and desertion, A Farewell to Arms, written when he was 30 years old, represents a new romanticism for Hemingway.
A moveable feast /
ISBN: 068482499X OCLC: 34744147 Simon & Schuster, New York : 1996. Published posthumously in 1964, A Moveable Feast remains one of Ernest Hemingway's most beloved works. It is his classic memoir of Paris in the 1920s, filled with irreverent portraits of other expatriate luminaries such as F. Scott Fitzgerald and Gertrude Stein; tender memories of his first wife, Hadley; and insightful recollections of his own early experiments with his craft. It is a literary feast, brilliantly evoking the exuberant mood of Paris after World War I and the youthful spirit, unbridled creativity, and unquenchable enthusiasm that Hemingway himself epitomized.
ACROSS THE RIVER AND INTO THE TREES.
ISBN: 1784872032 OCLC: 960495584 VINTAGE CLASSICS, [Place of publication not identified] : 2017. The War is just over. In Venice, a city elaborately and affectionately described, the American Colonel, Richard Cantrell, falls passionately in love with Renata, a young Italian countess who has 'a profile that could break your or anyone else's heart'. Cantrell is embittered, war-scarred and old enough to be Renata's father, but he is overwhelmed by the selflessness and freshness of the love she is offering. But this is no fairy tale. The fighting may be ended, but the wounds of war have not yet healed. And for some, the longed-for peace has come too late. A lesser known classic by one of the great American writers of the twentieth century, Across the River And Into The Trees is still vintage Hemingway.
Death in the afternoon /
ISBN: 0099285029 OCLC: 44694728 Vintage, London : 2000. In "Death in the Afternoon", Hemingway shares the sights, the sounds, the excitement, and above all, the knowledge which fuelled his passion for Spain and the bullfight. This remarkable book contains some of his finest writing, inspired by the intense life, as well as the inevitable death, of those hot, violent afternoons.
For whom the bell tolls :
ISBN: 090571203X OCLC: 3772202 Heinemann : London : 1977.
Green hills of Africa /
ISBN: 068484463X OCLC: 38948108 Scribner, New York : 1998. Hemingway's well-documented fascination with big-game hunting is magnificently captured amidst rich descriptions of the beauty and strangeness of East Africa, where he and his wife, Pauline, journeyed in December of 1933. An impassioned portrait of the glory of the African landscape, this immediate and deeply felt account has all of the hallmarks of the most evocative travel writing.
Hemingway on fishing /
ISBN: 1599211084 OCLC: 44764082 Lyons Press, New York : ©2000. "A full, diverse, and fascinating collection of the great novelist's writing about fishing. From the early Nick Adams stories and the memorable chapters on fishing the Irati River in The Sun Also Rises to such late novels as Islands in the Stream, this collection traces the evolution of a great writer's passion; the range of his interests; and the sure uses he made of fishing, transforming it into the stuff of great literature."--Jacket.
Hemingway on hunting /
ISBN: 0743225295 OCLC: 52631442 Scribner, New York : 2003. The companion volume to the bestselling Hemingway on Fishing Ernest Hemingway's lifelong zeal for the hunting life is reflected in his masterful works of fiction, from his famous account of an African safari in The Short Happy Life of Francis Macomber to passages about duck hunting in Across the River and Into the Trees. For Hemingway, hunting was more than just a passion; it was a means through which to explore our humanity and man's relationship to nature. Courage, awe, respect, precision, patience-these were the virtues that Hemingway honored in the hunter, and his ability to translate these qualities into prose has produced some of the strongest accounts of sportsmanship of all time. Hemingway on Hunting offers the full range of Hemingway's writing about the hunting life. With selections from his best-loved novels and stories, along with journalistic pieces from such magazines as Esquire and Vogue, this spectacular collection is a must-have for anyone who has ever tasted the thrill of the hunt-in person or on the page.
Hemingway's Paris
ISBN: 0684157993 OCLC: 4003973 Scribner, New York : ©1978.
Islands in the stream /
ISBN: 0743253426 OCLC: 93247 A Novel.
On Paris /
ISBN: 1843916045 OCLC: 681391952 Hesperus Press, London : 2010. Written for the Toronto Star between 1920 and 1924, this selection of columns from Hemingway finds the author focusing his gaze on Paris.
The complete short stories of Ernest Hemingway.
ISBN: 0684843323 OCLC: 15792541 The definitive collection by the man whose craft and vision remains an enduring influence on generations of readers and writers. Contains twenty-one stories not included in the 1938 omnibus "The first forty-nine."
The Fifth Column and four stories of the Spanish Civil War
ISBN: 9780099586623 OCLC: 829055530
The garden of Eden /
ISBN: 0684804522 OCLC: 13185825 An uncompleted final novel of Ernest Hemingway, which he worked on intermittently from 1946 until his death in 1961. Set on the Côte d'Azur in the 1920s, it is the story of a young American writer, David Bourne, his glamorous wife, Catherine, and the dangerous, erotic game they play when they fall in love with the same woman.
The Nick Adams stories /
ISBN: 0684169401 OCLC: 293139 Charles Scribner's Sons, New York : ©1972. Eight of these stories never before published.
The old man and the sea /
ISBN: 0684830493 OCLC: 34476442 Scribner, New York : [1996] Santiago is a Cuban fisherman who encounters a giant marlin in the Gulf Stream and the battle for his catch becomes one of survival against a band of marauding sharks.
The snows of Kilimanjaro and other stories /
ISBN: 0684862212 OCLC: 32591258 Scribner Classics, New York : [1995], ©1964. The ideal introduction to the genius of Ernest Hemingway, these stories are beautiful in their simplicity, startling in their originality, and unsurpassed in their craftsmanship, the stories in this volume highlight one of America's master storytellers at the top of his form.
The sun also rises /
ISBN: 0743297334 OCLC: 34476446 Scribner, New York : [1996] Published in 1926 to explosive acclaim, The Sun Also Rises stands as perhaps the most impressive first novel ever written by an American writer. A roman à clef about a group of American and English expatriates on an excursion from Paris's Left Bank to Pamplona for the July fiesta and its climactic bull fight, a journey from the center of a civilization spiritually bankrupted by the First World War to a vital, God-haunted world in which faith and honor have yet to lose their currency, the novel captured for the generation that would come to be called "Lost" the spirit of its age, and marked Ernest Hemingway as the preeminent writer of his time.
The torrents of spring :
ISBN: 0099909502 OCLC: 59937397 Arrow Books, London : 1994, ©1954.
To have and have not /
ISBN: 0684859238 OCLC: 284620 The dramatic, brutal story of Harry Morgan, an honest boat owner who is forced into running contraband between Cuba and Key West as a means of keeping his crumbling family financially afloat. His adventures lead him into the world of the wealthy and dissipated yachtsmen who swarm the region, and involve him in a strange and unlikely love affair.
True at first light /
ISBN: 0684865726 OCLC: 40543980 Scribner, New York : ©1999. A fictional memoir of an African safari based on a manuscript edited by the author's son. The action centers on wife Mary's desire to kill a lion and her jealousy of a beautiful African woman Hemingway is eyeing.
Under Kilimanjaro /
ISBN: 0873388453 OCLC: 58431699 Kent State University Press, Kent, Ohio : ©2005. This is the last of Hemingway's manuscripts to be published in its entirety. Editors Lewis and Fleming have taken great pains to publish as complete and faithful a publication as possible without editorial distortion. Hemingway called this title his "African Book." It is a thoughtful, adventuresome, and comedic recounting of his final safari in Africa.
Winner take nothing /
ISBN: 0099909707 OCLC: 31739273 Arrow, London : 1994, ©1939. Written when Hemingway was at the height of his creative powers, the stories in Winner Take Nothing glow with the mark of his unique talent. Hunters, wives, old men of wisdom, waiters, fighters, women loved, women lost: they are all here, living on the raw edge, making love, facing the inevitable reality of death. The characters, the dialogue, the settings, the remarkable insight could have come only from Hemingway's imagination. As an introduction to his work, or as an overview of the themes he developed at greater length in his novels, it is a stunningly successful collection.