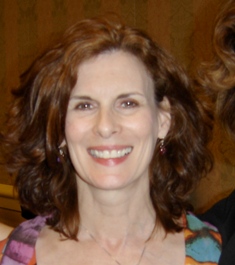 Rebecca Nettle-Fiol
Born:
Pen Name:
None
Connection to Illinois
: The author is a professor of dance at the University of Illinois Urbana-Champaign
Biography
: Rebecca Nettl-Fiol is a teacher, choreographer, and author, specializing in the Alexander technique and dance training. A faculty member at Illinois since 1982, she certified as an Alexander teacher in 1990 and is a co-director of the Urbana Centre for Alexander Technique.
---
Awards
:
Primary Literary Genre(s):
Non-Fiction
Primary Audience(s):
Adult readers
Email:
rnettl@illinois.edu
Website:
http://dance.uiuc.edu/people/1042
Rebecca Nettle-Fiol on WorldCat :
http://www.worldcat.org/search?q=rebecca+nettle-fiol
---
Selected Titles
Dance and the Alexander technique :
ISBN: 0252077938 OCLC: 670480106 University of Illinois Press, Urbana : ©2011. "In Dance and the Alexander Technique, Rebecca Nettl-Fiol and Luc Vanier utilize their ten years of research on developmental movement and dance training to explore the relationship between a specific movement technique and the basic principles of support and coordination. The Alexander Technique, developed in the early twentieth century by F.M. Alexander, can be used to enhance dexterity in all types of activities, from everyday actions as mundane as tooth-brushing to highly demanding dance movements. Applying the tenets of this technique through the lens of a specific subset of principles called the Dart Procedures, the authors offer a unique approach for using the Alexander Technique in dance and other activities. The principles of this technique are used by people in all walks of life and have proven to be effective for enhancing performance and improving overall health and well-being. Amply illustrated and supplemented with a DVD that demonstrates the concepts and applications of the Alexander Technique, this book will be highly instrumental for dancers, teachers of dance, and anyone interested in giving everyday movements more efficiency, dexterity, and elegance"--Provided by publisher.
The body eclectic :
ISBN: 0252074890 OCLC: 167517330 University of Illinois Press, Urbana : ©2008. "The contributions in Part I reflect in some way the idea that post-Judson dance training is described by a lively and ever changing multiplicity of resources" (p. [7]); "The contributions in Part II present discussions on the facet of dance training we have designated with the term, 'deconstruction, ' ... Referring to training as a deconstructive process" (p. [85]); "Part III includes sixteen training histories of dance professionals currently working in the field" (p. 167).